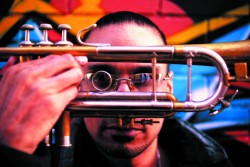 Summer solstice renamed: the Toronto Jazz Festival is calling Friday June 21 Free-For-All Friday, as participating venues all over the city will charge no cover. Tough choices that night: David Buchbinder's lush tones at Lula Lounge; the swinging hi-hat of NYC veteran Victor Lewis at The Rex; the sparkling voice of Molly Johnson enchanting a packed house at the Jazz Bistro ... she will be back the following evening, by the way, with tickets priced at $35.60.
On Free-For-All Friday, trumpet player Brownman will be playing at the Mây Cafe on Dundas West, but if you miss that gig, sweat ye not: he plays a gig every single day of the festival, culminating in a two-night CD release event for his Brownman Electryc Trio CD featuring NYC bassist Damian Erskine.
"It's actually 13 gigs in nine days," the Trinidad-born, New York-schooled, Toronto-based Brownman tells me. "Two private gigs don't appear on the schedule ... It's pretty crazy. One's gotta stay organized.My book literally has an hour by hour breakdown of what I'll be doing over those nine days. There's so much going on behind the scenes! Like all the logistics of flying in the mighty Damian Erskine, who appears on the new Electryc Trio CD and who will be the featured bassist during the two-night CD release extravaganza on June 28 and 29. Dealing with his airport pickups, hotel accommodations, trying to set up a bass masterclass for him that I'll host, and a hundred other details means essentially every hour of each day has to be carefully planned out. And, of course, the entire week leading up to the fest is stacked with rehearsals. For every one of those gigs, there's a corresponding rehearsal. The one that makes me the most nervous is the big Freddie Hubbard Tribute to launch the fest. We're doing two sets of Freddie's material — his acoustic material in the first set, and a set of his electric stuff — and only have a single rehearsal to mount all those tunes. That'll be a nail-biter for sure. But the cats are some of the best in the city, so I'm not that worried. I'll definitely need to be taking my vitamins that week."
A leader of no fewer than seven groups, Brownman dabbles in many varieties of jazz, from Latin to electric, and is also actively connected to the urban music scene.
"You'll notice I'm at Mây for a lot of the Jazz Festival dates. I did a hip hop show there in winter and ended up hanging out with the owners until 4am that night. That led them to ask me if I'd be interested in booking and curating their whole Jazz Festival program. It's a great space with huge potential for live music and they were happy to give me artistic licence to book as I pleased, so that led to the exhausting work of putting that program together. It's a strong cross-section of some of the city's finest multi-faceted jazz artists and will hopefully provide the city with another venue with strong jazz programming during the TD Fest."
Speaking of strong programming, it is tough to choose just one quick pick for every day of the festival, but here goes:
Thursday June 20, 8pm: country music legend Willie Nelson with an opening set by Canada's "sweetheart of swing," Alex Pangman. Massey Hall. $59.50-$125.
Friday June 21, 7pm and 9:30pm: homegrown talent too rarely heard: Mary Margaret O'Hara with Yvette Tollar. Musideum. Free-For-All Friday!
Saturday June 22, 8pm: gospel and soul queen Mavis Staples and the pride of New Orleans, Dr. John. Nathan Phillips Square. $56.50
Sunday June 23, 10pm: blues legend James Cotton at the Horseshoe Tavern. $37.85.
Monday June 24, 7pm: solo jazz piano master, Fred Hersch. Enwave Theatre, Harbourfront. $28.39.
Tuesday June 25, 7:30pm: 19-year-old sensation Nikki Yanofsky at Koerner Hall. $48-$70.50.
Wednesday June 26, 8:30pm: octogenarian treasure Don Francks & Friends at Dominion on Queen. $TBA.
Thursday June 27, 7:30pm: Canadian Jazz Quartet: Gary Benson, guitar; Frank Wright, vibes; Duncan Hopkins, bass; Don Vickery, drums; with NYC's Randy Sandke, trumpet. Home Smith Bar at the Old Mill Inn, $40.
Friday June 28, 8pm and 10:30pm: arguably Italy's greatest jazz export of all time, the exceptionally polished vocalist Roberta Gambarini at Jazz Bistro. $40.10.
Saturday June 29, 7:30pm: Gord Sheard's Brazilian Experience: Brian O'Kane, trumpet; Colleen Allen and Andy Ballantyne, reeds; Alastair Kay, trombone; Rick Shadrach Lazar, percussion; Aline Morales, percussion and vocals; Rob Gusevs, keyboards; Collin Barrett, bass; Max Senitt, drums; Gord Sheard, piano and accordion. $25.45.
A toast to jams: Between the Festival's mainstage acts and the club series one will find far more than swing and bop: blues, country, roots, soul, folk, hip hop, avant garde and electronica. There's really only one thing this reporter wishes there was more of: jam sessions. Jazz by its very nature is about improvisation and nowhere does this become more quintessential than when fate unites players from across continents to collaborate on the likes of "It Could Happen to You." On the bright side, when the festival is over you can enjoy some jazz jams all year long in Toronto.
Chalkers Pub is the home of Lisa Particelli's Wednesday night 8pm to 12am session, GNOJAZZ, which stands for Girls' Night Out Jazz (where gentlemen are welcome too). Now in its eighth year and still going strong, the vocalist-friendly evening is a cherished place for singers of all levels to hone their performance chops, form musical connections and become inspired by their peers. By providing a safe musical environment that includes the rock solid rhythm section of Peter Hill on piano and Ross MacIntyre on bass, Particelli has given countless individuals a place to make music comfortably, thereby strengthening this community immeasurably. Most importantly, it is not a competitive diva-fest but rather a friendly place for singers and listeners to gather, share, learn and grow. Hundreds of singers have attended over the years, including vocal teachers and students, professionals and amateurs alike.
"The singers have been wonderful, of course, but it's the loyal listeners that keep it going," says Particelli. "These are people who simply appreciate the talent of others and make a special point to come out and support them. Without the support of listeners, the jam session would not be able to survive, so we are truly grateful for our regulars."
Over the years Particelli has instilled education into the jam in various ways: celebrating Jazz Appreciation Month, organizing workshops by guest artists and for the past three years by fundraising for a vocal jazz scholarship at Humber College. The money is raised by special concerts billed as "GNOJAZZ All-Star Vocal Showcases" and the next one takes place as part of the Toronto Jazz Festival on Sunday, June 30 from 7pm to 10pm at Chalkers Pub. Congratulations to the 2013 recipient of the scholarship, Daniella Garcia!
Gathering inspiration from Lisa Particelli, some of the singers who have been coming out to GNOJAZZ have started jam sessions of their own, including Pat Murray who is starting up her "Jazz Jam-Gria" at 417 Restaurant & Lounge on the Danforth, Tuesday nights. This is particularly good news considering that The Rex Hotel, home of the Classic Rex Jazz Jam, has recently taken the jam out of their programming. At Jam-Gria, instrumentalists are encouraged to bring their axes, with vocalists also welcome:
"Jam-Gria is an east end jazz jam that encourages all levels of musicians to sit in with a house band of mentors or colleagues," says Murray. "It draws Toronto's A-level players as well as those musicians taking their first leap of faith into the world of improvisation. The new digs at 417 are exquisite! Very chic decor and cuisine to die for!"
Also on the east side of town, Laura Marks started a Monday night session called Bohemian Monday earlier this year at Rakia Bar.
"Last New Year's Eve I dropped in to the Rakia Bar New Year's Eve party," recalls Marks. "The owner said that they'd like to set up a regular program of music there and asked me if I would work with him on a jam that is mostly jazz but open to other genres. We started in February and have gradually been building it ever since. Up until last Monday it was held every two weeks. Now it will happen every Monday."
Marks has chosen to invite different musicians each week. Among those who have made up the house band are Mark Kieswetter, Ross MacIntyre, Brendan Davis, Reg Schwager, Lee Wallace, Peter Hill, Shawn Nyquist, Adrean Farrugia and Chris Gale. New to Bohemian Monday in June will be Amanda Tossoff with Brendan Davis on the 10th and Bernie Senensky and Duncan Hopkins on the 17th.
"All the musicians who have played with us remark on the great atmosphere, food, drink and hospitality," adds Marks. "We'd like to encourage anyone who plays an instrument to come and play."
Just got word that also on Monday nights, but on the other side of town at Runnymede and Annette, saxophonist Nick Morgan has started up a jam session at Annette Studios. There is a Fender Rhodes on location for piano players, an amp for guitar players, a microphone for vocalists and a new Gretsch jazz kit for drummers.
Here's a toast to all these jams! May they all thrive in bringing new ears to this music. Hosting a jam session is not an easy job, so please remember to tip generously. Happy listening! 
Ori Dagan is a Toronto-based jazz musician, writer and educator who can be reached at oridagan.com.