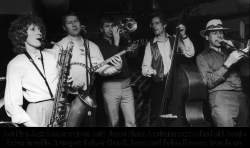 SILVER ANNIVERSARY: Browsing through The WholeNote always allows for countless opportunities to discover new music and new musicians – new to the reader, that is. Occasionally, the same thing happens to me when I write this column. The Hot Five Jazzmakers are hardly newcomers to the Toronto scene – this month they celebrate 25 years of Saturday matinee performances at C'est What? – but hopefully they are new to some of you as well. This band specializes in traditional jazz of the 1920s and 30s, boasting an impressive 600 tunes in their repertoire, from forgotten gems to familiar ones. Many of these rhythmically infectious, charmingly sentimental tunes might make you dance against your will.
The Hot Five Jazzmakers is led by trombonist Brian Towers, a brainy Brit who moved to Canada to pursue a career in international banking some 35 years ago. Working with dollars for several decades, the figures in his heart were clearly musical ones all along.
"I had made a subconscious decision that I was not targeting the presidency of the bank as a career goal," he laughs. Besides which, "playing jazz in good company, after a hard week at the office, is like recharging one's batteries."
Towers developed his passion for New Orleans style ensemble playing studying the work of bone players such as Kid Ory, Honoré Dutrey and Wilbur De Paris, to name a few, and was deeply inspired by the late Kid Bastien. His passion extended far beyond the bandstand as a founding member of the now defunct Classic Jazz Society of Toronto, and he also wrote the "View from Canada" column for the Mississippi Rag until it ceased publication. Towers is married to the very talented Janet Shaw, who functions like the jewel in the crown of this band, not only with her superb musicianship on various reed instruments, but also with her delightfully smoky vocals. (Check out their YouTube videos!) Like her husband, Shaw is recently retired after a career in the pharmaceutical industry; she is now self-employed with her own consulting company.
"I can safely say that having a musical partnership with one's spouse is a huge benefit to the band's development" Tower says. Janet and I have very similar tastes in jazz and we have always developed our arrangements and repertoire 24/7 ... Also, traditional New Orleans jazz in the ensemble choruses is, for me, like a conversation. The counterpoint and polyphony is so much easier, when there is a close personal relationship between the individuals. Financially there are big benefits too. On tour we save the promoters a room!" Reflecting on a quarter century of gigs at C'est What?, Towers begins by reminiscing:
"It was February 11, 1989 and we were on trial. We had already had 12 months together playing in Guelph – were we good enough to attract support and audiences in downtown Toronto? Would it work and would we be allowed regular Saturday matinees? Thankfully, they liked us. Their speciality was traditional ales and beers and meals and traditional jazz seemed like a good mix to them. Management bravely allowed us to begin regular Saturday matinees on Saturday March 11, 1989. In those very early days our playing area was on the direct route between the kitchen and the dining area. We had to avoid clashes with waiters travelling at high speed, carrying heavily laden trays!"
Due to an excellent sound system and friendly management, they were able to tape record every session. "While occasionally depressing, it was a wonderful way of improving the band sound and dynamics. I have dozens of cassette tapes from those days which I cannot bear to throw away!"
Since 1989, The Hot Five Jazzmakers have produced 16 recordings – several of them captured live at C'est What? – which can be purchased directly off the stage. Along with Towers on trombone and Shaw on reeds and vocals, the band's members are Jamie Macpherson on banjo, Andrej Saradin on trumpet, Reide Kaiser on piano and Gary Scriven on drums and washboard. Yup, washboard! Join the group in celebrating their silver anniversary milestone at C'est What on Saturday, February 8 from 3 to 6pm.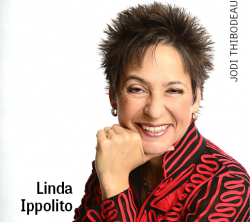 FRITES WITH SALSA: A valued player on stage and in every level of court in Ontario, Linda Ippolito is a classical pianist, litigation lawyer, alternative dispute resolution practitioner and teacher. "I actually see them as one world, not as separate but integrated fields" she says, "music and law braided together on separate ends of the scale."
A PhD candidate at Osgoode Hall Law School of York University, Ippolito's doctoral studies focus on the intersection between collaborative music making and group negotiation, conflict resolution and transformation.
"My interest in the potential of one field to inform the other inspired my doctoral study," Ippolito explains. "The study explored the question of whether or not we could shift the learning and skills development in conflict resolution away from our dominant culture mindset – one that focuses primarily on "war" and "game" metaphors – through the use of a music-based metaphor for negotiation and problem-solving – namely, the musical ensemble. Basically encouraging conflict resolution practitioners to not only "think like lawyers" but to look at problem solving from a more creative and collaborative perspective and to "think like musicians."
Ippolito the performer is not only as intelligent and deeply nuanced as one might expect from the above paragraph, but also tasty and playful; her return engagement to the Jazz Bistro, is titled "Frites with Salsa":
"The program features music by three of my favourite 20th century composers: The "frites" are the French selections by Poulenc, a group of his Improvisations and his Trois Novellettes. I adore Poulenc – his jazz-like 'quoting' of himself and others. The "salsa" is Ginastera's Creole Dances and Three Argentinian Dances – so multi-layered, polytonal and rhythmically vibrant. In the middle there is Albéniz's "Evocation," the first piece in his Iberia Suite, a piece I have never gotten a chance to play until now - and I cannot wait to hear it on the Red Pops Steinway which I regard as one of the finest instruments in the city."
"Her music may be classically rooted, but the skillful way she weaves these intimate programs together speaks to a jazz heart," says Sybil Walker, who books the talent at Jazz Bistro. "As in all great cabaret evenings, you always leave knowing a little more than you did when you arrived."
Ippolito's "Frites and Salsa" performance takes place at Jazz Bistro on Tuesday, February 18, with sets at 7:30pm and 9pm.
Ori Dagan is a Toronto-based jazz vocalist, voice actor and entertainment journalist. He can be contacted at jazz@thewholenote.com.