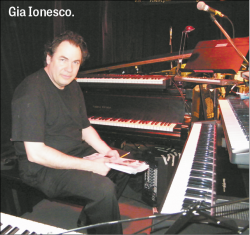 Highly eccentric and strangely fascinating — much like the man himself — the music of Gia Ionesco is anything but background music. To describe his unconventional artistry in words seems like an exercise in futility, but it's worth a try. Classically trained from a young age, Romanian-born Ionesco is a formidable pianist who plays with fiery passion, sometimes playing multiple keyboards at once (!) but his unique writing style makes him a composer first. Considering the arrangements, instrumentation and influences associated with his writing, there is a lot to digest here, perhaps even too much for certain listeners. While on the one hand Ionesco's rollercoaster-like blending of jazz, world, fusion and progressive rock might be dizzying for some, on the other, his growing fan base ranges in age from 6 to 92, a compliment that speaks volumes. Actually, judging by the smiles on their faces alone, some of his biggest fans include guitarist Reg Schwager, percussionist Alan Hetherington and saxophonist Johnny Johnson, all members of Ionesco's band, Gia & The Unpredictable Update.
Around this time last year, I saw the band in action at The Rex Hotel, and will not forget the contagious joy that emanated from the stage that night. It was a sight to behold, as if a gifted group of middle-aged men were rocking out like teenagers in their parents' basement! In particular, Johnny Johnson — one of the most sought-after horn players in the country, frequently seen and heard around the globe with Molly Johnson and Holly Cole — seemed like he was having the time of his life, so I asked him a few questions, starting with his first impression of Ionesco's music:
"It was like hearing the past, present and future of music, all at once," he said. "So of course, the first time I heard Gia's music I was speechless. My mind needed some time to process it all ... What makes this music unique is its compositional versatility. Because Gia incorporates so many styles in his writing there are any number of directions the band can take during a performance ... Honestly you never really know what's in store at the end of the song but we do know it will be fun getting there. And there are a lot of songs. I'm guessing Gia has written over 250 songs and I'm sure there are at least that many more in that crazy creative brain of his."
Big news: on Monday, May 6, 8:30pm at Hugh's Room, the band will perform a concert to celebrate their upcoming tour of China, which will culminate in an appearance at the prestigious Shanghai Spring International Music Festival. This is the first time that a Canadian act has been invited! The Unpredictable Update at Hugh's Room will be: Gia Ionesco, keyboards; Bruce Cassidy, trumpet; Johnny Johnson and Clifford Ojala, saxophones; Reg Schwager, guitar; Alex St. Kitts, bass; Alan Hetherington, percussion and Wilson Laurencin, drums. Come to Hugh's Room to wish this group well as they tour the other side of the world later this month!
Lula Lula! Living in this vast country of a city, one sometimes takes for granted the little things. This is one of the most multicultural cities in the world, where just about any kind of cuisine can be found, and the same goes for music.
On that note, the Lula Lounge Music and Arts Centre presents its annual multicultural music festival, Lulaworld 2013. Opening this festival, Friday May 10, is a unique collaboration: the Jay Danley Ethio Jazz Project featuring special guest, master Ethiopian musician Fantahun Shewankochew on vocals and Krar, and Toronto's own Danley on guitar, Chris Gale and Elena Kapeleris on saxophones, Sam Petite on bass, Jeff Halischuck on drums and Richard Whiteman on piano.
Danley, himself a versatile guitarist who has spent the past two decades playing traditional Cuban music and traditional jazz, was inspired to play Ethiojazz by listening to Les Ethiopiques, a series of recordings by the inventor of this style, Mulatu Astatke. In the late 1960s and early 1970s, Berklee-trained, Ethiopia-born Astatke was the first to combine modern jazz with Ethiopian scales.
"The very difficult musical challenge of composing, arranging and improvising using these scales is very rewarding to me," says Danley. "I have also added some of my own personal tastes and influences to my compositions that make them unique."
The collaboration with Danley's group and Shewankochew has an interesting back story; they played a gig at Lula back in February, ten days before the Batuki Music Society presented a concert at the Glenn Gould Studio called Abyssinian Roots. The special concert brought to Toronto some of the hottest Ethiopian musicians from the nightclub scene of Addis Ababa, including Henok Abebe, Martha Ashagari, and Fantahun Shewankochew himself. Danley was in the audience that night and was absolutely amazed; meeting Shewankochew afterwards, it turned out that the Ethiopian master had attended their gig at Lula and wanted to work together. The organizers of Lulaworld were approached and decided that this collaboration would be a great way to open the 2013 festival.
Meanwhile, one of the few Toronto players on the aforementioned Batuki Music Society concert was drummer Daniel Barnes, who has recently put together "DB3" — the Daniel Barnes Groove Trio, another new world/jazz music band with an Ethiopian connection, playing every second and fourth Thursday of the month at Hirut Restaurant, 2050 Danforth Ave. "We've taken root at Hirut because audiences enjoy the place, the cuisine and our show," adds Barnes. "It's exciting cultural times with global interconnectedness and Toronto itself being a cultural force of diverse backgrounds for generations now." But that will have to be a story for another day. 
Ori Dagan is a Toronto-based jazz musician, writer and educator who can be reached at oridagan.com.