Lisa Particelli's commitment to what she does week after week since January of 2005 is inspiring to anyone who has ever hosted a jazz jam. In her newsletter, the creator and host of the Wednesday night Girls Night Out (where gentlemen are welcome too) at Chalkers thanks her audience for supporting live music and living musicians.
"Live music improves the quality of our lives," she writes. "Whether we choose to simply listen or to participate in the creation of live music, we wire our brains to pay attention, we create social connections and best of all, we truly experience the full range of human emotion."
With that in mind, before I get to an exciting story at Chalkers, I'd like to single out a group that WholeNote readers might remember from our 2011 summer double issue cover story (and if you haven't read it yet — no worries, it's googleable).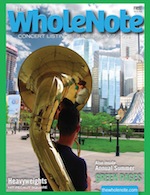 Heavyweights: In just a few years, the Heavyweights Brass Band has fused traditional and contemporary jazz into a sound all its own. Their first album introduced listeners to a group both light-hearted and hard-working: Christopher Butcher (trombone); Paul Metcalfe (saxophone); Jon Challoner (trumpet); Lowell Whitty (drums); and Rob Teehan (sousaphone). Don't Bring Me Down certainly brought these five young guys way up, with festival appearances across the country and a sold-out show at Koerner Hall with Grammy-winning percussionist Giovanni Hidalgo. Now the group releases Brasstronomical, their sophomore release on the new Lulaworld label, which features several surprises, including the addition of a sixth member.
"Our original trumpet player Jon Challoner was back and forth between Toronto and NYC to study at Juilliard," says Heavyweight trombonist, composer, arranger Christopher Butcher. "We had long-time friend and fellow former Winnipegger John Pittman filling in for Challoner while he was away. Then we had a couple big gigs where we could fly Challoner up and we decided to ask both trumpets to join us. One more trumpet makes a huge difference and they really complement each other while making our sound bigger, thicker, more intricate and well, heavier. I would say all those adjectives could be used to describe Brasstronomical. It sounds bigger and is bolder than our first record. We also experimented with some production techniques. Paul brought the baritone saxophone into our arsenal and there are points where you may even hear two Christopher Butchers."
The group is increasingly innovative, but firmly steeped in the jazz tradition. Brasstronomical features guest appearances by Giovanni Hidalgo and Jane Bunnett. Just what did the band learn from performing with these masters?
"Working with two international artists on the level of Giovanni Hidalgo and Jane Bunnett has been a dream come true," asserts Butcher. "Our concert at the Royal Conservatory's Koerner Hall was the highlight of our career. There aren't words to describe how it feels to share the stage with the pre-eminent percussionist of all time. Someone who has played with not only jazz legends Dizzy Gillespie and Art Blakey but with Tito Puente, Paul Simon, Phish and D'Angelo brought something out of our music and pushed us to new heights. When he agreed to play on our record and be part of Brasstronomical we were elated! Jane is a national treasure and a true inspiration to all of us in the group. She has constantly taken chances throughout her career and her playing is similar, it always sounds fresh. She is likely the most important musician after Dizzy Gillespie in fusing elements from Afro-Cuban music with jazz. This cultural collaboration is really interesting to us."
The Brasstronomical CD release concert takes place at Lula Lounge on Thursday March 6.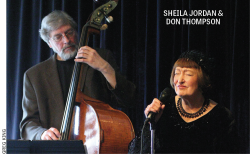 Back to Chalkers Pub and Lisa Particelli, who is excited to be presenting NYC-based jazz master Sheila Jordan for the second time. Jordan has called herself a late bloomer; inspired by Charlie "Bird" Parker, she sang throughout her teens but recorded her first album at the age of 32. It wasn't until she was 58 that she quit her day job. An underground sensation, she continued to record throughout the 1970s and 80s and today has over 25 albums to her credit. Since the 1990s, Jordan's career has really picked up and she has toured this earth many times over. Now 85, this sweet and brilliant little woman is a wonder of the jazz world.
The two evening concerts at Chalkers will find Jordan in fine musical company: Don Thompson on piano and Neil Swainson on bass.
"I have worked with Don and Neil before and it's a real joy to be able to sing with them again. Don is a fantastic accompanist, and being a lover of the bass I am thrilled to be singing with Neil. Great guys who put their heart and soul into the music. How lucky can I get?"
Recently named a Jazz Master by the National Endowment of the Arts for her contributions as a performer and educator, Jordan has been teaching jazz since the 1970s. She will be giving a Sunday afternoon vocal jazz workshop for singers of all levels; there are limited spots to participate but ample seating for auditors.
"I was first able to observe Sheila teach during an Art of Jazz workshop and was impressed at her warmth and insights as she carefully listened to each student participate," recalls Particelli. "She handled every singer with warmth, gentle care and keen observations coupled with super advice. This woman's wisdom, heart, positive attitude, great ears and genuine passion to spread the message of jazz is contagious. Sheila sings from the heart, and she teaches from there, too."
Don't be surprised if Jordan drops by the Wednesday night jazz jam at Chalkers on March 19 — she sings GNO's praises:
"I am so happy that Lisa's jam session is still happening," says Jordan. "I believe that jam sessions are the most important part of the jazz tradition. Singers can learn all these wonderful tunes from their teachers but if you don't have a place to try out what you've learned and a place to take chances what does it all mean? We need places to try out tunes; even if we fall on our faces we can pick ourselves up and start all over again like the song says! With jam sessions like this one, all of this is possible. We need more Lisa Particellis on the jazz scene."
Sheila Jordan appears at Chalkers Friday March 21, 7-10pm, Saturday March 22, 6-9pm and the workshop is Sunday March 23 from 2-6pm. Tickets are available at TicketWeb.ca.
Ori Dagan is a Toronto-based jazz vocalist, voice actor and entertainment journalist. He can be contacted at jazz@thewholenote.com