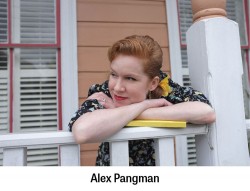 Born in Mississauga some three dozen years ago, vocalist Alex Pangman has been breathing new life into old songs since her teens. As loyal WholeNote readers may recall, my cover story on Pangman a few years back detailed her battle with cystic fibrosis and her comeback to jazz following a double lung transplant. She has since continued to perform, record, tour and advocate for organ donation awareness.
Pangman was lucky to have her life saved through the courtesy of an organ donor not once, but twice. In December of 2013, just a few months after a second lung transplant, she celebrated her recovery with a trip to New Orleans.
"There's a different feel to clubs there: celebratory and joyful. Musicians are treated as the main event, not an afterthought," she recalls fondly. "Frenchman Street particularly has a very active scene of musicians playing in a traditional vein while audiences are dancing, clapping, eating and drinking. After feeling that vibe, and hearing those bands, especially the Cottonmouth Kings nailing their 1930s repertoire, I started to get ideas about where to make my next recording." With her newly donated lungs she returned to NOLA just a few months later to record New – an album captured in a new city, with musicians that are new to the artist and even an engineer new to her ears. Fresh, but certainly no easy feat!
"I felt up to the challenge. I love the vibe of the recording; it's like we pressed a record on a lovely first date! Breathing, singing, is a joy for me again."
Joining Alex Pangman at her New CD Launch at Hugh's Room on Monday November 3 will be her Alleycats: Peter Hill on piano, Chris Banks on bass, Glenn Anderson on drums, Brigham Phillips on trumpet and Ross Wooldridge on clarinet, as well as two guests from New Orleans who appear on the recording: Matt Rhody on violin and Tom Saunders on bass saxophone. Congratulations to Alex Pangman, and here's to New!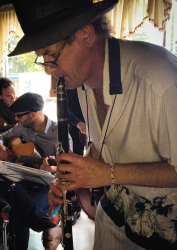 Bob@60 at Gallery 345: New music, jazz, classical and klezmer, are a few of the genres Bob Stevenson has immersed himself in since the 1970s. He has performed with many ensembles including Arraymusic, New Music Concerts, Tapestry New Opera Works, the Flying Bulgar Klezmer Band, and the Red Rhythm. To celebrate his 60th birthday, Stevenson will be appearing in concert at Gallery 345, with his quartet – Jonnie Bakan on alto sax, Mike Milligan on bass and Jeff Halischuk on drums – as well as Big Idea, an 11-piece ensemble featuring some of the city's finest improvisers and classical players. A virtuosic and versatile musician, Bob Stevenson's compositions combine jazz, free improvisation and through-composed music, drawing deeply from his decades of experience as a player, conductor, composer and educator. I asked him to name three of his favourite music venues in the world.
"I've been fortunate to perform some great music with inspiring artists in wonderful venues throughout the world," says Stevenson. "The three conditions required for a quality venue are the acoustic, the vibe and the willingness and ability of the venue to support your work. More than any other concert hall, the Brahms-Saal at the Musikverein in Vienna meets these requirements. The hall functions as an extra player in your group; whatever you give, it gives back. The crew is fantastic, great choice of well-maintained pianos. I first played Massey Hall when I was 15. Again, you really feel the room and its history, plus you can speak from the stage, and everyone can hear you, even if you don't have a mic. I got to play in an orchestra backing up Dizzy Gillespie there. I have a very nostalgic feeling for the first Music Gallery in Toronto on St. Patrick just north of Queen. You were welcome to try just about anything. It was a hole in the wall, but it was our hole. For a young artist just starting out, that's very important."
Why Gallery 345 for his birthday concert?
"Thanks to Ed Epstein, musicians from a wide variety of approaches and backgrounds have the opportunity to present their work in a supportive atmosphere. He's performing a great service to the cultural community. He does it because he cares about music and the people who make it."
You, reader, are invited to Bob's 60th birthday party on Sunday November 23rd at 3pm at Gallery 345, and please tell him we sent you!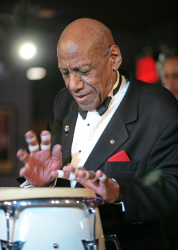 Candido Camero: Fresh off a successful tour with Maqueque (comprised of Cuban musicians mostly in their early 20s), Jane Bunnett will be feeling younger this month when she and pianist Hilario Duran share the stage with 93-year-old jazz legend Candido Camero for three exciting evenings at Jazz Bistro.
"Every conga player all over the world has the most incredible respect for what Candido has done and for who he has played with. Legends like he – at 93 – you never know, he might make it to 100 – just aren't around anymore," reflects Bunnett.
"I first met him at the last IAJE in Toronto. I interviewed him, so I really researched it and I was checking up on all this stuff, it was so amazing! He was on the Ed Sullivan show 50 times – he recorded with Coltrane, Sonny Rollins, Tony Bennett, Dizzy Gillespie, you name it. The first time he played in Toronto was 1952 with Stan Kenton at Massey Hall, just down the street from where we will be playing. The exciting thing about him for me is that he was really the first Cuban musician, along with Chano Pozo, that really took the congas into jazz. He was also the first conga player to play two, and later three congas. Nobody had ever done that before – and he tuned them. A lot of people just bang them but he tunes them before every gig. At 93 of course he's not as forceful as he was but he's still extremely eloquent and tasteful. He knows the older style of this music, how not to overplay, where to accent. He never drank a drop of alcohol in his life so his brain is pretty amazing."
Get intoxicated by the music of Jane Bunnett, Hilario Duran and Candido Camero on Thursday, Friday and Saturday November 6, 7 and 8 at Jazz Bistro.
Ori Dagan is a Toronto-based jazz musician, writer and educator who can be reached at oridagan.com.