I was considering giving up on a career in jazz music, but on a summer night in 2005 at the Montreal Jazz Festival, when I sat in at the Hyatt Hotel and sang "Sweet Georgia Brown" in three varied tempos as a nod to Anita O'Day, I changed my mind. That night I realized how important jam sessions are as an opportunity for musicians to create music in the true spirit of jazz: without rehearsal, to an appreciative audience of jazz enthusiasts. Just got word that Novotel has sponsored the Ottawa Jazz Festival jam session and I am really hoping that in these parts and beyond, we get the official jam sessions back too!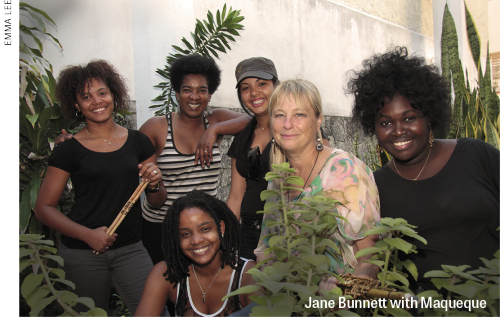 TOP TEN TORONTO JAZZ FESTIVAL TIPS:
1) Award-winning, world-renowned artist for her innovative brilliance on saxophone and flute, and jazz ambassador for her work around the world, Jane Bunnett has changed the lives of many Cuban musicians by exposing their talents to North American audiences. On her latest project, "Maqueque," Bunnett has assembled an exciting sextet featuring the finest young female musicians in Cuba. Joining her are drummer Yissy Garcia, percussionist Dayme, Yusa on tres guitar and fretless bass, pianist Danae and Magdelys on batas and congas. Like a trusted chef in a five-star restaurant, it is inevitable that Bunnett and these young ladies will cook up a storm on opening night, June 19 at 8pm at Lula Lounge.
2) A coveted Toronto treasure, she plays all over the city and has many adoring fans, from her days in the JUNO-winning rock act Leslie Spit Treeo to her reincarnation as a singer of blues, jazz and western swing. Laura Hubert's honesty, which delves deeply into both comedy and tragedy, is that of an actor who became a singer by accident. With a unique voice that is a bit of a surprise coming out of such a petite lady, she is capable of growling, crooning, swinging hard and moaning low. Discover Laura Hubert at the festival either on opening night, June 19 at Grossman's at 10pm, or on June 28, 3:30pm at the Rex.
3) Here's hoping American vocalist Dianne Reeves has a sold-out show at the festival Main Stage on Tuesday, June 24 at 8pm, and here's hoping you'll catch her opening act, the Brandi Disterheft Quartet. A force to be reckoned with as a bassist, composer, bandleader and recording artist, the Vancouver-born musician has released three excellent albums: her JUNO-winning Debut, slightly poppier, even catchier Second Side and the very satisfying Gratitude from last year. It's always exciting to see where Disterheft is going next, both in the short term sense of each solo and the long term sense of her next record. She currently lives in New York City where she maintains a busy schedule as sideman when not touring. Cheers to Brandi!
4) On Sunday June 22 at 7pm, "Girls Night Out" jazz jam session host Lisa Particelli will present a group of GNOJAZZ all-stars and continue to raise money for her annual Humber College Scholarship. The award is given to a vocal jazz student who demonstrates exceptional ability and requires financial assistance with this crazy dream of singing jazz. Every Wednesday from 8pm to midnight singers of all levels are welcome to perform at this vocalist-friendly jazz jam, which can also be thought of as a jazz open mic, a truly rare and very prized opportunity not only for vocalists of all levels but really for anyone who would like to try singing with three incredible jazz musicians in a safe environment. In addition to the fundraiser, there's a jazz festival jam session on June 25, as well as every Wednesday year-round.
5) Lovers of the clarinet, trumpet, or saxophone, go no further than KAMA on King, where Ken Peplowski, Harry Allen, Warren Vache and Houston Person, respectively, will be guesting with the Canadian Jazz Quartet on Monday, Tuesday, Wednesday and Thursday June 23, 24, 25 and 26 from 5 to 8pm. These days there are not many venues in this town where one can really go out and listen to this brand of instrumental, classic jazz. A rare opportunity to hear cream-of-the-crop New York players here in Hogtown, each of these concerts would be a great treat for any aspiring horn player! Tickets are $40 and are available at Ticketmaster – and a discount of 15 percent if you attend all four concerts.
6) For piano lovers, mellifluous Cuban-American Manuel Valera heads a trio at the Rex on June 20 and 21, and energetic B3 specialist Joey DeFrancesco plays the Horseshoe Tavern with his trio on July 25. Jazz Bistro features several solo piano shows of note, including Bill Mays on June 22, Gerald Clayton on June 23 and two shows per night by the Oliver Jones Trio on June 27 and June 28. Singer-pianists are a rare breed of awesome; the Bistro is expecting to sell out when London, England's Ian Shaw performs on June 25, and the whole family can enjoy free lunchtime performances in Nathan Phillips Square led by two Canadian singer-pianists who are also exquisite songwriters: the Elizabeth Shepherd Quartet on June 23 and Laila Biali Trio on June 25; Shepherd also performs two intimate evening concerts at Musideum, 7 and 9pm on June 21.
7) String along! For guitar lovers, there are some excellent resident musicians such as the Fraser Melvin Band at Gate 403 on June 20, the Eric St. Laurent Trio at Painted Lady on June 26 and Mark Sepic at Relish on June 28; and several big tickets, including John Scofield on the Main Stage on June 26 and futurist Bill Frisell performing "Guitar in the Space Age" at the Jane Mallett Theatre on June 28.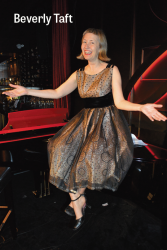 8) Toronto native Beverly Taft is one of this city's busiest jazz vocalists – she is performing four gigs at the festival: at Musideum with pianist Robi Botos on June 24 and in various ensembles at the Dominion on Queen; back to back on June 22 from 1 to 4pm with George Westerholm and the York Jazz Ensemble and 5 to 8pm with Sam Murata on violin, Tony Quarrington on guitar and special guest from Japan, pianist Yumi Nakata; and again at the Dominion on June 28 from 4 to 7pm singing bossa nova with Nathan Hiltz on guitar, Jordan O'Connor on bass and Chris Gale on tenor sax. Taft's is a light instrument that is easy to listen to and her passion for performing this music is always evident.
9) An exciting talent for her singing, songwriting and performance style, Maylee Todd defines genre in a sense, and though she is far from being a "jazz singer" the Toronto Jazz Festival has wisely booked her to perform at Shops on Don Mills. Comparisons to Björk and Kate Bush are likely, but here is an authentic voice of an exciting individual, not to be missed! I'm sad to miss this one myself (I'm playing at Paupers at precisely the same time!) but I will be visiting mayleetodd.com for future dates and following her on Twitter at @mayleetodd to find out where she will be next!
10) Now here's a concept: live jazz performances at music stores! Leading up to the Jazz Festival, the 333 Yonge Street location of HMV will present three live performances at 6pm called "The HMV Underground": the Mike Downes Trio, led by JUNO-winning bassist extraordinaire (June 16); Myriad3 (Chris Donnelly on piano, Dan Fortin on bass and Ernesto Cervini on drums, June 17); and the arresting voice of Eliana Cuevas (June 18). This is a wonderful opportunity to hear these artists up close and get an autographed copy of their recordings. What better way to get people back into the music stores?
Ori Dagan is a Toronto-based jazz vocalist, voice actor and entertainment journalist. He can be contacted at jazz@thewholenote.com.