The TD Jazz Festival June 19 to 28 2014 lineup announcement has been, in my opinion, the most memorable in years — Keith Jarrett, Bobby McFerrin, Norma Winstone, to name a few of the acts booked. Expect much more in HalfTones, mid-May, and in our June coverage.
Jazz Bistro: Meanwhile I'm also excited about the upcoming May schedule at Jazz Bistro, but need to start by telling you that I work part time for the club, so you should take that into consideration in weighing the words that follow!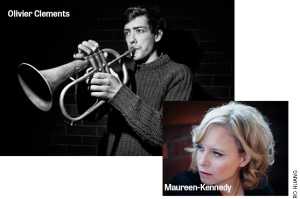 That being said, what's not to like? Highlights include a CD release for the Mike Murley Trio followed by two nights with the Mike Murley Septet (May 22 to 24). Another night I'm really thrilled about is Tuesday May 13, the Three Lauras, which is the debut of a trio of Marks, Fernandez and Hubert, all Toronto-based singers named Laura. All three are often classified as jazz but each Laura is completely different and uniquely awesome; they will be backed by a group of local all-stars: Mark Kieswetter, piano; Duncan Hopkins, bass; Kevin Turcotte, trumpet and Chris Gale, tenor saxophone.
And then there's Maureen Kennedy's three-night stand (May 29 to 31 at 9pm) for which she will be joined by Steve Wallace on bass, and special guests from Vancouver: saxophonist Cory Weeds and guitarist Bill Coon, who plays the first and third night while local guitar great Reg Schwager takes the second.
"I had the pleasure of singing with Cory Weeds and Bill Coon when Cory booked me for two nights at The Cellar a few years back. They have a history as players that Reg and Steve Wallace also share and for my three nights at Jazz Bistro I have the good fortune of tapping into all those special musical relationships" says Kennedy.
Kennedy's fans adore the purity of her 100 percent natural, golden, honey-like instrument, which is merely the surface of her art. Making every lyric sparkle with conviction, Kennedy's music is the result of a deep love of songs, and indeed she knows more tunes than almost anyone on our jazz scene.
When it comes to her eclectic repertoire, being a media librarian and researcher for the CBC has proven very handy for Kennedy.
"I think there are a few things about me that contribute to my ability to uncover rare tunes," she says. "First of all, I notice them. When I watch a movie or listen to a record my ear picks them out. I remember staying up late one night watching a movie on Turner Classic Movies starring Jane Powell called Small Town Girl. It featured an early guest appearance of Nat King Cole singing in a nightclub. He sang this haunting song called "My Flaming Heart." I was half asleep but once he started singing that song my ears pricked up and I took a mental note. The next day I looked up the tune in the CBC sheet music collection and it was there!"
Other songs Kennedy has rescued from obscurity include Jimmy Van Heusen's and Johnny Burke's "Humpty Dumpty Heart" on her debut album This is Always and Billy Strayhorn's "My Little Brown Book" on her most recent, Out of the Shadows, produced by Ted Ono and gorgeously captured by sound engineer Ron Searles. This album sounds like it was recorded in 1957.
The Tranzac: If you're looking to hear something new, be at the Tranzac Club on Thursday May 22 at 10pm. On that evening, visiting from Victoria, B.C. will be Olivier Clements and Dissonant Histories. A recent graduate of Humber College's jazz program, Clements is highly skilled multi-instrumentalist, composer and arranger; his latest project features two flugelhorns, two trombones, bass clarinet, rhodes, bass and drums, fusing elements of jazz, hip-hop, indie folk and classical music. What's it all about?
"I wanted to find a middle ground between these disparate, chaotic, and clashing musical influences," says Clements. "The music in Dissonant Histories isn't trying to fuse or blend all these different influences together, but rather to reconcile them." It takes a brave creator to draw from these varied musical colours and inspirations, and a truly talented one to make it work. If you miss the Tranzac gig, check out Oliver Clements in a quartet setting at the Emmet Ray on Monday, May 26 at 7pm.
Fauth is back! Amazing news to report about Julian Fauth, who is back singing up a storm after a period of illness that left him unable to entertain. Skillfully playing barrelhouse blues and singing in a style that borders on whispering, the Juno-winning singer-songwriter will win you over within the first song you hear. It's no wonder that so many venues wish to book him, for Fauth is a force of nature. He's easy to find, with four weekly house gigs: Tuesdays from 6 to 9pm at Sauce on the Danforth, Wednesdays from 9pm to midnight at Gate 403, and every Saturday and Sunday at Axis Gallery and Grill from 12 to 3pm.
Some other great news: new venues are opening up across the city, but this can only continue if people go out to support the music. Check out the Local Gest at 424 Parliament Street, formerly the Ben Wicks. Fashioned a bit after Ten Feet Tall's series from a few years back, each Sunday afternoon features live jazz, sometimes instrumental and sometimes vocal, accompanied by excellent cuisine. From 4:30 to 7:30pm, the listings this month are: Sheree Marshall on May 4, yours truly on Mother's Day, Laura Hubert on May 18 and the Henry Heillig Trio on May 25.
Ori Dagan is a Toronto-based jazz vocalist, voice actor and entertainment journalist. He can be contacted at jazz@thewholenote.com