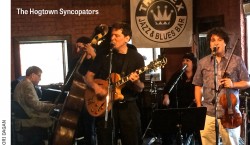 If you happen to fancy the music of the 1920s, 30s and 40s, you would be wise to get to the Rex Hotel every Friday afternoon from 4 to 6pm for The Hogtown Syncopators. While this kind of promise is hardly customary, I guarantee you will be entertained.
First there are the vocals of Terra Hazelton. It's not at all surprising that Jeff Healey chose this woman to front his Jazz Wizards for six years and that Jaymz Bee of Jazz.FM91 has said that she is one of a handful of singers who take you back to the 1930s. Oozing with personality, Hazelton can be found singing jazz, roots, country and original music, but her voice is ideal for the blues, reminiscent of timeless singers like Bessie and Billie. She has a way with a lyric and simply put, when she sings, it's hard not to listen. Hazelton also plays the snare drum in the Hogtown Syncopators, and does so with a sense of swing sublime.
The rest of the rhythm section is guitarist Jay Danley, who also sings and contributes original material to the group, James Thomson on bass, and Richard Whiteman on piano. Each of them brings something different to the band, but what they have in common is a passion for the music that is infectious.
And then there is violinist/clarinetist/saxophonist/vocalist Drew Jurecka. It is difficult not to be in awe of this versatile virtuoso, who was classically trained at the Cleveland Institute of Music. He has played the Hollywood Bowl with Diana Krall, Shirley Horn and Dianne Reeves; he spent five years on the road with Jeff Healey and now tours regularly as part of Jill Barber's band. In addition to his busy recording and performance schedule, Jurecka is a faculty member at Humber College where he has helped to develop a unique jazz strings program that includes technique classes, ensembles and private lessons.
"I played violin from a very young age, studying the Suzuki method, and then playing classically through my undergrad," Jurecka recalls. "I also played flute, then clarinet, then saxophone in my middle school and high school band. I studied the saxophone with two great private teachers: Andy Ballantyne and Alex Dean. Both of them introduced me to jazz music and taught me how to appreciate and approach playing it. Somehow it never occurred to me to play jazz on the violin until midway through my undergraduate degree at the Cleveland Institute, when someone introduced me to the music of Django Reinhardt (and his amazing violinist colleague Stéphane Grappelli). Playing jazz on the violin quickly became a passion, then a drive. I learned to apply the stuff I had been playing around with on the sax to the violin, and now here we are."
While most of the time Jurecka performs on the violin, in the Hogtown Syncopators he stretches out on his other instruments and sings in a heart-melting Louis Armstrong-influenced manner. It's not that he growls like Satchmo, but rather respects the melody while improvising ever so subtly in a hornlike way, all the while swinging you to good health.
As a sideman he has played, written or arranged on more than 150 records, including several JUNO-winning and Grammy-nominated albums, film and television soundtracks. What about his own recording?
"I've long been pressured by lots of friends and supporters to put out a solo disc. I've never had a strong drive to record "my own" project. I love playing music, arranging, producing and doing all of the things that I'm fortunate enough to do, and I feel pretty artistically satisfied.However, I do have a couple of days booked at Canterbury Studios in October with Mark Kieswetter and Clark Johnston. I'm excited to finally record a record as a leader." Cheers to this news! It will be very interesting to hear the choices Jurecka makes as a leader. For a sneak preview, see him along with Kieswetter on piano and Dave Young on bass at the Home Smith Bar on Saturday October 11 from 7:30 to 10:30pm.
The Unsinkable Terry Wilkins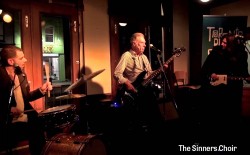 Another musician who can easily be described as versatile is bassist Terry Wilkins. The veteran Toronto-based musician, composer, bandleader, arranger, producer and teacher is a native of Sydney, Australia. He has been working here for over 40 years, but has kept a trace of an accent.
"I moved to Toronto on March 14, 1971. I arrived with a band – we were called Flying Circus and we came to Toronto to wait out the negotiations for a record deal with Capitol U.S. We stayed here for a few months and played bars and high school dances. We decided we liked Toronto, so after returning to Australia for one more nine-week national tour, we returned to Toronto, got our Capitol deal and I am still here."
Since the days of that country-rock band, he has worked with an impressively diverse group of artists including Lighthouse, Big Sugar, Rough Trade and David Wilcox, as well as backing up visiting artists such as Dr. John, Eddie (Cleanhead) Vinson, Maria Muldaur and John Hammond.
These days Wilkins is very excited about his recently formed band, The Sinners Choir (there is no apostrophe, I checked) which is a funny name for a powerhouse trio. Halfway between roots and rock 'n' roll, this unique cross-generational formation of three sideman who sing in harmony, in addition to playing bass, guitar and drums, rocks in every sense of the word.
"Four years ago, I got the call from Brian Cober of The Nationals to go play a Sunday night at Grossmans. I had done many of these over the years since their dear bassist, Paul, passed away.
"In this case, Brian informed me that he would be in Israel but he was sending in a young guitarist-singer named Adam Beer-Colacino. I had not heard of him. He was about 20 years old. We talked about what we were going to start with. From the literal first note we played together we had an innate understanding of how to intersect. Last November we added Adam Warner on drums after having had many gigs over those years with various drummers. Adam's writing and singing made him an invaluable addition. As a bonus, the very first time we ventured to sing a three-part, we made the sound we currently make. No strenuous rehearsal or detailed planning. It just worked."
These days you can see and hear The Sinners Choir on most Tuesday nights at 10pm at The Cameron House, a venue which is very dear to Wilkins.
"I have played there right back in time and over the intervening 33 years I have nearly always had one connection or another that kept me playing there, whether it was seminal Queen Street band V featuring Mojah, Lorraine Segato and Billy Bryans and myself, through to the early days of Big Sugar and its early associations with Molly Johnson, and on to standing on the bar with Jake and the Blue Midnights –right up to now with my work there with The Sinners Choir. I love The Cameron and I am so delighted that Anne Marie's son Cosmo and Mike McKeown had taken the spirit of The Cameron and pulled it into the 21st century keeping all the best and adding in their take. May it last another 100 years."
Ori Dagan is a Toronto-based jazz musician and educator who can best be reached at oridagan.comand I am so delighted that Anne Marie's son Cosmo and Mike McKeown had taken the spirit of The Cameron and pulled it into the 21st century keeping all the best and adding in their take. May it last another 100 years.
Ori Dagan is a Toronto-based jazz musician and educator who can best be reached at www.oridagan.com