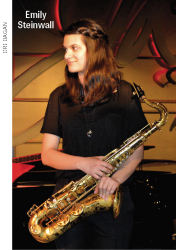 September signals summertime's end but musicians are out there to warm your heart this month, as always. It's really exciting to see some new, weekly jam sessions happening around town, several of which are organized, promoted and hosted by hugely talented young artists like saxophonist Emily Steinwall, who will be entering her 2nd year at Humber College this month. The house band consists of fellow Humber heavies Youngchan Na on guitar, Hayden Farrar on bass and Louis Baranyi-Irvine on drums. The jams run every Sunday from 4 to 7pm except for the second week of the month – so September 7, 21and 28at Relish on the Danforth. I caught up with Steinwall to find out a bit more about the who, the where, the how and the why behind the sessions.
What or who inspired you to start running a weekly jam session?
There is another weekly jam session in the west end run by Nick Morgan that I attend as often as possible at the Annette studios. I always have a great time at the Annette jam, and it was a big part of the inspiration to start one up in the east end. I think this type of traditional jam session is so beneficial for musicians who want to play jazz because it gives them a chance to play with new people and hear other players on the scene, and apart from the Annette jam there aren't many other things like this happening in Toronto. I realized that there was a lack of places for people to get out and jam, though there was a huge demand for it, so I started one up at my house around the end of May … within a few weeks, too many people were coming out and I had to find a bigger venue, which is when I asked Relish.
What makes Relish an ideal spot for this event?
Relish is a great fit for this type of jam session because it is minutes away from the subway line, already has the required equipment set up and offers cheap drinks for the musicians who come to play ($5 pints of Ontario craft beer are offered to all jammers). The people who work there are very friendly and relaxed, which gives the jam a fun and easy-going vibe.
What do musicians need to know if they are planning to come to the jam?
Rhythm section instruments will be provided, as well as microphones for the vocalists, but horn players need to bring their own instruments. Musicians who are planning to come and play should know material coming out of the Great American Songbook and other standard material – something that many people will know how to play without having to read a chart. The material played is coming straight out of the jazz/swing tradition. There are a few basic etiquette things that people should understand about jam sessions: first of all, if there are many people who want to play, don't hog the bandstand. This means taking a tasteful amount of choruses, not having more than two horn players on one tune and only playing one or two before letting the next group get up. Give everyone a chance to play!
Secondly, be open to all levels of players and do not be a jerk. This jam is for everyone to have fun and share their joy for music, and there is no room for egos. Don't call tunes that are obscure/heavily arranged and expect everyone to know them. Come in with an open mind and be ready to play anything … in this type of situation, simpler is better! There is no cover, but there is a tip jar for the members of the house band to get paid with. A $5 to $10 donation is recommended for people coming to play.
Here's wishing Emily Steinwall the best of luck with this session – you'll be seeing yours truly there often!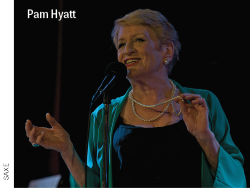 Another new jam session on Tuesday evenings takes place on Bloor near Ossington at Blakbird (without a letter 'c') which is the downstairs of Pero Lounge. The host, Kalya Ramu, is a fantastic vocalist in her senior year at Humber. She is joined by a stellar group of young musicians: Nick Tateishi on guitar, Ewen Farncombe on keys, Connor Walsh on bass and Ian Wright on drums. May these new jams live long and prosper, creating countless memorable moments of music!
Speaking of which, Lisa Particelli, founder and host of GNO Jazz Jam, just celebrated 500 weeks of singing! This jam has travelled around the city, from Cabbagetown to the Beaches, and for years now its home has been at Chalkers Pub on Marlee Avenue. As of a few months back, in addition to Wednesday nights at Chalkers, you can find the GNO East Jam between 2 and 5pm on the last Sunday of every month at Morgans on the Danforth, with guest pianist Mark Kieswetter. All are welcome to sing with the accompaniment of this very talented musician.
I'm always happy to let readers know about new venues for live music. While these days there are only a few actual jazz clubs in the metropolitan of Toronto, hotels and restaurants that have opened up their weekends for live entertainment are always a welcome addition. The charm of Yorkville's Toni Bulloni includes the food, service and atmosphere. There are only a few dozen seats at this intimate restaurant so the space easily becomes a cabaret. Saturday nights at 9pm and Sunday evenings at 6pm you can find entertainment by duos like Sam Broverman and Mark Kieswetter on September 6, Jordana Talsky and Mark Kieswetter on September 21, Genevieve Marentette and Mark Kieswetter on September 27, myself and Mark Kieswetter on October 4 and so on. Come and find out why Kieswetter's a walking masterclass in accompanying jazz singers!
Of the non-Kieswetter dates, one gig of note is that of the duo performing on Saturday, September 14: Pam Hyatt and Peter Hill.
Hyatt is a gifted actress and singer, a comedienne par excellence, and one hell of a cabaret act. From the gorgeous tenderness of "Something Cool" to the sheer insanity that takes place on "Easy Street," it's inspiring that this lady recently released her first recording, Pamalot at age 76 years young! Peter Hill is famous for accompanying thousands of Girls Night Out singers at Lisa Particelli's GNO Jazz Jam and maintains a busy schedule as accompanist and leader. Their collaboration is well-captured on Hyatt's aforementioned debut album. For dinner reservations at Toni Bulloni's call 416-967-7676.
Elsewhere in Toronto, the weekend of mid-September is a good one! The Rex alone features four fabulous shows on September 13: Danny Marks sings all kinds of blues at noon, Laura Hubert sings blues, jazz and western swing at 3:30pm, Justin Bacchus sings soul and R&B at 7pm and then for dessert, jazz fusion with Vito Rezza at 9:45pm. If you miss Rezza's group, a great opportunity to catch them is the following weekend, September 18, 19 and 20 at Jazz Bistro, with Cat Conner's CD Release Sunday September 21 at 7pm.
Thanks for reading, and an even greater thanks for getting out there and listening!
Ori Dagan is a Toronto-based jazz vocalist, voice actor and entertainment journalist. He can be contacted at jazz@thewholenote.com.