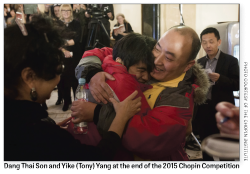 Toronto and Canada have been abuzz recently with the announcement of pianist Charles Richard-Hamelin's second-place finish in the 17th Fryderyk Chopin Competition in Warsaw. It's the first time a Canadian has won a prize in that prestigious event. In addition Richard-Hamelin won the Krystian Zimerman Prize for best performance of a sonata for Chopin's Sonata No. 3 in B Minor, Op. 58. The Women's Musical Club of Toronto was justly proud. It was the same sonata that won him their Career Development Award last April. In fact at the initial concert of their 148th season October 15, the WMCT announced that Richard-Hamelin had just made the finals.
Even mainstream media picked up on the historic nature of the award, the story made sweeter by the (perhaps) more unexpected news that 16-year-old Toronto high school student Yike (Tony) Yang, who finished fifth, became the youngest prizewinner in the history of the gruelling competition. One of Yang's teachers, former Chopin Competition winner (1980) Dang Thai Son (the subject of The WholeNote's February 2000 cover story), was one of 17 jury members. Martha Argerich (whose final vote mirrored the top two finishers -- Seong-Jin Cho of South Korea was awarded first place), Garrick Ohlsson, Yundi and Adam Harasiewicz were other former winners among the jurors. Richard-Hamelin's second place puts him in the distinguished company of Vladimir Ashkenazy, Mitsuko Uchida and Ingrid Fliter.
Yulianna Ardeeva: This month's listings are brimming with young talent. In a coincidence of rare serendipity, Yulianna Ardeeva, who placed first in the previous Chopin competition in 2010, is the guest soloist with the Orchestre Symphonique de Montréal (OSM) at Roy Thomson Hall on November 25. On her website you can get a sense of the crisp articulation that will undoubtedly serve her well here in Stravinsky's elegant Capriccio for Piano and Orchestra. Kent Nagano will also lead the orchestra in Shostakovich's profound Symphony No.10.
Alexander Seredenko, who won first prize in the Canadian Chopin Piano Competition in 2014 is the soloist in the latest instalment of Rob Kapilow's ongoing TSO series "What Makes It Great?" Rachmaninoff's justly popular Piano Concerto No.2 will be explored by the engaging Kapilow and the up-and-coming Seredenko.
Anastasia Rizikov, another gifted prodigy, now 16, gives a recital at Glenn Gould Studio, November 28. It will be interesting to see if she performs Albéniz' Triana, which earned her first place at the Jaén International Piano Competition in Spain earlier this year, as well as a special prize in the Obligatory Spanish Work category. This piece is scheduled for inclusion on her upcoming Naxos CD, to be released next March, 2016.
Phil and Eli Taylor Academy: Speaking of prodigies, the COC is featuring three young pianists from the RCM's Phil and Eli Taylor Performance Academy for Young Artists, in a noontime free concert, November 26: 11-year-old Leonid Nediak, who won the Canadian Music Competition (age 7 to10) in 2013 and made his OSM debut in 2014; 12-year-old Raymond Huang; and Richard Chao Gao, who appeared at RTH in the Emanuel Ax-curated "Pianorama" last February. The fall edition of the Taylor Academy Showcase Concert November 21 at Mazzoleni Hall is already sold out, so this is an opportune moment to get a sense of the young talent on the rise in our city without having to wait for the Taylor Academy's next showcase in the winter of 2016.
Jan Lisiecki: No reference to prodigies would be complete without noting the sublime Jan Lisiecki, now 20, whose December 6 Koerner Hall recital is sold out. I'm happy to say I already have my ticket and I'm looking forward to hearing Lisiecki (and his pellucid, singing tone) perform, among other works, Chopin's Preludes Op.28, Mozart's Sonata No.11 in A Major K331 and Mendelssohn's Variations sérieuses in D Minor, Op. 54.
Peter Jablonski, now 44, who makes his Toronto debut at the Jane Mallett Theatre November 10, began studying drums at five and piano at six. He played the Village Vanguard with Buddy Rich and Thad Jones when he was nine, earning praise from Miles Davis. He then made his solo recital and orchestral piano debut at eleven in Sweden before establishing a distinguished professional career in the U.S. and U.K. in the early 1990s. His Music Toronto program is unusually rich and varied, moving from Szymanowski and Chopin to Grieg, Rachmaninoff, Scriabin and Leonard Bernstein's transcription of Copland's El Salón Mexico.
Schulich School. Richard-Hamelin, currently studying with André Laplante, received his master's degree from the Yale School of Music in 2013 and a bachelor's degree in performance from McGill's Schulich School of Music in 2011. Another Schulich tie-in: celebrating the Schulich School's tenth anniversary, the McGill Symphony Orchestra, led by conductor Alexis Hauser, makes its Koerner Hall debut November 17.
Highlighting the evening will be Brahms' resplendent Double Concerto in A minor, Op.102 with violinist Axel Strauss and cellist Matt Haimovitz as soloists. Strauss' Naxos recording of Volume 2 of Enescu's violin and piano music caught the attention of Terry Robbins in last June's WholeNote. He called the CD "exceptional" and Strauss "terrific"in his Strings Attached column. The opportunity to hear the internationally acclaimed Haimovitz is always welcome. All three artists are on the Schulich School faculty. The evening begins with John Rea's Over Time. Rea, a two-time recipient of the Jules Léger Prize for New Chamber Music, will attend the concert. Closing out the program is Shostakovich's forceful Symphony No.5, with its contagious rhythms that careen from sarcasm to triumph.
And speaking of student orchestras, ten days later, Tania Miller, music director of the Victoria Symphony, leads the Royal Conservatory Orchestra (the RCM's own student orchestra) in its fall Koerner Hall concert. Their program opens with Traffic Jam, by the Banff Centre's "emerging composer" and composer-in-residence of the Victoria Symphony, Jared Miller. Concertmaster Heidi Hatch, a Glenn Gould School scholarship recipient, is the soloist in Bruch's Scottish Fantasy, a delightful mashup of Scottish folk songs and German Romanticism. Mahler's memorable Symphony No.5 completes the evening.
Grosvenor's Return: Last month I profiled the extraordinarily talented young British pianist, Benjamin Grosvenor. His return visit to the Jane Mallett stage October13 exceeded all my expectations. For a report on the concert, please read my blog on thewholenote.com.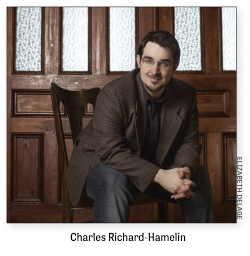 QUICK PICKS
November 5 The Cecilia String Quartet's Music Toronto concert includes Mendelssohn's String Quartet Op.44, No.2 which is featured on their newly released Analekta CD. The quartet series continues November 26 with the Toronto debut of the young Polish ensemble, the Apollon Musagète Quartet, playing Dvořák and Schubert.
November 6 Beethoven's under-appreciated Symphony No.4 is the featured work in a diverse program by the energetic group of 27 under the direction of the effervescent Eric Paetkau that also includes works by Purcell, Burge and Glazunov.
November 8 Marquis Classics recording artist, flutist Susan Hoeppner, and TSO principal oboist, Sarah Jeffrey, are joined by pianist Jeanie Chung in a program of works by Ginastera, W.F. Bach, Ibert and others in Mazzoleni Hall.
November 8 The superb string trio, Trio Arkel, includes Haydn and Beethoven in its Kitchener-Waterloo Chamber Music Society (K-WCMS) recital. November 9 finds the Arkel in Heliconian Hall playing a similar program. November 12 the COC free noontime concert series features them again in the Beethoven Trio Op.9, No.3 as well as Michael Oesterle's Warhol Dervish.
November 10 Legendary musicians flutist Suzanne Shulman and harpist Erica Goodman perform "An English Midday Serenade" at McMaster University in a free lunchtime concert that includes music by Vaughan Williams, Handel and Elgar, among others.
November 11 Nocturnes in the City presents the celebrated Zemlinsky String Quartet in a program of works by Dvořák, Janáček, Suk and Shostakovich
November 12 The K-WCMS series continues with the Zemlinsky String Quartet. The esteemed Czech musicians include the first of Beethoven's late string quartets, his Op.127, in their program. November 18 rising star violinist Francesca Anderegg gives a solo recital featuring Bach, Ysaÿe and Kreisler. November 21 the versatile Ottawa-based pianist, David Jalbert, mixes and matches Satie, Poulenc and Stravinsky in his "Soirée Parisienne."
November 12 and 14 Michael Sanderling, of the musical Sanderlings (father Kurt, brothers Thomas and Stefan) and conductor of the Dresden Philharmonic, leads the TSO in Mahler's Symphony No.4, perhaps the composer's most popular symphony. November 18 and 19 Peter Oundjian takes back the baton for Rimsky-Korsakov's crowd-pleasing Scheherazade, with concertmaster Jonathan Crow as violin soloist. Principal clarinetist Joaquin Valdepeñas brings his gorgeous, full tone to Weber's Clarinet Concerto No.1. Dec 2, 3 and 5 Crow returns to the spotlight for Tchaikovsky's Violin Concerto, that enduring romantic icon, while Oundjian conducts another of the composer's masterpieces, his Symphony No.6 "Pathétique."
November 14 The Dover Quartet caught everyone's attention when they won the Grand Prize and all three Special Prizes at the 2013 Banff International String Quartet Competition. Their concert in Kingston's Isabel Bader Centre for the Performing Arts should be worth the trip.
November 15 The Windermere String Quartet performs Russian works by Alabiev and Glinka as well as Beethoven's great "Razumovsky" Quartet Op.59, No.2.
November 25 André Laplante brings his secure pianistic sense to Schubert's Moments Musicaux (Nos.1,2 and 6) and Three Petrarch Sonnets by Liszt as part of the Toronto Mendelssohn Choir's "German Romantics" program.
November 29 Canadian superstar violinist, James Ehnes, is the soloist in Lalo's virtuosic Symphonie Espagnole with the Niagara Symphony Orchestra.
Paul Ennis is the managing editor of The WholeNote.