Rossini, Wagner, von Suppé, Tchaikovsky, Smetana, Donizetti, Grieg, Offenbach, J. Strauss, Jr., Liszt. Sure, they all hold membership in the pantheon of great composers, but do you know what else they have in common? Bugs Bunny, Elmer Fudd, Porky Pig, Daffy Duck and Wile E. Coyote, to name some of those lovable Looney Tunes characters who have danced, pranced, chased and raced around on screen, to the music of those aforementioned composer heavyweights, or rather, to brilliantly conceived and executed adaptations, orchestrations, arrangements and "borrowings" of their music by American composers, Carl Stalling and Milt Franklyn, the ingenious creators of the symphonic soundtracks to those zany Warner Bros. cartoons of yesteryear. (They sure don't make 'em like they used to.)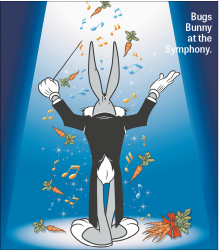 Looney Tunes: Remember The Rabbit of Seville? (1949) — "Welcome to my shop, let me cut your mop, let me shave your crop. Daintily, daintily." (Can't you just hear/see Bugs Bunny, dressed in a barber's outfit, beckoning Elmer Fudd with that Rossini-inspired score à la Stalling?) And what about What's Opera, Doc? (1957) that amazing tour de force where Franklyn manages to condense the four nights of Wagner's Ring cycle into seven exhilarating orchestral minutes to accompany the cartoon capers as Bugs and Elmer battle it out in a parody of Wagner operas. It's famous, of course, for Fudd's "Kill the Wabbit," sung to the tune of Wagner's "Ride of the Valkyries," from Die Valküre. As George Daugherty, creator and conductor of "Bugs Bunny at the Symphony" has said, "Once you've seen Elmer Fudd chasing about on screen singing "Kill the wabbit, kill the wabbit," you will never hear Wagner's "Ride of the Valkyries" the same way again."
Well, guess what? Bugs is back in town! And you'll be able to test Daugherty's theory when "Bugs Bunny at the Symphony" returns to the Sony Centre after its hugely successful 2011 engagement. Celebrating over two decades of Bugs Bunny on the concert stage, the production involves projecting the classic cartoons onto a large screen, while an orchestra, in this case the Kitchener-Waterloo Symphony, provides a live accompaniment, with Daugherty conducting. It's great fun for both the audience and orchestra (though a little more tricky for the latter). There is one performance in Toronto on May 18, at 7pm; a 2pm show was recently cancelled. Two days earlier, on the 16th, Daugherty will conduct the KWS on home turf at Kitchener's Centre in the Square, at 7pm.
And what's on the program? In addition to the two iconic cartoons mentioned, I dangle a carrot with a few others: Baton Bunny, with music by von Suppé, orchestrated by Franklyn; Zoom and Bored (Road Runner "epic"), with an original score by Stalling and Franklyn, based on "The Dance of the Comedians" from The Bartered Bride by Smetana; A Corny Concerto, with music by Stalling, based on Tales of the Vienna Woods and The Blue Danube by Johann Strauss II; and Long-Haired Hare, with an original score by Stalling, "after" Wagner, von Suppé, Donizetti and Rossini. You'll also hear selections from the Great American Songbook and traditional American folk songs. And there will be "guest appearances" by Tom and Jerry, the Flintstones and Scooby-Doo, not to mention an appearance by Tweety and Sylvester in a cartoon titled (presciently) Home Tweet Home, with an original score by Franklyn. I guarantee it will contain a lot more than 140 notes ... and lots of character.
This is serious entertainment, folks. Resist (and poo-poo) at your own risk. Besides, as Daugherty contends: "If most people — even the most highbrow of opera and classical music lovers — were to admit the truth, they would fess up that they heard their first strains of the Ring cycle or ... The Barber of Seville courtesy of Bugs Bunny and Elmer Fudd." As for Stalling and Franklyn, Daugherty holds them in high regard, suggesting that they're "up there" with the likes of Aaron Copland and Leonard Bernstein. Come see for yourself.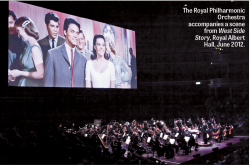 Lenny tunes: Staying with the screening-with-live-orchestral-accompaniment idea for a moment, if watching Looney Tunes cartoons isn't your thing, but Bernstein is, then you're in luck! Because, on May 28 (7:30) and 29 (1:30 and 7:30), at Roy Thomson Hall, Bernstein's dazzling score to West Side Story will be performed by the TSO, while the 2011 re-mastered version of the film (with original vocals and dialogue intact) is shown, in high definition, on the big screen. "West Side Story: film with live orchestra," was initiated and shepherded by The Leonard Bernstein Office in New York City, to mark the 50th anniversary of the film which was originally released in October of 1961. You can read here about the amazing journey of the West Side Story reconstruction project — starting with the startling fact that the original score materials did not exist. The piece, alone, is a loving tribute to the film, and offers a real appreciation for, and a fascinating, in-depth account of, the complexities involved in bringing a project of this nature to fruition.
Steven Reineke, recently appointed principal Pops conductor of the TSO (and music director of the New York Pops at Carnegie Hall), will conduct the TSO in what is sure to be a magical and memorable experience. We're invited to enjoy the two evening concerts with "drink in hand" and popcorn, both available for purchase.
I have to say, as an unabashed fan of the film's music, choreography and Sondheim lyrics, that the TSO's bringing it even further to life is going to be very "cool."
(And if you'd like to hear the TSO play more Bernstein, you can catch the orchestra at the George Weston Recital Hall on June 2, 3:00pm, in a performance of his Overture to Candide, along with Elgar's Enigma Variations and Gershwin's Rhapsody in Blue. Bramwell Tovey conducts and is at the piano.)
Birthday tunes: And with that nod to Bugs and Bernstein accomplished, I close this column with two bicentennial birthday acknowledgments: Wagner was born on May 22, 1813, and Verdi on October 10. Both the Oakville Symphony and the Etobicoke Philharmonic Orchestra mark the Verdi milestone with concerts titled, coincidentally, "Viva Verdi." On May 11 (8pm) and 12 (2pm) at the Oakville Centre for the Performing Arts, the OSO offers selected Verdi overtures, arias and duets, with guest soprano Laurie Reviol. On May 24, the EPO returns to the Martingrove Collegiate, at 8pm, and performs the "Triumphal March" and "Ballet Music" from Aida, "Va Pensiero" from Nabucco and other selections. Baritone Jeffrey Carl and soprano Rachel Cleland join conductor Sabatino Vacca, along with special guest, tenor Richard Margison — another coup for the EPO! (Last month, it was pianist Arthur Ozolins performing the Rachmaninoff Third.)
For its free noonhour Chamber Music Series in the Richard Bradshaw Amphitheatre, the Canadian Opera Company presents "Happy Birthday, Wagner" on, you guessed it, the composer's actual birthday, May 22. The intriguing program, featuring the cellists of the COC Orchestra, includes arrangements of Wagner's opera overtures for four cellists, Bizet's Carmen Fantasy for five cellos, and a work by 19th-century cellist, David Popper, who knew and admired Wagner, subsequently transcribing several of his piano solo works for cello. Hmmm. I wonder what either of them would have thought of Stalling's and Franklyn's way with Wagner.
Th-Th-Th-Th ... That's all folks! 
Sharna Searle trained as a musician and lawyer, practised a lot more piano than law and is listings editor at The WholeNote. She can be contacted at classicalbeyond@thewholenote.com.