A quick glance at the Union Jack-based brochure of Toronto Summer Music's 11th season, "London Calling: Music in Great Britain," might lead you to expect a bounty of English music, but the more you delve into TSM's 25 concerts it's apparent that what the festival is offering is a cornucopia of music that would have been heard in London over the course of three centuries. As artistic director Douglas McNabney told The WholeNote publisher David Perlman in a recent podcast (video at TheWholeNote.com), "We're celebrating musical life in London…[which] has always been the centre – a Mecca for musicians." No wonder, since the city was the centre of the immense British Empire.
And this year's festival, more so than ever, is also a celebration of chamber music; 14 programs fall into that category. But TSM, with its mentors and fellows program, is more than a showcase for top-notch instrumentalists and ensembles like the Parker or Dover Quartets. It offers full scholarships to musicians on the brink of a musical career the opportunity to be mentored by established professionals, and equally important, to participate in concerts with them (the so-called "Chamber Music reGENERATION" series of eight Saturday afternoon recitals and the two Art of Song reGENERATION Friday afternoon concerts).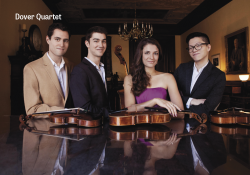 McNabney has very cleverly taken a handful of 19th-century London concert series and used the conceit to create diverse and satisfying chamber music programs. The Beethoven Quartet Society of 1845, for example, marked the first instance of a complete Beethoven string quartet performance cycle. The acclaimed young American ensemble, the Dover Quartet, who will be launching their own traversal of the Beethoven cycle this fall, will follow the lead of those 19th-century Londoners by including an early, a middle and a late quartet in their program. On July 29 in Walter Hall, they will play Op.18 No.6, Op.59 No.3 and Op. 132, making for an unusually rich and sure-to-be illuminating musical evening. Another American quartet, the Parker, whose Naxos recording of the complete Ligeti quartets won them a Grammy, pay tribute to the Musical Union of 1865, a famous concert series of its day, with a program of late Haydn, early Beethoven and late Schubert quartets, July 15.
Of course, there will be English music, beginning with the opening concert July 14, featuring two 20th-century masterpieces, Britten's sublime Serenade for Tenor, Horn and Strings and Elgar's exhilarating Introduction and Allegro for string quartet and orchestra. A second, centred on TSM's artistic-director-designate, TSO concertmaster and New Orford String Quartet violinist, Jonathan Crow, includes Elgar's mournfully beautiful Violin Sonata, Bax's Piano Quartet and Bridge's Piano Quintet. A third, a homage to the People's Concert Society (another 19th-century London concert series), showcases TSO principal oboist Sarah Jeffrey, one of TSM's mentors, in a lively program comprised of Britten's Phantasy Quartet for Oboe and Strings, Op.2, Bliss' Oboe Quartet and Vaughan Williams' Piano Quintet, August 3.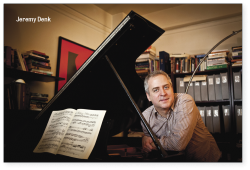 Two compelling pianists, Pedja Muzijevic and Jeremy Denk, will each give what are certain to be fascinating recitals. Muzijevic is back as a mentor this year after a fulfilling session in 2015. As well as being a pianist of impeccable flair, he proved to be an engaging man with a mic in last year's American Avant-Garde concert, introducing the music and reading from John Cage's 32 Questions. Both qualities will no doubt be evident in July 19's Haydn Dialogues, the Walter Hall event in which Muzijevic will discuss Haydn's London experience (where he wrote two of the three sonatas on the program) and relate Haydn's work to Cage's seminal In a Landscape, Knussen's Sonya's Lullaby and Berger's Intermezzo.
Winner of a MacArthur "Genius" Fellowship, Denk brings his keen intellect to everything he does. A gifted writer in addition to being a supreme musician, his New Yorker account of his years as a music student, "Every Good Boy Does Fine," is revealing, moving and a must-read.
The program for his July 21 recital has just been announced; it promises to be imaginative, insightful and engaging, one I won't miss.
Festival of the Sound
Festival of the Sound's 37th summer offers an abundance of musical treats to snack on. Each week features several chamber music combinations; the Gryphon Trio, playing Dvořák's popular Dumky Trio and Schubert's delightful Trio No.1 D898, shares the stage with the New Zealand String Quartet at 7:30 on July 19 and Moshe Hammer and Peter Longworth at 3:30 the same day; Hammer appears in "Our Favourite Sonatas I" the next day while Longworth accompanies cellist Rolf Gjelsten in a late Beethoven sonata in "Our Favourite Sonatas II" later that day.
Stewart Goodyear brings his penchant for Beethoven to the "Pathétique," "Moonlight," "Tempest," and "Appassionata" sonatas in "My Favourite Beethoven" on July 22. On July 21, he puts on his chamber music hat teaming up with the Penderecki String Quartet and New Zealand String Quartet for Schumann's Piano Quintet Op.44 and Brahms' Piano Quintet Op.34.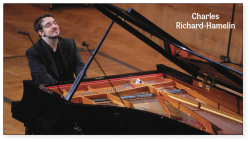 Recent Chopin International Competition second-prize-winner, the gifted Charles Richard-Hamelin, highlights week two, July 28, with two concerts that show off his sensitivity as soloist and collaborator. After playing a Chopin nocturne, ballade and polonaise before intermission, he returns as pianist with the Hochelaga Trio to perform Tchaikovsky's Piano Trio in A Minor Op.50. Earlier that day, Trio Hochelaga plays Ravel's gem, Piano Trio in A Minor, in a program that also features the festival's artistic director, clarinetist James Campbell, oboist James Mason, violinist Martin Beaver, violist Graham Oppenheimer and bassist Joel Quarrington in Prokofiev's radical nugget, Quintet Op.39. My favourite jazz pianist, Robi Botos, is joined by drummer Terry Clarke and legendary bassist, Dave Young, for "My Favourite Jazz" on July 29.
Week three is dominated by the piano, culminating August 6 in a "Piano Spectacular" celebrating ten years of the ensemble Orford Six Pianos, and concluding with Janina Fialkowska, Bergmann Duo, Anagnoson & Kinton and Glen Montgomery joining the Orford six in Bizet/Wilbert's Carmen Fantasy for 12 pianists. Duo pianists Anagnoson & Kinton, celebrating 40 years of concertizing together, perform Bartók's incisive Sonata for Two Pianos and Percussion as well as other works, August 2. The notes continue flowing with Fialkowska's "My Favourite Chopin" on August 5. The festival concludes with Fialkowska joining the National Academy Orchestra for Beethoven's rhapsodic Piano Concerto No.4 and Anagnoson & Kinton playing Mozart's Concerto No.10 for Two Pianos. Earlier in the week, August 3, the Lafayette String Quartet, the only all-female quartet still comprised of its original members, celebrates 30 years of togetherness by performing Ravel and Dvořák.
Stratford Summer Music
The piano is consistently a major focus of Stratford Summer Music, and 2016 is no exception. Simone Dinnerstein, who famously self-produced her refreshing take on Bach's Goldberg Variations and then saw it become immensely popular, will perform the piece July 23 at 11am. The prior afternoon she will give a Bach master class to three promising young pianists in what could turn out to be an unforgettable experience for student and audience alike. Each student is well-known in the piano competition world: Anastasia Rizikov, now 16, is a veteran of the concert stage; Toronto-based, Russian-born Vladimir Soloviev is the most-decorated student in the history of the Don Wright Faculty of Music at the University of Western Ontario; Charissa Vandikas, 18, is a top student at the Glenn Gould School. Dinnerstein begins her visit to Stratford, July 21, with a program devoted to a selection of Glass' Metamorphoses and Etudes paired with Schubert Impromptus Op.90 and his immortal Sonata in B-Flat D960.
Two other young veterans of international piano competitions, Tony Yike Yang and Luca Buratto, make their Stratford debuts. Yang, at 16 the youngest prizewinner in the history of the Chopin International Piano Competition, will bring his immense technique and precocious interpretative sensibility to a demanding program of Mozart, Chopin, the formidable Liszt Sonata in B Minor and Prokofiev's dramatic Sonata No.7, August 3. Two weeks later, Buratto, the most recent Honens Prize-winner, brings his "fiery imagination and finesse" to works by Schumann and Beethoven.
Now 21, the redoubtable Jan Lisiecki continues on his path to the upper reaches of the pianistic universe. His recital on August 26 includes works by Bach, Rachmaninov and Chopin. The following afternoon, he will play Schubert's final Four Impromptus, Schumann's Klavierstücke Op.32 and Chopin's Nocturnes Op. 48 and Scherzo No.1 in B Minor Op. 20. These will be Lisiecki's only local recital appearances this season. Don't miss this chance.
Festival de Lanaudière
The 39th season of the Festival de Lanaudière is a tribute to its founder, Father Fernand Lindsay who was especially fond of Beethoven, Bach, Brahms, Berlioz and Tchaikovsky, so the festival has taken special care to invite music lovers to discover the many works of those composers to be featured this summer. About an hour's drive northeast of Montreal, the festival is well-suited for a holiday excursion. Since many of the festival's artists don't normally make the trip to Toronto, it's all the more reason to travel to Joliette, Quebec.
JUNO Award-winner, pianist Alain Lefèvre opens the festival with Tchaikovsky's uber-romantic Piano Concerto No.1 on July 9. The Jupiter String Quartet, quartet-in-residence at the University of Illinois and a tightly knit family unit (the cellist is married to the second violinist who is the sister of the violist), are undertaking a cycle of the complete Beethoven string quartets at the festival, beginning this summer with concerts July 11 (Nos.6, 11, 15), 12 (Nos.4, 5, 13) and 14 (3, 16, 8). Angèle Dubeau leads her all-female string ensemble, La Pietà, in "The Mark of Minimalism," a July 10 concert comprised of music by Glass, Einaudi, Mozetich, Nyman, Goulet and Pärt.
The eminent English violinist, Anthony Marwood, is the soloist in Beethoven's ageless Violin Concerto Op.61, with Les Violons du Roy conducted by Bernard Labadie, July 15. "Child Prodigy" Tony Yike Yang gets a chance to perfect the program he will be playing in Stratford, August 3, when he performs it in Lanaudière on July 19. Silver medal winner in the 2015 Tchaikovsky International Competition, American George Li's recital includes sonatas by Haydn and Chopin (No.2), Rachmaninov's Variations on a Theme by Corelli and two crowdpleasers by Liszt. Armenian-born pianist Nareh Arghamanyan, the winner of the 2008 Montreal International Musical Competition, performs an unusual program on July 26 – Bach's Goldberg Variations, Saint-Saëns' Danse Macabre, Liszt's Totentanz and three of his transcriptions of songs by Schubert and Mozart. The innovative ensemble, collectif9, plays Golijov, Brahms, Piazzolla and others on July 29.
The Orchestre symphonique de Montréal led by Kent Nagano begin the festival's final weekend August 5 accompanying Charles Richard-Hamelin in Brahms' fiery Piano Concerto No.1 and unlocking the many strains of Schumann's Symphony No. 3 "Rhenish." August 6, the orchestra performs two of the most famous unfinished works in the musical canon, Schubert's Symphony No.8 "Unfinished" and Mozart's Requiem, an ideal pairing for an outdoor concert. The 39th season concludes with local hero Yannick Nézet-Séguin and his Orchestre Métropolitain in a program that pays homage to the conductor's Philadelphia Orchestra post. All four pieces were commissioned by that orchestra: Bach/Stokowski's Passacaglia and Fugue in C minor BWV582; Rachmaninoff's magical Rhapsody on a Theme of Paganini Op. 43 and Symphonic Dances Op. 45; and Nico Muhly's Mixed Messages. There are no mixed messages in the Festival de Lanaudière, simply a love of music that exists to be shared in the warmth of a summer day or evening.
Clear Lake Chamber Music Festival
Under the direction of pianist Alexander Tselyakov, the 11th annual Clear Lake Chamber Music Festival makes for a lovely Manitoba weekend July 21 to 24. The concerts are filled with quality (Tselyakov playing Ravel's devilish Gaspard de la Nuit and participating in Dvořák's great Piano Quintet in A No.2 Op.81 in the opener) and diversity (Tselyakov collaborating with Kerry DuWors and Joyce Lai,  violins and Simon Fryer, cello, in sonatas by Handel, Saint-Saëns and Prokofiev and Three Madrigals by Martinů). An appealing Saturday morning concert July 23 precedes the finale July 24 in which Schubert, Dvořák and Schumann are the featured composers.
Music and Beyond
There's an unmistakable European flavour to this year's Music and Beyond festival (which runs from July 4 to 17 in Ottawa) with the dynamic Utrecht String Quartet performing Beethoven, Tchaikovsky and Piazzolla on July 7 and the joyous Vienna Piano Trio in for three concerts July 7, 8 and 9. It's worth a drive to the nation's capital to hear these remarkably adept musicians perform all three of Brahms' piano trios as well as works by Shostakovich, Haydn, Ravel and Cerha.
QUICK PICKS
TSO: June 4, 5. Emanuel Ax-protege Orion Weiss performs Gershwin's immortal Rhapsody in Blue. Andrew Grams conducts. June 9, 10, 11: James Ehnes performs Elgar's beloved Violin Concerto; Peter Oundjian offers orchestral support and leads the TSO in Stravinsky's revolutionary The Rite of Spring. June 11: The TSO Chamber Soloists led by Jonathan Crow give a pre-concert performance of Stravinsky's bedevilling suite from L'Histoire du soldat. A full version of the piece takes place at the Hearn Generating Station as part of Luminato, June 18.
A significant serving of Beethoven is on order June 15 and 16 with Oundjian leading the orchestra in the composer's Eroica Symphony and accompanying the thoughtful Yefim Bronfman in Piano Concerto No.3. June 18 Oundjian takes his forces to the Hearn for Beethoven's rousing Symphony No.5 and Gershwin's danceable An American in Paris.
June 21: Nine Sparrows presents a free concert with flutist (and WholeNote chairman of the board) Allan Pulker.
June 30: Summer Music in the Garden presents the Cecilia String Quartet playing Mozart's String Quartet K.590 and Kati Agócs' Tantric Variations.
July 16: Alexander Tselyakov and friends warm up for Clear Lake with a concert presented by Kitchener-Waterloo Chamber Music Society.
Aug 15: Music Mondays presents "Surrealism at Midday" with pianist Anastasia Rizikov performing works by Liszt, Ravel and Scriabin.
Paul Ennis is the managing editor of The WholeNote.