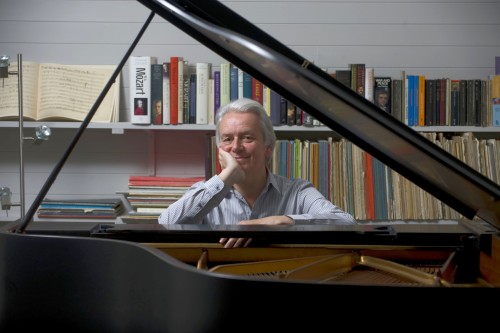 On March 17, Christian Blackshaw, now 70, brings a selection of works from his acclaimed Complete Mozart Sonata Series, performed and recorded at London's Wigmore Hall, to Walter Hall. Hailed as "magical," "captivating," and "masterful," the fourth volume of the series was named as one of the Best Classical Recordings of 2015 by The New York Times. Blackshaw's all-Mozart program for Mooredale Concerts will include Sonata No.11 in A Major, K331 and Sonata No.14 in C Minor, K457.
In a 2013 interview with Gramophone after his year-long Wigmore Hall series, Blackshaw spoke of Mozart as a particular passion. "It was a sort of penny-dropping moment discovering Mozart," he said. '"I think I'm a frustrated singer and to me the sonatas can be construed as being mini-operas. I find his whole being informed by the voice and the vocal line." In the interview he rejected a characterization of Mozart's music as being "restrained." "There have got to be elements of joie de vivre," he responded. His own ultimate goal in performance is a state of "slow, calm release" where he can reach "a sense of communion." And does he find music more conducive to communion than words? "Yes," he said instantly. "There's no small talk [in music]."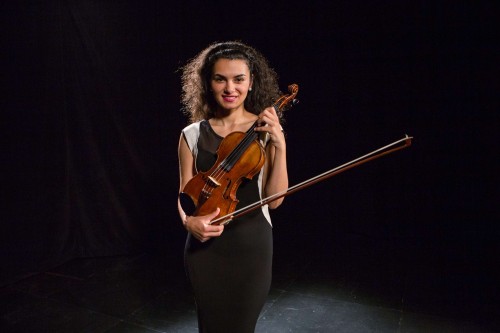 COC Noon-hour Concerts
Born in Siberia to a family of medical PhDs, Nuné Melik started playing the violin at the age of six; her first solo performance with orchestra took place a year later at the Kazan Symphony Hall. A prizewinner of numerous competitions and audience awards, she has performed across the globe, including the Stern Auditorium and Weill Recital Hall in Carnegie Hall and our own Glenn Gould Studio. In 2010, as an umbrella for her exploration of new repertoire, Melik founded the Hidden Treasure International Project, comprising research, performance and lectures of rarely heard music. By way of performances and lectures she also advocates for and promotes the music of the Caucasus, her heritage. Together with her longtime collaborator, pianist Michel-Alexandre Broekaert, in October 2017 she launched Hidden Treasure, a CD featuring unknown works by Armenian composers with Melik's own original program notes; CBC radio called it a "love letter to Armenia."
A multi-talented artist who speaks five languages, Melik produced and directed a documentary last year about Armenian composer Arno Babadjanian. She has published books of poetry in Russian, which were translated into Armenian by the Writer's Union of Armenia in 2016. Together with her CD, a book of French and English poetry was simultaneously released in October 2017.
COC presents Nuné Melik's "Hidden Treasures – Armenian music unearthed" on March 12, with collaborative pianist Michel-Alexandre Broekaert, a free concert in the Richard Bradshaw Amphitheatre of the Four Seasons Centre.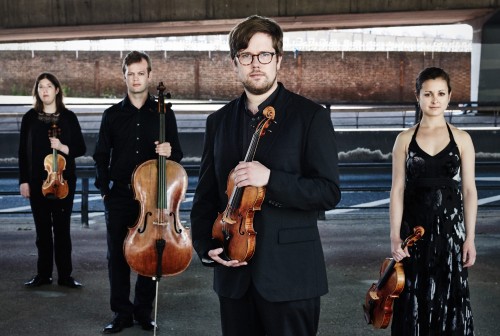 The Castalian String Quartet, founded in 2011 and based in London, England, was a finalist in the 2016 Banff Competition won by the Rolston String Quartet. Last year they were named the winner of the first Merito String Quartet Award/Valentin Erben Prize which includes €20,000 for professional development, along with a further €25,000 towards sound recordings and a commission. The award came as a complete surprise to the quartet since there was no application process or competition for it; instead a secret jury assembled a shortlist of five quartets which were then observed in at least two concerts during the course of a year, always without the musicians' knowledge.
According to the award announcement, "The aspects that were evaluated included their professional approach, repertoire, programming, the artistic quality of the concerts, their musical profile, and also the imagination and innovation displayed by the musicians. Their artistic career to date and recordings, where applicable, were also evaluated."
The award is an initiative of Wolfgang Habermayer, owner of Merito Financial Solutions, and Valentin Erben, founding cellist of the Alban Berg Quartet. "The critical factor for us is how the young musicians behave in 'everyday life' on the concert stage," said award co-founder Erben. "The human warmth and aura radiated by these four young people played a key role. They are never just putting on a show – the music is always close to their heart. You can feel their intense passion for playing in a quartet."
The Castalian String Quartet performs in the Richard Bradshaw Amphitheatre of the Four Seasons Centre in a COC free noon-hour concert on April 4. The program includes Haydn's String Quartet Op.76, No.2 "Fifths" (a reflection of the Castalians' passion for the inventor of the string quartet), and Britten's String Quartet No.2, written just after WWII to mark the 250th anniversary of Henry Purcell's death.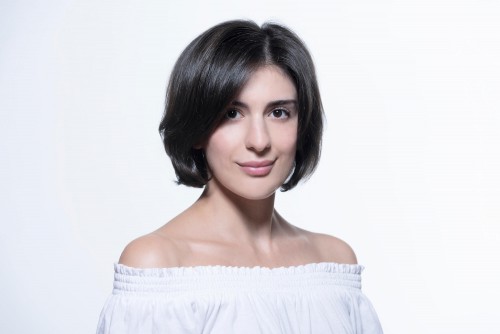 Women's Musical Club of Toronto
Now in her mid-20s, Georgian pianist Mariam Batsashvili is another promising young artist. She began studying the piano at four; by seven, "completely in love with the instrument," she knew she wanted to be a pianist for the rest of her life. She gained international recognition at the tenth Franz Liszt Piano Competition in Utrecht in 2014, where she won First Prize as well as the Junior Jury Award and the Press Prize. This success led to performances with leading symphony orchestras, and to an extensive program of recitals in more than 30 countries. She was nominated by the European Concert Hall Organisation (ECHO) as Rising Star for the 2016/17 season. A BBC Radio 3 New Generation Artist, she is performing at major festivals and concert venues across the UK as part of that award.
Her comprehensive April 4 recital in the Music in the Afternoon series of the Women's Musical Club of Toronto begins with Busoni's soaring arrangement of Bach's iconic Chaconne from Partita No. 2 for violin, BWV 1004, taps into Schubert's fountain of lyricism, the Impromptu Op.142, No.1 D935, moves on to Mozart's haunting Rondo in A Minor, K511 and Liszt's virtuosic Hungarian Rhapsody No.12; then concludes with Beethoven's notoriously difficult Sonata No.29 in B-flat Major, Op.106 "Hammerklavier." In Walter Hall; just a few weeks after a performance in London's Wigmore Hall.
Kitchener-Waterloo Chamber Music Society
Janina Fialkowska's March 11 recital for the Kitchener-Waterloo Chamber Music Society, marking her 37th year of performing for KWCMS, features an ambitious, well-packed program that begins with Mozart's beloved Sonata in A Major, K310. An impromptu by Germaine Tailleferre; a nocturne by Fauré; an intermezzo by Poulenc; two pieces by Debussy; and Ravel's Sonatine – a selection of music by French composers, reminiscent of a French program by Fialkowska's teacher, Arthur Rubinstein – lead into three mazurkas, a nocturne (Op.55, No.2), scherzo (No.3) and ballade (No.4) by Chopin (the composer with whom she is most identified) performed in Fialkowska's inimitable style.
Later in the month, clarinetist James Campbell joins the Penderecki String Quartet for Brahms' splendid Clarinet Quintet. Dvořák's Quartet No.10 in E-flat Major, Op.51, "Slavonic" is the other major work on the March 20 program.
Timothy Steeves steps away from his usual role as pianist with Duo Concertante for a recital of four adventurous Haydn sonatas on April 1, his second all-Haydn recital for the KWCMS.
Music Toronto
Danny Driver's March 5 recital was the subject of my conversation in our February issue with the Hyperion Records artist, who "may be the best pianist you've never heard." Works by CPE Bach, Schumann, Saariaho, Ravel and Madtner will be performed by this uncompromising artist who demands a lot of himself: "When I feel I have come close [to achieving what I set out to achieve artistically], it's an intensely rewarding experience."
The following week on March 14, the Lafayette String Quartet – artists-in-residence at the University of Victoria since 1991 – who have spent more than 30 years together with no changes in personnel – partners with the Saguenay (formed in 1989 as the Alcan) String Quartet to perform three string octets. Join them in this rare opportunity to hear Niels Gade's String Octet in F Major, Op.17, Russian-Canadian Airat Ichmouratov's String Octet in G Minor, Op.56, "The Letter" and Mendelssohn's deservedly famous Octet in E-flat Major, Op.20.
The Saguenay String Quartet) and the Lafayette have played together many times, a reflection of their special musical bond and creative friendship.
CLASSICAL AND BEYOND QUICK PICKS
MAR 8, 8PM AND 9, 2:30 & 8PM: Critically acclaimed violinist Nikki Chooi is the soloist in Vivaldi's indispensable The Four Seasons with the Kitchener-Waterloo Symphony. Nicolas Ellis, who was recently named artistic partner to Yannick Nézet-Séguin and the Orchestre Métropolitain for the 2018/19 and 2019/20 seasons, leads the KWS in Beethoven's essential Symphony No.6 "Pastoral."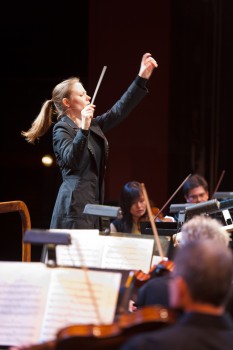 MAR 9, 7:30 AND 10, 3PM: Gemma New leads the Toronto Symphony Orchestra in Shostakovich's kinetic Symphony No.5; Kelly Zimba, flute, and Heidi Van Hoesen Gorton, harp, take charge of Mozart's Concerto for Flute and Harp K299/297c, the first work Mozart ever wrote for that combination of soloists.
MAR 10, 2:30PM: Bradley Thachuk leads the Niagara Symphony Orchestra and TSO concertmaster Jonathan Crow in Sibelius' richly Romantic Violin Concerto Op.47. Sibelius' satisfying Symphony No.3 completes the nod to the great Finnish composer.
MAR 16, 7:30PM: Gemma New conducts the Hamilton Philharmonic Orchestra in a heavenly program featuring Debussy's hypnotic Prelude to the Afternoon of a Faun and his impressionistic Nocturnes. Holst's riveting The Planets completes the exciting evening.
MAR 20, 2:30PM: Georgian Music brings the Lafayette and Saguenay String Quartets to Barrie for a repeat of their Music Toronto program of March 14 headed by Mendelssohn's youthful masterwork, his Octet in E-flat Major, Op.20.
MAR 23, 7:30PM: Barrie Concerts presents the Penderecki String Quartet in an evening of Dvořák's chamber music. Included are the composer's String Quartet No.10 "Slavonic" and, aided by pianist Benjamin Smith, both of his piano quintets, the second of which (Op.81) is one of the masterpieces of the form.
MAR 23, 7:30PM: The Oakville Chamber Orchestra celebrates their 35th anniversary with a performance of Bach's Six Brandenburg Concertos, an invigorating choice of music for such an auspicious occasion.
MAR 27 AND 28, 8PM: Gunther Herbig, TSO music director from 1989 to 1994, conducts two pillars of the 19th-century repertoire: Schubert's moving Symphony No. 8 "Unfinished" and Bruckner's Symphony No.9, the fourth movement of which the composer left unfinished on the day he died, leaving only the first three movements complete.
MAR 30, 7PM: Mandle Cheung continues to realize his conducting dream, leading his orchestra in Tchaikovsky's Piano Concerto No.1 (Kevin Ahfat is the soloist) and Mahler's titanic Symphony No.1.
MAR 30, 8PM: The Canadian Sinfonietta, with guest violist Rivka Golani, mark the onset of spring with the world premiere of David Jaeger's Raven Concerto for viola and chamber orchestra, Copland's lovely Appalachian Spring, Britten's Lachrymae Op.48a for viola and strings and Elgar's Serenade for Strings. Tak Ng Lai conducts.
MAR 30, 8PM AND 31, 2PM: The Oakville Symphony celebrates the musical friendship between Brahms (Symphony No.2) and Dvořák (Violin Concerto). Leslie Ashworth is the violin soloist; Robert De Clara, music director since 1997, conducts.
APR 7, 1PM: Gramophone magazine called American-born Marina Piccinini "the Heifetz of the flute." Find out why at the RCM free (ticket required) concert at Mazzoleni Hall; with Benjamin Smith, piano.
APR 7, 3PM: RCM presents the justly celebrated American pianist Richard Goode in an all-Beethoven recital that includes the "Pastoral," "Moonlight" and "Les adieux" sonatas, and selections from the Op.119 Bagatelles, all topped off by the master's final sonata, the celestial Op.111.
Paul Ennis is the managing editor of The WholeNote.