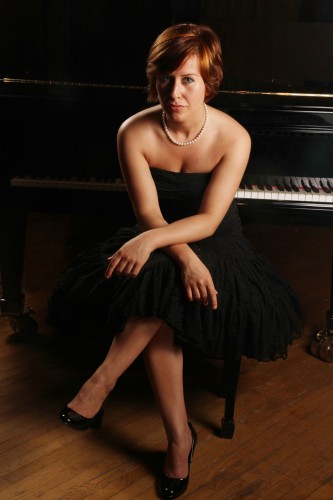 Justyna Gabzdyl: After graduating from the Fryderyk Chopin Academy (now University) of Music in Warsaw in 2005, Polish-born pianist, Justyna Gabzdyl, continued her studies at the École Normale de Musique Alfred Cortot in Paris before earning a doctorate at Université de Montréal in 2012. Now 36 and based in Canada, Gabzdyl will be performing in Walter Hall in a U of T Faculty of Music recital on January 24; works by Syzmanowski and Gershwin will be featured. She spoke to La Scena Musicale for their February/March 2018 issue and detailed her fondness for Syzmanowski.
"I find his music incredibly stimulating to the imagination," she said. "His style is unique, characterized by a beautiful, sensual tone. His huge sensibility to colour and sound is impressionistic. At the same time, the ecstatic climaxes make his style closer to expressionism."
Szymanowski often travelled to Italy, Sicily, North Africa and France – destinations with which Gabzdyl is familiar, having lived in France, and visited the Maghreb numerous times.
"Countries that are culturally different from our own arouse our curiosity," she said. "They open us to new smells, tastes, landscapes, lifestyles…I think all these factors affect our emotions and inspire us. In this case, travelling in the composer's footsteps helped me to understand his intentions and galvanized my enthusiasm."
Studying in Canada influenced her in several ways. She was introduced to a musical perspective that stressed the architecture of a piece. "In Poland, there is generally more interest in the progress of the music's 'character.' This focus is quite typical of Slavic schools," she said. Gabzdyl was also influenced by the French technique of jeu perlé (passages played quickly, lightly and clearly) which she uses in Chopin and Szymanowski. And she thinks that music interpretation is somehow influenced by the spirit of the nation. "Moving to Canada improved my positive thinking. I became more relaxed. I find Canadians more jovial. Polish people have a tendency to be melancholic."
Hugo Kitano, 22, is a double major at Stanford (music and computer science) and an international prizewinner. His COC free noon-hour recital January 31 is comprised of Beethoven's penultimate piano Sonata No.30, Op.110 and Chopin's resplendent Polonaise-Fantaisie Op.61. Kitano has worked extensively with John Perry who also finds time to visit the Glenn Gould School on a regular basis as a faculty member.
Charles Richard-Hamelin's star is still rising; the honeymoon from his Warsaw Chopin Competition honours in 2015 has evolved into a major concert schedule that brings him to Koerner Hall on February 3. Two C-Major works by Schumann, the Arabesque Op.17 and the Fantasy Op.16 precede a performance of Chopin's Four Ballades. The 29-year-old pianist gave an insightful interview to Bachtrack on September 30, 2016 that showed the same maturity beyond his years that his piano playing already reflected.
In answer to a question about his relationship to the score: "The more we play a work, the less we leave the score. But it is not because we play by heart that we must not have it in mind anymore. For Chopin, it's complicated because the editions are very contradictory, there is not really a reference edition. Finally, the most important thing is to read between the lines: if we just scrupulously execute what is written on the score, we fall into academism. There is a lot of unspoken music, such as rubato. In Chopin, for example, we sometimes find ornaments formed by several quick notes: obviously, he did not expect that we play them identically. You have to know how to distance yourself from the score; for it to be alive."
On how his repertoire has changed since the Warsaw win: "Before the contest, I could choose to play what I wanted. But the audience did not want to hear me: I had a few concerts in Canada and Quebec but I never played abroad. Now, this is largely the case because the Chopin Competition is a showcase for the international scene. Playing what you want is good, yet you have to be engaged to play on a stage. That said, I was already very happy: I made a humble living, but I made a living."
And on Chopin becoming a label that's hard to get rid of: "Indeed, I have many commitments in Japan, but for Chopin! There are worse labels to have. If I were only to play Saint-Saëns for the rest of my life, I think I'll stop playing the piano. Fortunately, we do not get tired of Chopin so quickly. I had to play three or four hours of music, while he wrote 12 or 13. And then, some programmers show more openness and let me build recital programs around Chopin, with other composers who accompany him well, by contrast or similarity."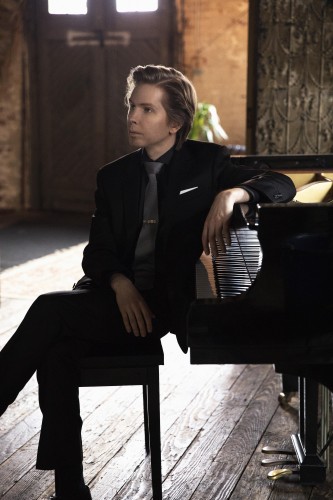 Juho Pohjonen: The celebrated Finnish pianist, 37-year-old Juho Pohjonen, is another "fast-rising star" (The Guardian). His impressive NYC recital debut in 2004, while he was still a student at the Sibelius Academy, was praised by The New York Times as "formidable" and "breathtaking." Lately his association with the Chamber Music Society of Lincoln Center has brought him more attention for "his effortless brilliance." All of which only adds to my anticipation for his Music Toronto recital on February 5. His program pairs two suites by Rameau from his Nouvelles suites de pièces de clavecin with late works by Mozart (Rondo in A Minor K511) and Beethoven (Sonata No.28 in A Major, Op.101).
Younggun Kim: Fifth in this handful of talented young pianists, South Korean-born, Toronto-based, U of T Faculty member Younggun Kim will show off his dazzling technical prowess in a recital in Walter Hall on February 7. The demanding program moves from the Bach-Busoni Chaconne to Godowsky's fiendishly difficult Studies on Chopin's Etudes and Ravel's jaw-dropping La Valse.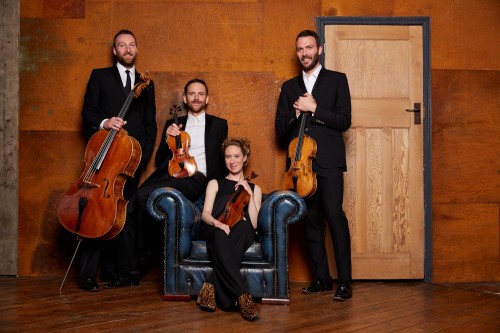 Two String Quartets
Heath: When the Heath Quartet made their memorable Toronto debut in January 2017, their second violinist had just left the ensemble to spend more time with her family. Nonetheless, their dynamism and exuberance were evident even with a last-minute replacement. Now, with a new violinist in place, they make a welcome return to Walter Hall early next February.
When I spoke to first violinist Ollie Heath two years ago I asked how he constructs a program. "Nearly always we begin a concert with a piece from earlier in the repertoire," Heath said. "The simpler, cleaner textures and conversational aspects of these pieces is a good way of bringing everyone 'into the room,' and introducing the possibilities of what a string quartet can do. The second work is often more complex – more demanding on both listener and player. We then fill the second half with a more generously sized work – from one of the Romantic, nationalist composers or one of the big Beethoven quartets."
Sure enough, the paradigm still stands. For their Mooredale Concerts recital on February 3, they begin with Mozart's Quartet K465 "Dissonance," its nickname owing to the harmonic boldness of the slow introduction to its first movement. The most famous and last of the six quartets Mozart dedicated to "my dear friend Haydn," will undoubtedly introduce the possibilities of what a string quartet can do.
The quartet is devoting this concert season to all three of Benjamin Britten's quartets. We get to hear his first, commissioned in 1941 by the famous American patroness, Elizabeth Sprague Coolidge, who had previously commissioned Bartók's Fifth Quartet (1934) and Schoenberg's Fourth (1936). The emotional centre of the work, the long Andante Calmo third movement, is filled with melancholy beauty. The afternoon concert concludes with Beethoven's iconic String Quartet No.9, Op.59 No.3, one of the biggest of Beethoven's quartets.
Van Kuick: Despite its Dutch-sounding name, the Van Kuijk Quartet, founded by Nicolas Van Kuijk in 2012, is French. Its growing international reputation was kindled by winning First Prize in the 2015 Wigmore Hall Competition and First Prize and Audience Award at the Trondheim International Chamber Competition; and its members have been named BBC New Generation Artists until 2017. Their Music Toronto concert on January 31, curiously enough, follows a similar programming concept as that of the Heath, beginning with Haydn's celebrated late Quartet in D Major, Op.76, No.5, written at the height of his fame. Ligeti's Quartet No.1 "Metamorphoses nocturnes" with its beguiling angularity, chromaticism and dissonance, is followed by Schubert's monumental Quartet No.14 in D Minor "Death and the Maiden."
Two violinists
Benedetti: The enthralling Scottish violinist, Nicola Benedetti, makes her second visit to Toronto this season with her Koerner Hall recital on January 25. Her TSO engagement last September, playing Prokofiev's Violin Concerto No.2, broadened into a visit to Sistema Toronto that was chronicled by David Perlman on thewholenote.com in October. In Koerner Hall, she'll be performing with Kiev-born pianist Alexei Grynyuk, a regular chamber music partner with Benedetti in the Benedetti, Elschenbroich, Grynyuk Trio. In 1942, Prokofiev found himself in far-off Central Asia working on the score for Eisenstein's classic film Ivan the Terrible. For a change of pace he began to compose a sonata for flute and piano which was premiered in Moscow the following year to a lukewarm response. David Oistrakh suggested that Prokofiev turn it into a violin sonata, which he did, saying that he wanted to write it in a "gentle, flowing classical style." That Violin Sonata No.2, with all its wit, lyricism, expressiveness and mood changes, is a centrepiece of a recital that begins with Bach's unalloyed solo masterwork, the Chaconne from Partita No.2, and includes a Wynton Marsalis premiere and Richard Strauss' surprisingly seductive Violin Sonata Op.18.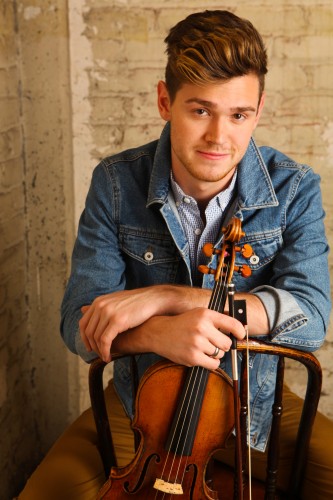 Pouliot: Twentysomething Canadian violinist Blake Pouliot won the 2018 Women's Musical Club of Toronto Career Development Award, an honour that followed his Grand Prize win at the 2016 Orchestre Symphonique de Montréal (OSM) Manulife Competition. His recent Debussy-Ravel Analekta CD was praised by WholeNote Strings Attached columnist Terry Robbins as "an outstanding recording debut." Robbins noted that "Pouliot plays with strength, clarity, warmth, faultless intonation and a fine sense of phrase… [drawing] a gorgeous tone from the 1729 Guarneri del Gesù violin on loan from the Canada Council for the Arts." With Hsin-I Huang at the piano, Pouliot gives a free (ticket required) concert in RCM's Mazzoleni Hall Sunday afternoon, February 3. Don't miss the opportunity to experience this star on the rise in an appealing program of Mozart (K379), Janáček, Sarasate and Chausson (the divine Poème).
CLASSICAL & BEYOND QUICK PICKS
DEC 8, 8PM: Violinist Alexandre Da Costa, who divides his time between Montreal and Australia, brings his Stradivarius 1701 to the Glenn Gould Studio stage when he joins Nurhan Arman and Sinfonia Toronto in "The Eight Seasons," featuring Vivaldi's The Four Seasons and Piazzolla's The Four Seasons of Buenos Aires.
DEC 16, 8PM: The Kitchener-Waterloo Chamber Music Society celebrates Beethoven's 248th birthday with a compelling program that includes the Kreutzer Sonata, Eyeglass Duo and Archduke Trio. Angela Park, piano, Yehonatan Berick, violin, and Rachel Mercer, cello, make it happen as the AYR Trio.
JAN 10 AND 12, 8PM; JAN 13, 3PM: Intrepid Mississauga-born violinist, Leila Josefowicz, joins the TSO for a performance of Stravinsky's Violin Concerto, the composer's particular take on the Baroque era. David Robertson, American-born conductor of the Sydney Symphony Orchestra, leads the orchestra in Sibelius' grandly romantic Symphony No.2 and Kurt Weill's evergreen Suite from the Threepenny Opera.
JAN 13, 3PM: Musical inheritance is the theme of the Windermere String Quartet's upcoming concert, "Keeping It in the Family." The period-instrument ensemble's program opens with a J.S. Bach fugue arranged by W.A. Mozart, followed by a divertimento by Leopold Mozart, Wolfgang's father. Guest artist, traverso player Alison Melville, is featured in J.S. Bach's son, Johann Christian's Quartet No.1 for flute and strings; W.A. Mozart's final string quartet, the masterful String Quartet No.23 in F Major, K590, concludes the Sunday afternoon recital.
JAN 15, 12PM: Osvaldo Golijov's haunting Dreams and Prayers of Isaac the Blind heads a program of chamber music (that also includes works by Villa-Lobos and Piazzolla) performed by artists of the COC and National Ballet Orchestras, in this free noon-hour concert in the Richard Bradshaw Amphitheatre of the Four Seasons Centre.
JAN 27, 3PM: Pittsburgh-based guest violist, David Harding, and talented pianist, Todd Yaniw, join Trio Arkel members, Marie Bérard and Winona Zelenka for "the melodies just surged upon me." The Trio chose this quote by Dvořák because it directly refers to his Piano Quartet No.2 in E-flat Major Op.87, the centrepiece of their Sunday afternoon concert, which also features music by Schubert and Röntgen.
JAN 28, 7:30PM: TSO principal cellist, Joseph Johnson, and chamber musician supreme, Philip Chiu, join forces for a U of T Faculty of Music recital featuring music by Beethoven, Britten and Chopin.
JAN 31 AND FEB 2, 8PM: After hors d'oeuvres of Wagner's The Ride of the Valkyries and Berg's Three Pieces for Orchestra, Sir Andrew Davis and the TSO settle in for the main course: Act I of Wagner's Die Walküre, with Lise Davidsen, soprano; Simon O' Neill, tenor; and Brindley Sherratt, bass.
Paul Ennis is the managing editor of The WholeNote