A protégé of legendary lyricist Oscar Hammerstein and student of serialist composer and electronic music trailblazer Milton Babbitt, Stephen Sondheim is equally famous as a lyricist and tunesmith. Midway through the first decade of the 21st century, American pianist Anthony de Mare acted on his lifelong immersion in Sondheim's work and commissioned a wide net of composers from multiple genres to create their own "re-imaginings" of a favourite Sondheim song for solo piano. By the time the Liaisons project was completed in 2014, 36 composers (31 men and five women; 32 of whom were American-born) had contributed and de Mare's love affair with Sondheim's music had borne a bountiful harvest.
Drawn from 12 shows – A Funny Thing Happened on the Way to the Forum (1962) to Passion (1994) – Liaisons explores the sound world of the foremost creator of American musical theatre in the last half of the 20th century through the singular lenses of composers from Steve Reich to Gabriel Kahane. "Each of the composers is having a conversation with Mr. Sondheim," de Mare told The New York Times, "with his material but also his influence, his musical wit and his craft."
The lone Canadian contribution, Rodney Sharman's Notes on "Beautiful," written in the Valentine Studio, Leighton Arts Colony, Banff, Alberta, "is a transformation of the duet between mother and son, Beautiful, from Sunday in the Park with George, and dedicated to Anthony de Mare and the memory of my mother." Sharman's piece is one of 14 de Mare will be performing in Mazzoleni Hall on May 24 as part of the 21C Music Festival. A second concert, the following evening in Temerty Theatre, contains ten additional works concluding with a reprise of Reich's Finishing the Hat.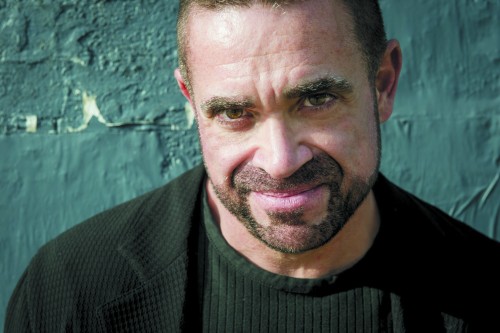 WN: How does it feel, as a lifelong fan of Stephen Sondheim's music, to play a dozen or two of the Liaisons transcriptions in an evening?
AdM: It is always an exhilarating experience for me to perform these works, no matter how many are included on each program. And because I'm so enamoured with the entire canon of Sondheim's work, there are just so many of his shows in addition to dozens and dozens of his songs that I love so much. He has often said that Sunday in the Park with George is the show "closest to his heart" and I would say that has [also] always been one of my favourites. And I would just add that for myself, the more I work and live with this material, the more I learn – it has become a body of work that I hold very close to my own heart and it is an honour to be able to share it with the world now.
The flexibility of the project allows me to create programs based on what each individual presenter desires coupled with my own instincts and choices. Some presenters have had me perform two to three concerts as a series covering a vast portion of the collection.
However, selecting the program content is very important to me, as is its shape. I actually consider the entire program (and its sequencing) to be its own "piece," carefully assembled to guide the listener on a journey through these fascinating works. Each piece is very much a marriage between the composer's individual style and Sondheim's original material. Add to this the inclusion often of audio and video clips of the composers speaking about their relationship to Mr. Sondheim and his work, in addition to the short film of Sondheim himself speaking (extracted from the interviews that were part of the Liaisons premiere concerts at Symphony Space here in NYC). Audiences have often commented favourably on how satisfying the entire experience is for them.
What was the first Sondheim song you fell in love with? What did it mean to you?
The first Sondheim song I encountered was the iconic Send in the Clowns from A Little Night Music. The first recording I heard of it was Judy Collins' classic version back when I was in high school in the 1970s. I was so enamored with the shape of the melody, the beautiful sequence of harmonies, the eloquent lyrics, and of course her gentle interpretation, which made it memorable.
What is the first Sondheim song you remember hearing? How old were you?
Along with Send in the Clowns, there was Comedy Tonight from A Funny Thing Happened on the Way to the Forum. Shortly thereafter, I began listening over and over to the original cast recording of Company – the opening song of which became an immediate favourite, along with Another Hundred People. Again, this was around junior high and high school.
What prompted you to embark on such an ambitious project of commissioning piano re-imaginings of Sondheim songs? What was the genesis of the project?
This massive project was the culmination of a series of musical endeavours that I had created in years past. I have long been referred to as one of the leading exponents of contemporary music and my love of musical theatre has played a distinctive role in establishing myself as the "pioneer" of the speaking/singing pianist genre which I created in the late 1980s, commissioning a variety of composers to create specific theatrical works that I would perform solo at the piano. This in turn led to a large multimedia concert project I created titled "Playing with MySelf" – which involved a wide variety of contemporary works, video, projections, lighting, set design, costumes, etc. – which had a successful run here in NYC and abroad.
My love for Stephen Sondheim's work dates back to my teenage years, having discovered such shows as A Little Night Music, Company, Follies and Pacific Overtures – which led to an obsessive immersion into his work, especially each time one of his new shows appeared on the theatre scene. I had always wondered what his amazing songs would sound like transcribed as legitimate piano works, much in the same vein as what pianists like Earl Wild had accomplished with Gershwin's songs, and what Art Tatum did for so many his contemporaries. This tradition goes back as far as Franz Liszt, but no one had ever approached Sondheim's work like this for the piano, so I thought it was about time.
In the late 1980s, I was invited to create a transcription of one of his songs [Children and Art from Sunday in the Park with George] to perform at a summer music festival and from there I decided I would like to possibly create about five or six more of these transcriptions. My performing and teaching career started to take off and got in the way of focusing on the project, so I had to shelve the idea for a while – actually a long while. Several composer friends and colleagues kept asking me throughout the 1990s (and into the new century) when I was planning to do it. Finally, in 2006, my good friend – Pulitzer Prize-winning composer Paul Moravec – and I sat down and he encouraged me to seriously pursue this. My idea at the time was to cast the net wide to a variety of composers from multiple genres (contemporary classical, jazz, theatre, film, opera, indie, pop, etc.) to create their own settings or "re-imaginings" of a favourite Sondheim song. With the help of a very talented and dedicated fund-raising producer named Rachel Colbert, the project was set afoot.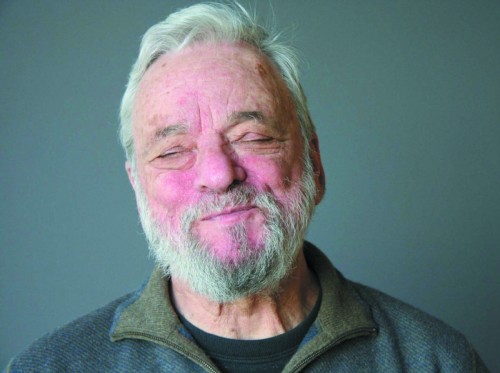 How long did it take to complete the project from the time of the first commission? What was the first commission?
The first commissions were put forth in 2008/09. There were many composers commissioned all at once, but not the total amount that it ended up being. The first completed work to arrive was Ricky Ian Gordon's setting of Every Day A Little Death from A Little Night Music. Following that, a few more trickled in (William Bolcom, David Rakowski, Jake Heggie) and then they started coming one after the other between 2009 and 2014.
What were your criteria for which composers you invited to participate in the project?
The project was originally going to be about 20 to 25 works, but the roster kept expanding as the composer genres expanded. Also, Steve would suggest more composers along the way who seemed perfect for the project and it gradually climbed up to 36 – "a nice round number" as the producer said – and this provided many options for presenters in addition to emphasizing the possibilities for flexible programming on my part.
I wanted to be sure from the beginning that each composer involved felt a true "connection" to Mr. Sondheim's work and that they wrote well for the piano. Over the years, several composers continued to contact me asking to participate, but we were committed to keeping a balance within the genres.
Was it intentionally multi-generational?
Yes, definitely. We wanted to have a wide range in age, and the final roster encompassed composers ranging in age from their late 20s to their 80s.
Did you have any guidelines you asked the composers to follow?
The word re-imagining is key to this project. I presented each composer with five parameters when they started. First, they were free to choose any song they felt connected to. There was a wish list, but they didn't need to adhere to that list per se. Second, they were asked to retain the original melodic material of the song. Third, to retain most of his original harmonies. Fourth, they were free to play with the structure, especially since they would now be creating an instrumental piece from an original song, which is where much of the re-imagining seems to have originated for many of them. And finally, I requested that they not "deconstruct the material," although a few actually did.
Did any composer ask to transcribe a song that had already been chosen by another?
They were of course free to choose a song that had already been chosen. However, the situation occurred only a few times where they asked about a song that was already taken. Once they knew that, they each decided to choose a different one. Nearly all of them had so many favourites, it wasn't very hard for them to choose another.
Which of the commissioned works surprised you the most?
Let me just say that each piece was a revelation and each was quite unique from all the rest. Therefore, all of them were actually wonderful surprises. There were those that chose to either add an audio track accompaniment, while others incorporated unexpected "bells 'n whistles." In each case, the approach was usually indicative of their individual style of writing.
Sondheim is so well known for the quality of his lyrics, how did the composers deal with the absence of words in their transcriptions?
One of the core missions of the project from the start was to illustrate Sondheim's genius as one of the great composers of the 20th/21st century.
Since Sondheim's original musical material in each song is expanded by lyrics and narrative, the challenge for many of the composers was to capture and encapsulate the essence of the lyrics, the overall ambience/mood, the character singing it, and the core of its message through an instrumental setting of his brilliant musical material.
Some composers found this a mighty challenge – many commented that the songs were already "perfect." Therefore, some went the route of direct transcription for piano, some more fantasia-like. Each again is unique to each composer's individual style, active within the fabric of Sondheim's original musical material.
Three examples: Steve Reich's two-piano setting of Finishing the Hat – enhancing the original passionate melody with his own signature pulsing metre-shifts; David Rakowski's ingenious setting of The Ladies Who Lunch – capturing the complete musical material combined with the pathos, sadness, humour and bitterness of the character who sings this song. Andy Akiho's prepared piano setting of Into the Woods, where he animates the piano by orchestrating each character's voice and personality using prepared piano techniques (dimes, poster tacks, credit cards) and exotic timbres in lieu of the text.
There are actually numerous more examples, too many to cite, especially since each piece accomplishes something unique in terms of the individual direction each composer chose to take.
What, if any, was Stephen Sondheim's involvement with the project?
Steve was quite intrigued by the idea of the project from the start and also very humbled by the fact that so many of these "A-list" composers (as he referred to them) were so interested in setting his melodies at the piano. He has been extremely generous throughout the entire ten-year trajectory of this project, offering suggestions, commissioners, constructive ideas and a strong foundation of support. We would check in with him periodically to give him updates and he always provided a very enthusiastic "go ahead." He seems to have a very deep respect for all of the compositions in the collection.
How eager would you be to participate in a project that examined the evolution of the musical elements of Sondheim's songs the way Sondheim himself examined his lyrics with Finishing the Hat and Look, I Made a Hat?
Oh I would be very eager. Over the past several years, I often present workshops and classes for students and the public illustrating the connections of each re-imagined piece to its original song both from a musical standpoint as well as from a dramatic one. This has oftentimes also included exploring the composers' process in creating and re-imagining the works – their challenges and their breakthroughs.
Anthony de Mare performs selections from Liaisons: Re-Imagining Sondheim as part of the 21C Music Festival in Mazzoleni Hall May 24 and Temerty Theatre on May 25.
Paul Ennis is the managing editor of The WholeNote.