There are awesome concerts on the horizon for February and March, and I will try to give shoutout space to as many of them as possible. Please check out the listings for the ones I miss – there are great choices for every taste.
First, though, as part of this year's continuing exploration of new choral music, this column will look back at several Toronto events that took place in January – a rare retrospective angle for a listings column, but one that points to engaging developments and possibilities in the Toronto choral scene; choral aficionados, take note.
On January 17, as part of their celebration of 60 years of professional choral singing, Soundstreams programmed a salon night entitled, "New Directions in Choral Music." Soundstreams' Salon 21 is a monthly performance and lecture event, inventively curated by Kyle Brenders, with a wide variety of performers and composers. It is free of charge, and you can sit with a glass of wine as the discussion takes place.
This evening brought together two groups that on the face of it, seem wildly disparate. As the evening progressed, interesting connections emerged.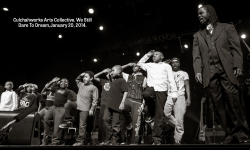 Choir! Choir! Choir! is the brainchild of two easygoing but skilled musicians, Nobu Adilman and Daveed Goldman. For three years they have been meeting interested participants, usually in a bar, handing out song sheets and then creating fun and inventive arrangements of pop and rock songs, sometimes on the spot.
The initiative has been wildly successful, and has led to recordings and media appearances. At the Soundstreams event the audience watched a video of Choir! Choir! Choir! performing Daft Punk's Get Lucky. a club number which was one of last year's catchier guitar riffs.
The night's other group, the Element Choir, is a different phenomenon altogether. This ensemble works entirely in improvised form. The conductor and founder of the Element Choir, Christine Duncan, has a two-page lexicon of gestures that have specific sonic meaning, and as the piece progresses, she improvises its shape and structure by combining different sounds and letting their combinations grow and develop organically.
The performance was only several minutes long, but often the pieces become extended soundscapes that can last as long as an hour. It is certainly not the usual paradigm that one expects from a choral concert, but it is an absolutely arresting experience.
The singers in the ensemble improvise fearlessly, and one hears clicks, wooshing, yelps, growls and hums as well as melodic fragments and timbres that evoke classical, jazz and folk singing techniques. The Element Choir works more like an orchestral ensemble than a traditional choir, as the skills of individual members of the ensemble are employed to create solo lines that blend into the larger soundscape.
The aspect of each group that represented the clearest challenge to the traditional choral model is that neither ensemble used sheet music – a tool that most choirs cannot do without. Choir! Choir! Choir! uses lyric sheets, but presumably can dispense with these once parts have been learned.
Choir! Choir! Choir!'s arrangements of pop songs use repeated syncopation, as is stylistically appropriate. These type of rhythms, so common throughout the last century, often represents a challenge for classically trained choirs. While Choir! Choir! Choir!'s syncopations are not wildly difficult to hear or replicate, some of them would look awkward and confusing when notated with traditional sheet music, and would likely cause a few stutters for classically trained musicians.
Choir! Choir! Choir! relies instead on their singers' ears, and is accompanied by guitar rather than the ubiquitous rehearsal piano. I noticed that both the syncopations and the tuning of this group had a lively quality that piano-trained choirs often lack.
The Element Choir, meanwhile, dispenses almost entirely with the division of labour that most choirs embody – a composition, usually created by one individual, that the conductor and singers must attempt to execute. Instead, the conductor and singers are co-creators, blending their skills and ideas in an improvised process that will never be repeated in the same manner.
The work of these two groups has its own inherent value, of course – but as I listened to the performances, I couldn't help thinking what a shot in the arm the techniques employed in these ensembles would be to more standard classical choral training as well. The ability to execute complex rhythms, improvise and experiment with extended performance techniques without a musical score in hand, is of course an integral part of music training. But how often are these skills called on in choirs?
Imagine entire university courses devoted to either of these choral paradigms. How much more confident young singers would be in a variety of musical situations, many of which they will encounter in the working world, in which they have to think – and sing – on their feet.
Daring to Dream: Moving on to another choral event – on January 20, the American holiday celebrating the birthday of Martin Luther King Jr., the Culchahworks Arts Collective presented We Still Dare To Dream, a new oratorio written to commemorate the 50th anniversary of King's historic "I Have a Dream" speech.
The work was conceived by Andrew Craig, an astonishingly talented composer, producer and performer who has also worked as a radio personality for the CBC. The oratorio grew out of a promise that Craig made to his mother that he would somehow mark this occasion with a new musical work, even if he had to stand outside and play it on the street on January 20.
Craig had originally hoped to use the text of the actual speech, but when this proved impossible, he simply decided to write his own libretto and set it to music. He enlisted the support of the Faith Chorale and the University of Toronto Gospel Choir, as well as assembling a third choral ensemble, band and violin soloist (Andréa Tyniec).
We Still Dare To Dream is a sprawling and ambitious mixture of solos, choruses and spoken recitations that seeks to bring the ideas and challenges posed by King's oration into a new century of conflict and challenge.
I was unfortunately not in Toronto during the performance, but I attended the dress rehearsal in an effort to get a sense of some aspects of the work.
I wonder how effective the spoken word facet of the oratorio ultimately was. Dramatic recitation is an incredibly difficult technique to make work; even with musical underscoring, it can too easily slip into earnestness or portentousness.
But the musical sections of the piece were superb. The choral writing generally supported the vocal solos, which were executed by four virtuoso Toronto singers from Jewish, Muslim, East Indian and American gospel traditions: David Wall, Waleed Abdulhamid, Suba Sankaran and Sharon Riley.
There was also a delightful section in which a group of young Toronto primary and secondary school students came out and sang, danced, executed martial arts moves and engaged in a call-and-response rap with Craig.
Craig is a master of gospel composition, but he did not limit himself to that genre, instead executing convincing and catchy compositional riffs on ragas and middle eastern vocal techniques from religious traditions that often find themselves at war. The syncretic aspects of the music reflected the composition's essential theme, which was reconciliation, unity, peace and activism.
I can see this work having a life beyond this particular anniversary occasion. The American Paul Winter Consort spent years travelling to different cities, performing the Missa Gaia. The experienced musicians of the ensemble often combined with local choirs, especially youth and children's groups. Craig's work has the potential to be a Canadian version of this performance model. I hope other ensembles have a future chance to engage with this music – it certainly deserves a repeat performance and a wider audience in Toronto and other parts of the country.
On to this month's concerts. To get the month started, in Kingston the Melos Choir and Chamber Orchestra perform an early music program, Eros and Agape: Love's Longing and Laments on February 9. The concert includes works by Hildegard von Bingen, Victoria, Palestrina, Machaut, Dufay and others. Guillaume de Machaut, wrote in 14th century France, and is one of the earliest composers from whom we have comprehensive musical scores. It is always fascinating to hear his music live.
For more early music choices (mixed with a little Beatles) the Annex Singers perform works by Josquin and Palestrina on February 22.
In a later vein, the Tafelmusik Chamber Choir performs Handel's Saul on February 21 to 23. Saul explores the themes of jealousy, love and ambition that characterize the rivalry between the biblical Saul, king of Israel, and the young, charismatic shepherd and musician David, who will ultimately usurp the Israelite throne. David's loving relationship with Saul's son, the doomed young warrior Jonathan, adds the final element through which internecine conflict becomes tragedy. It is one of the most dramatic stories of the Hebrew scriptures, and one that is beautifully suited to Handelian choruses and solos of ferocity, triumph and lament.
Richard III was the last Plantagenet king of England before the rise of the Tudor dynasty. He was killed in battle in 1485 at the end of the War of the Roses. These guys basically spent centuries killing each other back and forth, which ought to put Prince Harry's naughty Las Vegas adventures in a bit of perspective. On March 1 the Tallis Choir sings a Requiem for Richard III, a recreation of a requiem mass as it might have been celebrated at the end of the 15th century. The music will include medieval carols and some of the the stunning late English Renaissance choral works of the Chapel Royal of Richard's Tudor usurper, Henry VII. Which is kind of rubbing it in.
In Hamilton on February 28 and March 2the Bach Elgar Choir perform two midsize masterworks of the classical repertoire, Fauré's Requiem and Vaughan Williams' Mass in G. The Fauré work in particular is a small miracle of orchestration and melodic and harmonic invention. It's a piece every fan of choral music ought to know, and every choral singer must perform at least once.
In Kitchener on February 22, the Grand Philharmonic Choir also performs theVaughan Williams work, as part of an anglophile program entitled Glorious England.
Also in the classical vein, on March 2 the Toronto Classical Singers perform Handel's Dettingen Te Deum and Haydn's Mass in the Time of War (In Haydn's original autograph, the Missa in tempore belli.) Haydn's mass was first performed in 1796 Vienna, during the turbulent and violent era of upheaval following the French Revolution and prior to the rise of Napoleon. Anyone who asserts that the works of classical composers are ivory tower art, divorced from the political realities that buffet us all, would be advised to listen to this mass, which contains dramatic moments that approach savagery.
Benjamin Stein is a Toronto tenor and lutenist. He can be contacted at choralscene@thewholenote.com. Visit his website at benjaminstein.ca.