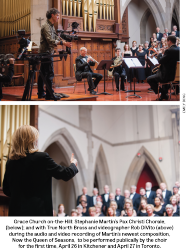 Anyone involved in arts work knows the importance of involving youth in art's survival. So how does one generation pass on its interests and traditions to the next? A method often employed by well-meaning over 30s is to solicit ideas and suggestions from the young. The assumption is that such ideas must be indicative of future trends that the cautious elderly would do well to heed.
The problem with this method as Canadian author Robertson Davies once observed is that rather than being open-minded, children and teens can be notably conservative, insisting on strict protocols of behaviour, discourse, gender roles and physical appearance.
When very young we grasp for certainty out of a lack of knowledge or experience, and move towards innovation and experimentation as our understanding and confidence grow. New art is created within the uncomfortable nexus between embracing and rejecting what has been learned.
True, suppressed conservative attitudes in both art and politics often re-emerge as people get older (with notable, or brave, or nutty exceptions), but neither conservatism and liberalism, artistic or otherwise, is really tied to age. True open-mindedness is a rare quality and is often limited to specific areas. There's no guarantee that a liberal attitude to politics, religion, even food (not to mention more transgressive entertainments), will be accompanied by a liberal attitude towards music or other art forms.
The problem for the choir director, or any teacher of music, is to strike a balance between imparting past traditions and striking into new territory. The question of when to lead, and when to be led by, youthful suggestions can be perplexing. The most cutting-edge art often dates the most quickly, and a choir director can be forgiven for wondering if having the bass section beatbox to a Lorde hit is really the right choice.
There are a number of children's and youth ensembles performing this month; their performances are referenced a little further on in the column. Judge for yourself if their work represents the wave of the future, a familiar continuation of the past, or the usual elusive mix of both.
First though, a note on some less than usual fare.
Rarities
On April 5 the Larkin Singers perform "Modern Mystics," including works by Tavener, Dove, Briggs and others.
On May 3 the Orpheus Choir of Toronto teams up with Chorus Niagara for a performance of Dvořák's Requiem in St. Catharines; the concert is repeated the next day at Koerner Hall.
On Apr 26 7:30 Pax Christi Chorale performs "Passion and Peace: Radiant Music, Ancient Wisdom" in Kitchener, with three compositions not heard often enough live: Fauré's Messe Basse; Langlais' Missa Salve Regina and Randall Thompson's The Peaceable Kingdom. Conductor Stephanie Martin, also a notable composer, premieres her Now The Queen of Seasons. Concert repeated April 27 in Toronto.
Youth and Young Artist Ensembles
On April 1 the York University Jazz Festival has performances from several of the music program's Jazz Choirs. Admission is free.
On April 6 young adult and children's choirs combine, as the University of Toronto Women's Chorus performs "In High Voice," with guests Young Voices Toronto. This ensemble is the Children's Choir-in-Residence at Uof T's Faculty of Music – another chance to see them takes plays on May 1, when they combine with the Hamilton Children's Choir to present a free noon-hour concert at Roy Thomson Hall.
On the "imparting past traditions" side of the coin, the Arcady choir joins forces with the Cambridge Kiwanis Boys' Choir and Cambridge Girls' Choir to perform Handel's Messiah on April 13 in Cambridge. The concert is in support of the Cambridge Self-Help Food Bank.
In a similar vein, The University of Waterloo Department of Music's University Choir performs Orff's Carmina Burana on April 5 in Waterloo. The Waterloo U. Chamber Choir presents a concert entitled "Earth Teach Me," on April 4 in Kitchener.
One area in which youth ensembles will likely always out-perform adult ensembles is in show choirs, which combine singing with physically challenging activities that involve bending and twisting, which is what most of us joined choirs to avoid. The Show Choir Canada Nationals, a competition for show choirs, takes place on April 12. High school glee clubs and choirs compete for scholarships and prizes. Visit showchoircanada.com for more information.
Children's Choirs
The Toronto Children's Chorus (TCC) takes a systematic approach to choral training, with several junior ensembles as well as the main group.
On April 5 no fewer than ten Ontario children's choirs get together to perform "Flights of Fancy – No Parachute," conducted by Canadian choral specialist Stephen Hatfield. The TCC's junior ensembles are taking part in this concert, and on April 12 the TTC's Chorale Choir performs "Fanciful Fantasmagorical Flights," a concert that will contain choreography as well as singing.
On May 3 all the Toronto Children's Chorus groups join together to perform "Flights of Fancy," with works by tuneful Canadian composers Donald Patriquin and Ruth Watson Henderson, among others.
On April 12 Islington United Church's Youth Choir and Junior Choir present a joint concert entitled "A Place in the Choir: Youthful Voices." Free for children and youth.
On May 4 the ASLAN Boys Choir of Toronto kicks out against the city's inland status in a concert with nautical themes entitled "Pirates, Landlubbers and the High Seas." Repertoire includes traditional shanties and songs about life on the ocean.
Anniversaries
Two choirs celebrate 25-year anniversaries in May. In Toronto, the Cantores Celestes Women's Choir performs works by Monteverdi, Canadian composer Stephen Hatfield, Paul Halley's catchy Freedom Trilogy and Wade Hemsworth's iconic Canadian song, Log Driver's Waltz. Part of the proceeds from the concert will go to the Huban Cradle of Hope Children's Home orphanage in Kenya. May 3.
Also May 3, Markham's Village Voices performs "Silver Stars: 25th Anniversary Concert." Alumni and past accompanists will join the choir for music by Handel, Mozart, opera and music theatre choruses.
Good Friday Concerts
All of the following concerts take place on Good Friday, April 18:
Cantabile Chorale of York Region "Good Friday Charity Benefit Concert." Admission with freewill offering; proceeds to selected social service agencies in York Region.
The Choir of Lawrence Park Community Church performs popular English composer John Rutter's Requiem.
Bach and Good Friday go together like hip-hop and beatbox. Bach's St. John Passion can be heard in Kitchener with the Grand Philharmonic Choir, and in Toronto performed by the Metropolitan Festival Choir and Orchestra. Both concerts feature outstanding vocal soloists.
Bach's Mass In B minor also gets a reading April 12, by the combined forces of the Amadeus Choir of Greater Toronto and the Elmer Iseler Singers. All three Bach concerts feature outstanding vocal soloists.
That's it for this month. If any choir director is still pondering the advisability of incorporating Lorde and beatboxing into their choral bag of tricks, I say: "Go for it." Bach and beatbox are a good deal more similar than you might think, and any technique that gets choral singers thinking about rhythm can only be a good thing!
Benjamin Stein is a Toronto tenor and lutenist. He can be contacted at choralscene@thewholenote.com. Visit his website at
benjaminstein.ca.