There are some big and unique choral experiences this month. There's a celebration of the 50th anniversary of Healey Willan's death, the combined forces of choirs from the University of Toronto and York University, a rare performance premiere for Tafelmusik and a new interpretation of Bach's St Matthew Passion! We'll return in March with all you need to know about the best of Easter choral music offerings. Stay warm and singing in the meantime.
Willan - 50 years on
Andrew Adair, music director of the Church of St. Mary Magdalene, convenes artists to celebrate the 50th anniversary of Willan's death. Of choral composers in Canada, Willan was a pinnacle. With hundreds of choral works, operas, symphonies and organ works amongst many others, Willan's main contribution to Canadian music was through sacred music, much of it created at and for the choir at St Mary Magdalene, where he was music director and organist.
"Willan left a lasting impact on the Church of St. Mary Magdalene through his shaping of the liturgy and music," shares Adair. "His work at St. Mary Magdalene's created a very special environment, one which has allowed the music to flourish and survive against all odds." A lot of Willan's choral music is a cappella. Adair shares that this is because of the layout of St Mary Magdalene where the choir loft is in the west gallery and the organ on the other side of the building. For a music director who was also the organist, this meant Willan was unable to play and conduct at the same time. This lasting effect means that even today, the choir at St. Mary Magdalene still mostly sings a cappella. Adair looks forward to bringing forward Willan's accompanied works at this concert.
Adair is joined by organists Simon Walker and Matthew Larkin, each performing one of Willan's great organ works: the Introduction, Passacaglia and Fugue in E-flat Minor; Prelude and Fugue in C Minor; and the Passacaglia and Fugue in E Minor. Matthew Larkin's choir of Saint Thomas's Anglican Church will join the Choir of St Mary Magdalene. February 16 at 8pm; Church of St. Mary Magdalene, Toronto.
The Mozart Requiem: The Music of Unity
With the rich history, detail, and artistry available to students in Toronto, I'm excited to see inter-university programming. I'm particularly interested in the joint events between Lisette Canton and Daniel Taylor and the combination of ensembles from York University and the University of Toronto, a model for future collaborations.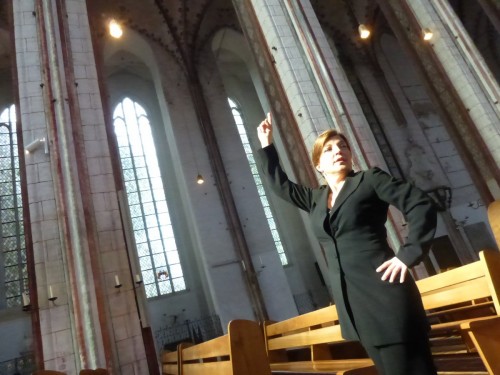 Canton's ensembles, the York University Chamber Choir and Ottawa Bach Choir, are joining forces with Daniel Taylor's musicians at the University of Toronto Schola Cantorum and the Theatre of Early Music. Along with an orchestra made up of Tafelmusik performers and soloists, the combined forces will perform two performances of Mozart's Requiem.
"Dan Taylor and I have a similar philosophy on music," Canton shares, "that it carries a universal message of hope, transcending all religions and cultures, and unites us all. And it is this philosophy that has prompted us to collaborate on various musical productions for the past two decades." Through their longstanding connection, Canton and Taylor brought their ensembles together in 2014, performing the music of the Coronation of King George II in 1727 (the coronation that established Handel's Zadok the Priest as a standard at every coronation since.)
"Collaborations of this nature are so important – for the students, professionals and for the community – in that they unite us in a common musical goal and become bigger than the sum of the individual parts. And when the music is as powerful as the Mozart Requiem, these become life-changing experiences," says Canton. Choristers and instrumentalists alike have long known the unique power of the Mozart Requiem. While incomplete, the experience of performing the work can be incredibly significant. "Mozart's beloved Requiem is one of those works in the choral canon that continues to inspire every generation," Canton says. "Its widespread ability to reach to the depths of human emotions on this most universal theme makes it a timeless work of dramatic and spiritual intensity that moves us to greater depths of understanding." Many choirs perform this work in full or portions of it frequently. For many musicians, it has become musical vernacular.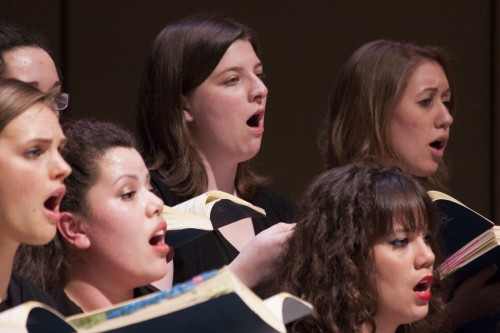 "Once the students graduate – especially in a city as large as Toronto – they will continue to work together in common settings, ensembles, and as soloists," Canton says. The nature of music requires collaborations, sometimes wonderful and transcendent, other times a bit messy – but necessary to the task of musical creation. She continues: "Our job as mentors/conductors is to initiate these contacts and guide up-and-coming performers in meaningful concert experiences, as well as to help them find potential opportunities and career directions. Beginning these connections during their university experience only ignites their passion for the art of music and helps them to forge significant friendships and professional connections."
The Mozart Requiem: conducted by Dr. Lisette Canton: March 3, 7:30pm. Church of the Redeemer, Toronto; conducted by Daniel Taylor: March 4, 7:30pm. 7:30pm. St Basil's Church, Toronto.
A Rare Premiere Performance by Tafelmusik
Tafelmusik has a Handel premiere: Alexander's Feast, or the Power of Music. This old set of music by Handel was set to words by Newburgh Hamilton based on an earlier text from John Dryden. Ivars Taurins leads the orchestra and Chamber Choir in a performance of this work celebrating Alexander the Great's conquest of the great Persian city of Persepolis. Charlotte Nediger tells us that the original performance was done to coincide with the feast day of St Cecilia, the patron saint of music. "The aim of St. Cecilia odes is to celebrate music," says Nediger in the program notes, "and it is evident here in the range of orchestrations in the airs and choruses, and by the inclusion of two concertos – one for harp, representing Timotheus' lyre, and one for organ, representing "the divine Cecilia." With soprano Amanda Forsythe, tenor Thomas Hobbs, baritone Alexander Dobson, harpist Julia Seager-Scott and organist Charlotte Nediger. The work includes the well-known Concerto for Organ in G Minor and the Concerto for Harp in B-flat Major. February 22 to 24, 8pm; February 25, 3:30pm. Koerner Hall, Toronto.
Evoking the Passion – Bach Reinterpreted
Chorus Niagara, under Robert Cooper, takes on Bach's St. Matthew Passion. Everything about this performance sounds intriguing. Not only is the Passion a large work, with two orchestras, six soloists, children's and adult choir, Cooper is leading a semi-staged production. "More and more, choral performances are wanting and needing some extra musical design to guide you through the experiences," shares Cooper, who has a theatre background himself. Cooper has worked with Joel Ivany on other stagings of works normally done in straight performance. The staging will be set by Torontonian Aria Umezawa, who is currently an Adler Fellow at the San Francisco Opera in direction and is the artistic director of Opera 5. It will be interesting to see how Umezawa's contributions reflect her mentorship by Peter Sellars; Sellars famously staged a Berlin Philharmoniker performance of the St. Matthew Passion in 2010.
Robert Cooper conducts Chorus Niagara and the Chorus Niagara Children's Choir with the Talisker Players; James McClean as the Evangelist; Michal Robert-Broder as Christus; Maeve Palmer, soprano; Lillian Brooks, mezzo-soprano; Zach Finkelstein; and Stephen Hegedus, bass. March 3, 7:30pm. FirstOntario Performing Arts Centre, St Catharines.
QUICK PICKS
Feb 10, 7:30pm. The Grand Philharmonic Choir presents Gloria, a presentation of Leonard Bernstein's challenging Chichester Psalms, Poulenc's Gloria, and Timothy Corlis's Psalm 150. St Peter's Lutheran Church, Kitchener.
Feb 11, 2:30pm. Georgian Music is hosting Dr Hilary Apfelstadt and the Exultate Chamber Singers. Apfelstadt, a champion of Canadian choral music, has programmed works by Canadians Healey Willan, Eleanor Daley, Ruth Watson Henderson and Stephen Chatman. The Choir will also perform Mozart's Ave Verum Corpus and Eric Whitacre's Five Hebrew Love Songs. Grace United Church, Barrie.
Feb 16 and 17. The Kitchener-Waterloo Symphony Orchestra presents "Sing-Along Musicals," a fun family concert. With classic selections from The King and I, Oklahoma!, the Sound of Music and Mary Poppins just to name a few, the Grand Philharmonic Youth Choir will provide the vocals. Bring the family and have a fun time singing along at the Centre in the Square, Kitchener.
Feb 25, 4pm. The Toronto Children's Chorus presents "Rainbows and Icicles." With special guests, the Claude Watson School of the Arts Boy's Choir, the various TCC choirs will perform beloved songs from films and musicals like Mary Poppins, the Muppets and the Aristocrats. North Toronto Collegiate, Toronto.
Mar 3, 7:00pm. The Mississauga Festival Chamber Choir presents "Phantom Unmasked." The 1925 Phantom of the Opera was made as a silent film. Andrew Downing, a Canadian composer, has set it to music for orchestra and choir. Quite a few choirs have performed this work as it proves popular with audiences. The Mississauga Festival Chamber Choir performs and is collecting non-perishable food donations. RBC Theatre, Living Arts Centre, Mississauga.
Mar 6 and 7, 7:30pm. The Toronto Mendelssohn Choir presents "MacMillan and Pärt." Two years ago Soundstreams hosted Scottish composer James MacMillan in Toronto as part of its mainstage. Macmillan himself took the helm in a presentation of his masterpiece Seven Last Words from the Cross. Noel Edison, artistic director of the choir brings this work to life with a smaller contingent of singers. The choir in full performs Arvo Pärt's Berliner Messe. Pärt's unique meditative music will wash over interested audiences. Church of the Holy Trinity, Toronto.
Follow Brian on Twitter @bfchang Send info/media/tips to choralscene@thewholenote.com