Heading into the month of November remembrance, I've highlighted two performances: the first is by Chorus Niagara and the Orpheus Choir, and the second by the Toronto Symphony Orchestra with guests. The major works in these two performances commemorate two very different wars separated by 100 years, World War I and the war in Afghanistan. War continues to inspire stories, and to invoke teaching, reflection and discussion. But as we head towards Remembrance Day, it is worth reflecting on the fact that sonic remembrance has the power to evoke things that words alone can not. There are many options available to listeners across the region, particularly early in the month, to experience this, in the offerings of great composers and musicians alike.
Later in the month, on November 22, Dr. Hilary Apfelstadt, an icon in the choral world, director of choral activities and professor of conducting at the University of Toronto, releases her new book on the life of Ruth Watson Henderson, I Didn't Want To Be Boring. Apfelstadt's book tells the story of this remarkable musician, gathered through interviews over several years. With over 200 choral works, Watson Henderson's story is anything but boring.
Lastly, at the tail end of my "quick picks" I have included a few early holiday concerts. Make sure you check out the full listings and get your tickets early. Holiday performances often sell out and are amongst the most fun performances you can find anywhere!
Last Light Above the World: A War Litany
November 4 at 7:30pm, Chorus Niagara presents the world premiere of Last Light Above the World: A War Litany by Allan Bevan. "I scoured war diaries," shares Bevan on the Chorus Niagara Facebook page, "looked at war art, read letters and other war correspondence, and delved into the large body of poetry written by people involved." From these sources, Bevan created a story of a couple. "He has gone off to battle, and she is left to consider it. They become the conscience of the work, the ones who portray the human cost of the war." Shaw Festival actors Hailey Gillis and Colin Palangio bring this couple to life.
Robert Cooper helms these performances with the Orpheus Chamber Orchestra and soloists Maeve Palmer, soprano; Lillian Brooks, mezzo-soprano; Anthony Varahidis, tenor; and Alexander Bowie, bass. Bevan has written the soloists as "spirits" who represent the "dead" referred to in the famous lines of John McCrae's In Flander's Fields "We are the dead…" Bevan continues: "Last Light does not pretend that there are easy answers, it is not a simple comforting… In the poetry of WWI, generally speaking, war is neither glorified nor vilified, it is simply recorded: all its horror, sacrifice, as well as its unexpected beauty, compassion and forgiveness."
The Orpheus Choir of Toronto, also conducted by Robert Cooper, performs the same work in Toronto on November 5 at 3:30pm, Grace Church on-the-Hill.
Afghanistan: Requiem for a Generation
It has been almost 16 years since the official, Parliament-sanctioned intervention by the Canadian Forces in Afghanistan began. In those days of constant war headlines and combat deaths, our country was at war on the other side of the planet. Afghanistan was a war unlike others, constantly changing and evolving, fought against an often unstructured and asymmetrical enemy. For those of us who read the news here in Canada, this war also strongly shaped our country in the last decade and a half. The war in Afghanistan has opened discussions on a great number of complex issues like post-traumatic stress disorder (PTSD), the role of the Canadian Forces in international conflicts, military investment, American imperialism, racism, child combatants, pacifism and so much more.
Art, music included, has done much to allow and facilitate some of these conversations,with its power to evoke contemplation and create change. Into this discussion, on November 9 and 11, we insert Afghanistan: Requiem for a Generation, including 130 choristers from the Toronto Mendelssohn Choir, 50 from the Toronto Children's Chorus, guest musicians from the Canadian Forces, the Toronto Symphony Orchestra and soloists. The first half of this concert also features Canadian Forces guests on pipes, bugle and text.
Tania Miller, music director of the Victoria Symphony Orchestra, takes the helm for these performances. Miller was the first woman to lead a major Canadian orchestra, ever, and her tenure began the year following the start of the war in Afghanistan. She is joined by Measha Brueggergosman, soprano; Allyson McHardy, mezzo-soprano; Colin Ainsworth, tenor; and Brett Polegato, baritone.
The words come via Suzanne Steele, Canada's war poet, who served in Afghanistan. Jeffrey Ryan put the words to music, including text from the requiem mass, alongside Steele's poignant words which are often set in repetition: "if we could give you two days, just two days...;" "My son, my daughter, can you hear me?"
In the breaking open of lives lived and lost during war, music can help bridge the experiences and provide a united focus. Ryan describes his music as "a love letter. Not just to one person…but to each of us, to our country, and to a generation that will be paying for this war emotionally or financially (looking after the injured and next of kin) for another generation." As Ryan concludes in the program note: "Afghanistan: Requiem for a Generation marks one particular war for one particular generation, but its message is universal and timeless."
On a Canadian National Treasure: Ruth Watson Henderson
Ruth Watson Henderson has had a storied career as a performer on piano and organ. Having served 29 years as the accompanist of the Toronto Children's Chorus, with the Festival Singers under Elmer Iseler, and as a church musician, her prolific contributions to choral music have been incomparable. Dr. Hilary Apfelstadt has spent years interviewing and researching Watson Henderson for her new book I Didn't Want To Be Boring.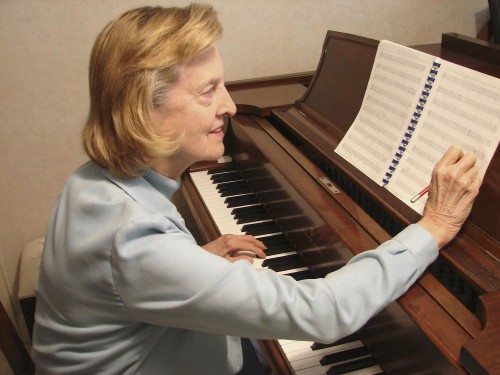 To commemorate the book launch, the Canadian Music Centre is hosting a concert on November 22 featuring soprano Amy Dodington, accompanied by Watson Henderson herself, and joined by members of the Elmer Iseler Singers and the Exultate Chamber Singers as well as by Apfelstadt. Three days earlier at Kingsway-Lambton United Church, November 19, Dodington will sing Watson Henderson's Prayer of St. Francis accompanied by the composer herself in an unofficial book launch and 85th birthday celebration.
In an excerpt, Apfelstadt describes Henderson: "Initially a highly gifted young solo pianist, Ruth became a collaborative artist whose work with choral ensembles led to her development as a composer whose music is frequently sung and respected for its craftsmanship and expressivity. And along the way, she embodied the term "working mother" as she raised a family of four, built a career as a practising musician and successful composer, and held a church music director position until the age of 80. As I write, she is 84 and still composing music. Hers is a remarkable story." The paperback copy of the book is available in stores November 22.
QUICK PICKS
Nov 4, 7:30pm. The Guelph Chamber Choir presents "Celebration 150." The Guelph choral community's contribution to Canada 150 commemorations brings together five regional choirs: the Guelph Chamber Choir, Guelph Community Singers, Guelph Youth Singers, Rainbow Chorus of Waterloo/Wellington and the University of Guelph Symphonic Choir.
Nov 10, 8pm. The Kingston Road Village Concert Series presents "Remembrance Day Concert with Scott Good and Friends."
Nov 11, 8pm. Barrie Concerts presents "Songs from the Great World Wars," featuring the UTSC Concert Choir and conducted by Lenard Whiting.
Nov 11 and 12, 8pm. That Choir presents their annual first concert of the season "That Choir Remembers," featuring the music of Eric Whitacre, Eleanor Daley and more.
Nov 12, 4:30pm. The Cathedral Church of St James presents "Service of Remembrance," featuring the large choral work of Sir Charles Hubert Hastings Parry, Songs of Farewell, a collection of six songs composed in accapella polyphony. These songs will be presented as part of a religious service.
Nov 15 and 16, 8pm. The Toronto Symphony Orchestra presents "Oundjian Conducts Vaughan Williams." Marking one of the signature performances of the TSO with Oundjian at the helm in his outgoing year as music director, the orchestra is joined by Louis Lortie, piano; Sarah Jeffrey, oboe; Teng Li, viola; Carla Huhtanen, soprano; Emily D'Angelo, mezzo-soprano; Lawrence Wiliford, tenor; Tyler Duncan, baritone; and the Elmer Iseler Singers.
Nov 29 to Dec 3, Tafelmusik Baroque Orchestra and Chamber Choir presents "Four Weddings, a Funeral, and a Coronation." Promising a Baroque-inspired soundtrack to festivities, these performances mark the first choral performances for Tafelmusik this season. Musical celebrations written by Purcell, Lully, Handel, Pachelbel, John Blow's Anthem for the Coronation of James II and Charpentier's Messe des morts are all on the program.
Dec 3, 3pm, the Harmony Singers of Etobicoke present their holiday concert, including many pop and classics favourites. The choir is also singing We're in the Same Boat Now, written by former Premier Bob Rae. The Singers also provide an annual scholarship to a student at the Etobicoke School of the Arts who performs with the choir. This year, that recipient is Martina Myskohlid.
Dec 5 and 6, 7:30, the Toronto Mendelssohn Choir presents "Festival of Carols" featuring the Salvation Army Canadian Staff Band. The often-sold-out concert is being presented over two nights to accommodate extra patrons.
Follow Brian on Twitter @bfchang Send info/media/tips to choralscene@thewholenote.com