The month of May is one of fully ripened choral fruit. At the end of the season for many choirs, these are the signature concerts for many ensembles and in some cases, farewells. I've provided some in-depth interviews and insights into a handful of concerts. Check out the Choral Canary Pages and learn about choirs in your area – and check out the listings for a more extensive list of concerts this month.
The Tallis Choir Celebrates 40 years: Rise Up my Love!
The Tallis Choir concludes their 40th anniversary season. Artistic director Peter Mahon spoke to The WholeNote about what to expect: "As we wrap up our 40th anniversary season, we commemorate the 50th anniversary of the death of Healey Willan and we offer a belated salute to our nation at the tail end of the 150th anniversary of Confederation with music by Canadian composers including Stephanie Martin, Eleanor Daley and Matthew Larkin" (all of whom reside in Toronto, as Mahon points out).
Mahon has a unique connection directly to Willan, whom he describes as "Canada's best loved composer of church music." There are few Canadian composers who have had the reach that Willan achieved. "Both my mother and father sang at St. Mary Magdalene," shares Mahon, "from the time of their arrival in Canada in 1948, until Dr. Willan's death in 1968 and for many years afterwards." Willan served as music director at St. Mary Magdalene for almost 50 years. Mahon also remembers being a young chorister who was able to sing with his family in tribute at Willan's passing: "I was 13 when Dr. Willan died and was privileged to sing at his Requiem Mass, sitting right behind my father in the Ritual Choir."
"Most church singers in English Canada can name at least one piece by Healey," says Mahon. "A good majority of them would also say that they can probably sing Rise Up My Love from memory. Such is the universal appeal of Willan's music. For the most part, he wrote miniature gems, designed for the liturgy of the Church of St. Mary Magdalene, but choirs across the country and beyond sing them regularly… Speaking personally, I grew up listening to Willan's music at St. Mary Magdalene, so it is in my blood." Willan's music anchors this all-Canadian presentation of music for Tallis' 40th anniversary.
May 12, 7:30pm. The Tallis Choir presents "Milestones." St. Patrick's Church, Toronto.
Schola Magdalena: Votes for Women!
Still on the subject of Church of St. Mary Magdalene, Stephanie Martin, the ever-thoughtful composer and conductor-extraordinaire, has noted the upcoming centenary of 100 years since the first Canadian women were permitted to vote for the federal government. Martin and the six-member Schola Magdalena will be singing an all-female-composer concert to mark the event. "A small departure from our usual fare, like Hildegard of Bingen and Brigitte of Sweden," Martin says, "the concert will also include some modern Toronto music from female composers," including Martin's own Missa Lumen, and from soprano Gabrielle McLaughlin. The feature of the evening will be Martin's Te Deum, which she describes as a song whose "text conjures up so many visual images of martyrs, angels, joy and judgment."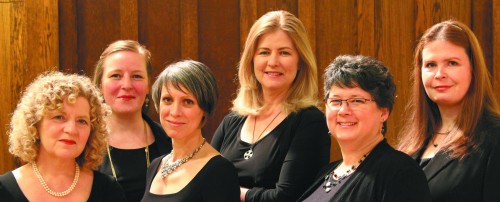 Although 1918 marked the first time that certain Canadian women were permitted to vote, it wouldn't be until 1960 that all women in Canada were included in the right to suffrage. (Women of colour, Indigenous women and anyone with mental or physical disabilities were excluded until that time.) Women's voting rights ties into another event that Martin is exploring. Her upcoming opera Llandovery Castle tells the story of "nurses who served in WWI on the Llandovery Castle hospital ship. [They] were able to vote earlier than other women because they were officers. They could vote federally in 1914."
While we have much to appreciate in universal suffrage in our contemporary Canada, we would do well to remember that it wasn't always this way. Stephanie Martin brings history into focus with her thoughtful approach to composition and music.
May 23, 8:15pm. Schola Magdalena presents "Celebrating 100 Years of Votes for Women in Canada." Church of St. Mary Magdalene, Toronto.
Upper Canada Choristers and Cantemos Latin Ensemble: La Rosa de los Vientos
For many newcomers to Canada, with family, children, partners, and friends far away, love can feel distant – strong, but distant, explains Jacinto Salcedo, coordinator of the Cantemos Latin Ensemble speaking to The WholeNote about the words he wrote in the poem: La Rosa de los Vientos (The Wind Rose). "This is a recurrent theme for immigrants. Often, families are split, but you still love them, care for them, and want the best for them," he shares. "It is nostalgic and touching." For the tenth anniversary of the ensemble, the poem has been set to music by César Alejandro Carrillo, a very well-known Venezuelan choral composer and conductor. Carillo is especially known for his work with the Orfeón Universitario of the Central University of Venezuela.
With 12 singers taken from the ranks of the Upper Canada Choristers (UCC), Cantemos endeavours to bring the sounds of Latin American heritage to Toronto audiences. "Ten years ago, the UCC wanted to feature one or two [Latin American] songs in a concert," Salcedo shares. "It became a natural evolution to continue exploring the richness of the music. We've done Latin music that is sacred, secular, dance, Christmas, and modern pieces that aren't as well known. It's become a need to keep doing this. We're always curious and interested in knowing more of our culture and sharing it with people."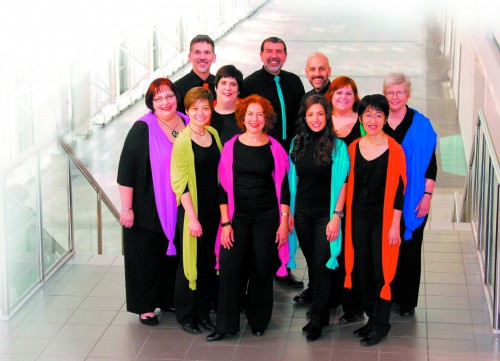 The Upper Canada Choristers, under Laurie Evan Fraser, have a big offering with their "Magic of Music" concert. In addition to Cantemos, guest baritone Bradley Christensen and the Junior and Chamber Choirs of Allenby Public School will join the performance. Christensen will perform Vaughan Williams' Five Mystical Songs along with the choir. En masse, the choirs will perform Rutter's The Music's Always There With You.
"UCC is about sharing music with the community," says Salcedo. "We come from all kinds of different professions and interests in life, but [singing] is the common ground that we love and nurture." Next year, the choir goes on tour to Japan with Canadian and Latin repertoire. "We want to keep exploring new rhythms, new songs. We are now at the point where we can be more well known. I think the level of quality and musicianship we're getting will help us in the next ten years."
May 11, 8pm. The Upper Canada Choristers and Cantemos Latin Ensemble present "The Magic of Music." Grace Church on-the-Hill, Toronto.
Celebrating the Human Voice: SING! The A Cappella Festival
SING! The Toronto Vocal Arts Festival co-artistic directors Suba Sankaran and Dylan Bell present a packed schedule this year, with ten days that explore the magic of a cappella music. Sankaran chatted with The WholeNote: "It's cool again to be singing in Glee clubs, in barbershop ... Through Pentatonix or Pitch Perfect, or Glee, it's cool to be singing."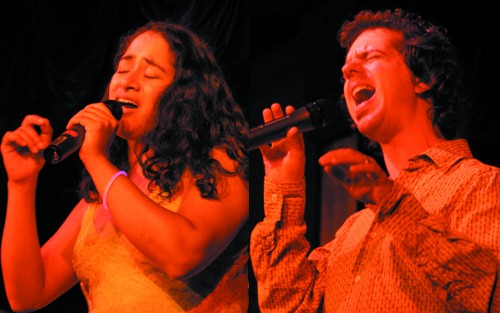 There's an astounding lineup. Part of the festival I'm flagging: artists FreePlay Duo (which is Sankaran and Bell); hugely popular all-male Rockapella; Retrocity, a local 80s group; an all-female concert featuring the Penthelia Singers and Girl Pow-R with others; and Resound, a totally unbelievable gospel trio who will drop your jaw and melt your heart.
For new attendees, Sankaran has some tips. "Take in one of the weekend shows," she says. "It will give you a chance to experience a workshop or two, go to the outdoor free stage, drink in some of the a cappella artists, and then go to an evening show." In one concert, three groups are celebrating their 20th anniversaries: Retrocity, the Toronto Northern Lights and Cadence. It's a great introduction to the "spectrum" of a cappella as Sankaran describes it, including barbershop, jazz and contemporary.
SING! The Toronto Vocal Arts Festival offers big weekend concerts, a free outdoor stage, and intimate performances in small venues like the Jason George Pub and the Little Trinity Church. There's a huge breadth of performers representing diverse musical styles and that is a direct reflection of the energy and connections that Sankaran and Bell bring to the table. Local sacred traditions are reflected with "SING! Crossroads," which features the Ruach Singers and Six 13, both Jewish a cappella worship groups. "SING! Celebrates Gospel" brings in the Christian tradition rooted in Black music of North America. And the multidisciplinary aspect of the festival is reflected with "Art Battle"!
Central to all of this is people making music with nothing but their voices. "The power of the human voice, the fact that it can empower a person, whatever age, whatever ability – that to me is the most important thing. It truly is a universal language, especially when you get into a cappella," says Sankaran. "Your voice is like your fingerprint. It's completely unique. People can try and imitate you but they can never be you, they can never breathe like you."
Make sure to check out ten days of empowering a cappella music.
SING! The Toronto Vocal Arts Festival runs from May 23 to June 3 in a variety of venues, mostly centred around the Distillery District, Toronto. Check out www.singtoronto.com for all the offerings.
Exultate Chamber Singers: "We Sing and Connect"
Last month, I wrongly reported that Hilary Apfelstadt's final concert with the Exultate Chamber Singers was at their April 6 concert. There is one remaining program in the season, however: "We Sing and Connect," which takes place on Friday May 25 and Saturday May 26.
May 25 and May 26, 8pm. Exultate Chamber Singers presents "We Sing and Connect." With special guests the Miles Nadal Jewish Community Centre Adult Choir (May 26 only). St. Thomas's Anglican Church, Toronto.
Follow Brian on Twitter @bfchang. Send info/media/tips to choralscene@thewholenote.com.