Emotion is at the core of every musical performance and storytelling is at the heart of emotion. Sometimes the stories can be esoteric, sometimes they are obvious, sometimes they challenge us to find them. There is an extra dimension that conductors put into their concerts when programming songs that tell a story to evoke certain feelings. Take in a well-constructed choral concert this month and see the part that musical storytelling plays. I've highlighted a few below.
"I'll be Your Refuge"
"Music has a way of softening the edges around a message, of getting at its true emotional core, and of transmitting that to a broad range of people," says Annabelle Chvostek, JUNO-nominated singer-songwriter and artist-in-residence for Echo Women's Choir. She continues: "Having music carry ideas can make things feel less preachy or didactic. It's just giving it from the heart." Chvostek is answering some of my questions by email. I've asked her about her experiences creating and adapting her solo music for Echo Women's Choir.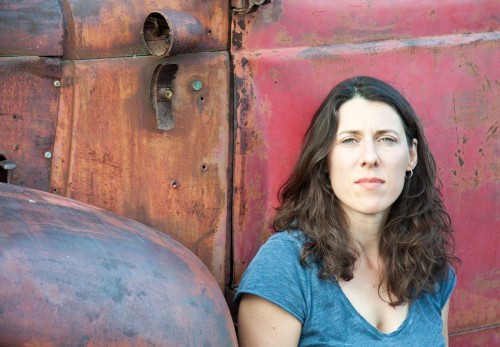 I'll Be Your Refuge is Chvostek's feature song that gives the Echo Women's Choir spring concert its title. This isn't Chvostek's first time writing or arranging music for Echo. She has adapted her songs Black Hole and Firewalker for them, amongst others. But "this year is the first time I am actually presenting a song that is a choral song first. I'll Be Your Refuge is a song I want to be singing, but it is so much more poignant to do it with the intent and attention of these women supporting its delivery. And it was a magical process to have room for four vocal parts to carry it instead of my one."
The story she's telling here is one that is deeply personal for her. Her partner is a former refugee and Chvostek is sharing a story of acceptance, belonging and open arms. "Observing the global refugee crisis of the last few years has been powerful. Some of the most moving news moments for me have been around [refugees], including watching Canadian families and communities respond to the crisis with openness and generosity," she continues."And frustratingly, some people respond with fear." Echo is sharing this music to move beyond fear.
Echo is unlike any other choir in the city that I've met. It is a gathering of female-identified voices rooted in a compassion and drive for social justice. Their concerts are community gatherings centred around music, much of which is uniquely arranged for Echo by Alan Gasser. Becca Whitla and Gasser are co-directors with Chvostek. They want you to think and be challenged by their music and storytelling. There is deep thoughtfulness behind the music they program and the issues they want you to confront.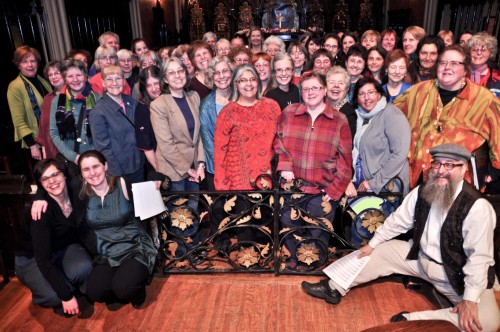 Dene singer Leela Gilday comes to Toronto as the choir's special guest. Based out of Yellowknife, Gilday shares stories and describes herself as having "a sense of humour as well as a sense of social justice and an ironic appreciation of human folly." Her music and stories will be welcomed by the choir.
"Music is one way we can express the things that we hope will contribute to a fairer, more just society," says Chvostek. "One that cultivates joy within all its diversity of expression. Music can actually get at things in a way that words alone can't."
Echo Women's Choir presents "I'll be Your Refuge" with special guest Leela Gilday and co-directors Becca Whitla, Alan Gasser and Annabelle Chvostek, Sunday April 29 at 3pm, at Church of the Holy Trinity, Toronto.
Now the Guns Have Stopped
For the Oakham House Choir upcoming concert "Better is Peace than Always War," artistic director Matthew Jaskiewicz has paired Karl Jenkins' The Armed Man and Gabriel Fauré's Requiem. Two distinct works, they are companion pieces in their ability to channel a message of peace in the form of a mass. The concert's title comes from the opening words of the 12th and final movement of Jenkins' piece. The Armed Man is popular amongst community choirs for its universal message of peace and its musical accessibility. The work includes poetry by Rudyard Kipling, Jonathan Swift and Sankichi Tōge, a Japanese survivor of the Hiroshima bombing by the USA. The hymn L'homme armé, for which the work is named, is based on an ancient tune. The hymn tells us "the armed man should be feared," a warning against those who carry and use weapons.
Paired with The Armed Man, Jaskiewicz has chosen the Fauré Requiem. A beloved staple of French music and the requiem canon, this is a mass for the dead. Put into the context of a call for peace, this requiem performance will not be used for actual commemoration. Audiences will instead be challenged to think about the areas of the world plagued by conflict at this very moment. And as we approach the centenary of the end of World War I, it serves to remind us of past conflicts as well. This concert commemorates the end of the First World War and is a collaboration with the European Union consulates in Toronto. Members of the armed forces from the Scottish Regiment and Haller's Army (Blue Army) will be in attendance. Oakham is also pleased to welcome the Novi Singers of Toronto to this performance.
Oakham House Choir Society presents "Better is Peace Than Always War" on April 28, 7:30pm, at Metropolitan United Church, Toronto.
"Let there be light!"
Pax Christi Chorale is joined by the Toronto Mozart Players for a presentation of Haydn's masterpiece oratorio: Die Schöpfung (The Creation). "The Creation represents the highest form of oratorio," shares David Bowser, artistic director of Pax Christi, via email. "It was written with love for the listener. Haydn paints colourful and vivid musical depictions of darkness and light, water and weather, plants, birds, animals and people, all framed in grand angelic choruses."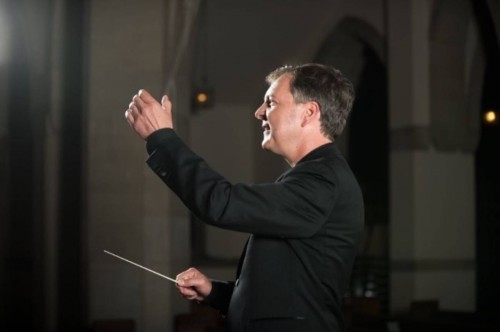 Bowser is presenting the work in its original German because the "text is closer to today's spoken German, and gives the music a more buoyant phrasing and crisper articulation. It should be underlined that neither Haydn nor van Swieten, who wrote both versions, spoke English with any fluency and the settings are clumsy," he says. Many a chorister has frowned when confronted with the awkward English of "And to th' ethereal vaults resound" or "achieved" in three syllables. The original German allows the choir to move beyond such awkwardness.
Pax Christi is joined for this concert by Sandy Rossignol, a video artist. Bowser explains the creative process and the reasoning behind the inclusion of this added dimension to the music. "Often audiences are buried in their programs reading along with the text," he says. "And they are not as connected with the performers. A video of images compiled and manipulated by Sandy will serve as abstract surtitles to assist the audience in following the German text. The music is so visual that Sandy was immediately inspired. He is also incorporating themes of science, equality, diversity and conservation to bring modern relevance to the performance."
Rossignol's live visual accompaniment promises to give the concert a unique visual storytelling dimension.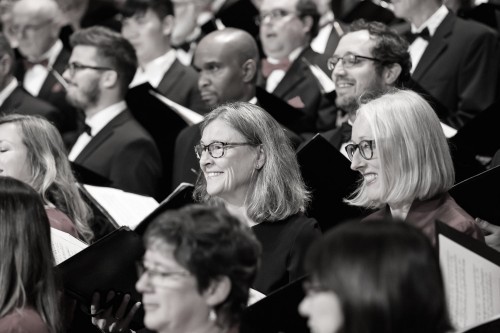 Pax Christi Chorale presents Die Schöpfung (The Creation) with the Toronto Mozart Players, Danika Lorèn (soprano), Charles Sy (tenor), Oliver Laquerre (bass-baritone), and live video performance by Sandy Rossignol on April 28 at 7:30pm, at Grace Church on-the-Hill, Toronto.
QUICK PICKS
Apr 6: Exultate Chamber Singers presents "We Sing and Play!" As noted in last month's Choral Scene, Dr Hilary Apfelstadt is retiring from the University of Toronto and as artistic director of Exultate. She brings the Toronto Winds to her final concert with Exultate, which features the premiere of Resurgam by Canadian composer Matthew Emery, the choir's composer-in-residence. Emery has blended Renaissance polyphony with contemporary compositional techniques to create a work for an interesting pairing: voice and small wind ensemble. St. Thomas's Anglican Church, Toronto.
Apr 28 and 29: DaCapo Chamber Choir and the Orpheus Choir of Toronto present This Thirsty Land. Joined by instrumentalists, the choirs present the local premiere of DaCapo artistic director Leonard Enns' work This Thirsty Land, recently commissioned and premiered by the University of Guelph. Other smaller works include Toronto-based composer Hussein Janmohamed's Sun on Water and Norwegian Trond Kverno's Ave Maris Stella. April 28, 8pm at St. John's Lutheran, Waterloo, and April 29, 3:30pm at St. Anne's Anglican Church, Toronto.
Apr 29: Amadeus Choir of Greater Toronto presents "I Saw Eternity." Artistic director Lydia Adams conducts the choir's final concert of the season featuring music by Eric Whitacre, Eleanor Daley, Hussein Janmohamed, Stephen Chatman and more. The inspiration for the concert comes from Henry Vaughan's poem The World, which opens with the lines: "I saw eternity the other night." Leonard Enns' and Stephen Chatman's settings of The World are presented along with other spacious works including Ola Gjeilo's Serenity and Eric Whitacre's Water Night. Eglinton St. George's United Church, Toronto.
May 5: Mississauga Festival Choirs present "Generations," with the Mississauga Festival Choir, the Mississauga Festival Chamber Choir, their youth choir, Resonance, and their intergenerational choir Raising Voices. The signature work of the evening will be John Rutter's Mass of the Children. Living Arts Centre, Mississauga.
May 6: St. Anne's Anglican Choir presents "A Hubert Parry Tribute." The Junction Trio joins a larger orchestra and the St. Anne's Choir under music director John-Luke Addison. The concert commemorates 100 years since the death of Sir Charles Hubert Hastings Parry. Royal music aficionados will know him for his coronation anthem I was Glad, which was written for the coronation of King Edward VII in 1902. The famous Anglican hymn Repton, a staple of congregations around the world was set to music by Parry. St. Anne's Anglican Church, Toronto.
Follow Brian on Twitter @bfchang. Send info/media/tips to choralscene@thewholenote.com.