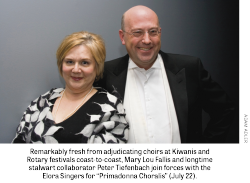 Alot of musical organizations go on break over the summer, but that doesn't mean the end to opportunities for amazing music. Southern Ontario is lucky to have within a few hours' drive several world-class music festivals, where there are lots of opportunities to see local and international artists at play. I've highlighted a few options for festivals and other exciting performances with a choral flavour.
Peter Oundjian at the helm
The Toronto Symphony Orchestra, the Toronto Mendelssohn Choir and the Toronto Children's Chorus are joined by soloists for Carl Orff's Carmina Burana, for four performances June 21 to 24. This mainstay of choral performance is going to be a fun time. It also marks one of a handful of choral performances remaining in which you can catch Peter Oundjian on the podium before his tenure ends in 2017/18. In his remaining year, there are only three other opportunities to see him in action with a choir in Toronto before his departure. In September, Oundjian leads the Toronto Mendelssohn Choir in Brahms' A German Requiem. In March 2018, he leads the Toronto Children's Chorus in the premiere of Scottish composer James MacMillan's Little Mass. And finally, his great send-off will be at the helm of Beethoven's Nineth Symphony in June 2018. Flag these in your agendas and calendars. If you are a fan of choral music and Peter Oundjian, don't miss!
The National Youth Choir of Canada
This year as part of Canada 150, the National Youth Choir of Canada (NYC) will tour Eastern Canada, performing alongside the National Youth Orchestra of Canada (NYO) as part of the NYO's Edges of Canada Tour. "This is a really unique year; we don't usually do the choir every year," says Hilary Knox, executive director of Choirs Canada. Just last year, the choir was convened under the baton of Michael Zaugg. "This year," she continues, "the National Youth Orchestra was able to get a massive heritage grant to do a tour and to do collaborations as part of Canada 150." Part of this work includes the National Youth Choir, who will perform and tour alongside the orchestra while also performing in their own concerts through Southern Ontario.
This year, the 40 singers of the choir are made up of musicians from every province and the Northwest Territories. Knox talks about their first-time use of YouTube auditions to have a broader reach for participants. "YouTube auditions allow us access to a number of singers we couldn't reach otherwise." Beverley Rockwell, a member from the Northwest Territories, enjoyed the YouTube option. "I found it quick, easy and painless," she says. "Uploading to YouTube and sharing the link to the NYC committee was a good way to get everyone's auditions easily, and for us to use the resources provided to us in this technological age."
The NYC gives participants broad-based exposure to not only the choral world of Canada, but also the wider artistic community in the country. Rockwell is looking forward to this new experience. "To be experiencing it on the national scale is amazing," she shares. "In the Northwest Territories, our choirs are small and everyone knows one another, very much like a family, but you can get quite stuck in the comfort of your surroundings…. Also, it's a chance to gain perspective on how other singers from Canada grew up singing and how they view the wonderful country that is Canada."
Calgary-based conductor Timothy Shantz – chorus master of the Calgary Philharmonic, artistic director of Spiritus Chamber Choir, and founding director of Luminous Voices – will lead the NYC in its a cappella pieces and solo concerts this year.
It's a big year and an exciting one for the NYC – a chance to not only learn and perform but also to share in the intense artistry of performing with the National Youth Orchestra. "For us, to do a collaboration is so fantastic; it speaks so beautifully to our mission," says Knox. "To bring the kids together, have them work together…it's kind of unprecedented. The discussions we're having with the orchestra are exciting."
Catch them in action across Eastern Canada:
July 18 – Knox Presbyterian Church, St. Catharines, ON.
July 19 – The NYC stops by the Elora Festival to sing with the Elora Singers. Knox Presbyterian Church, Elora, ON.
July 20 – Stratford Summer Music. Edges of Canada Tour with the NYO. Stratford, ON.
July 22 – Edges of Canada Tour with the NYO. National Arts Centre, Ottawa, ON.
July 23 – Edges of Canada Tour with the NYO. Maison Symphonique, Montreal, QC.
July 25 – Toronto Summer Music Festival. Edges of Canada Tour with the NYO. Koerner Hall, Toronto, ON.
The Elora Festival
The Elora Festival takes place in Elora, Ontario, from July 14 to July 30, and is without doubt the biggest Ontario festival featuring choral music. A mainstay in the quintessential Ontario village of Elora, Noel Edison – artistic director of the festival, the Elora Singers, and the Toronto Mendelssohn Choir – has programmed a pretty awesome feast of choral fun. The extensive choral highlights are below:
July 14 – Opening Night Gala: "Night of the Proms." Under the baton of Vancouver Symphony Orchestra maestro Bramwell Tovey, the EFS will be joined by the Toronto Mendelssohn Choir for a colonial British romp to start the festival. Gambrel Barn, Elora.
July 16 – The Elora Festival Singers are joined by the Guelph Youth Singers and the Festival Orchestra in Benjamin Britten's Saint Nicolas cantata. Lawrence Wiliford (tenor) takes the lead as the storied Bishop of Smyrna. St. John's Church, Elora.
July 21 – The Trinity College Choir of Cambridge University, UK, joins Michael York (bass) and Zach Finkelstein (tenor). This delightful concert will feature two Magnificats written by J.S. Bach and his son C.P.E. Bach. Gambrel Barn, Elora.
July 22 – Mary Lou Fallis brings a comedic touch to choral singing with the Elora Singers and pianist Peter Tiefenbach in "Primadonna Choralis." St. John's Church, Elora.
July 23 – The Elora Singers and Festival Orchestra perform Bach's Brandenburg Concertos No.1, No.5 and Wachet Auf. Knox Presbyterian Church, Elora.
July 23 – The Trinity College Choir of Cambridge University performs works by Arvo Pärt, William Byrd, Henry Purcell, and more! Gambrel Barn, Elora.
July 27 – Celebrated countertenor Daniel Taylor joins the Elora Singers and Festival Orchestra in a performance of Pergolesi's Stabat Mater and Purcell's Dido and Aeneas. St. John's Church, Elora.
July 28 – Cantus, an American men's ensemble, visits the festival performing songs from the all-male canon. Gambrel Barn, Elora.
July 29 – Celebrating the 150th year since Confederation, a multimedia, multi-artist performance will be staged at the Gambrel Barn featuring the Elora Singers, Richard Margison, Martha Henry, Jackie Richardson and Hugh Brewster.
July 30 – The Elora Singers close off with a concert of hymns that will include audience participation. St. John's Church, Elora.
The Bach Festival of Canada

The Bach Festival of Canada takes place in South Huron, Exeter, Ontario from July 6 to 16. Gerald Fagan, who co-founded and leads this festival, is one of the most distinguished choral conductors at work in the country. Earlier this year, he was made a Member of the Order of Canada for his dedication and work. As an existing Order of Ontario recipient, he is known for his work with Chorus London, the Concert Players Orchestra, CHOR AMICA, the Gerald Fagan Singers, and the Toronto Mendelssohn Youth Choir.
There are two choral concerts at the tail end of the festival. Fagan leads his choir, CHOR AMICA, in an intimate performance on July 15. Then, closing off the festival will be "Our Home and Native Land," featuring the Festival Massed Choir, Festival Symphony Orchestra and soloists John Avey, Anita Krause, Leslie Fagan, and Colin Ainsworth, in performances of works by Ontario-based composers.
Elise LeTourneau, Jeff Smallman, Matthew Emery and Stephanie Martin will all have world premieres of their work at this festival. Matthew Emery, a talented and prolific composer, premieres A Song of Canada. Using thematic elements of Canada's diversity alongside physical characteristics of its landscapes, Emery has crafted a 12-minute work for orchestra, mixed choir, children's choir and four soloists. Emery's text comes from the poem A Song of Canada, written by Robert Reid in 1913. "I adapted the final phrases of the work to exemplify what being Canadian means to me – the freedom to be loved and to feel safe," Emery says. This adapted text reads: "I hear the voice of Freedom, Sing me joy, Sing me peace, Sing me worth, Sing me love, Voicing your notes that the world may hear, Sing me a song of Canada!"
July 15 – CHOR AMICA and the Festival Symphony Orchestra. Trivitt Memorial Anglican Church, Exeter.
July 16 – Gala Closing Performance: "Our Home and Native Land," South Huron Recreational Centre, Exeter.
Quick Picks
June 3 – The Toronto Mass Choir presents "Gospel Island Grooves" in anticipation of their mission trip to the Dominican Republic. This is their big fundraiser for the trip, with guests Roberto Sanchez and Joy Lapps-Lewis. Humber College (Lakeshore Auditorium), Toronto.
June 4 – Acquired Taste is hosting their first performance, as part of Pocket Concerts! Rory McLeod, co-founder of Pocket Concerts, shares: "Acquired Taste is an amateur choir for professional musicians who normally use instruments to make music (many of whom play in top orchestras and chamber groups in Toronto). For this project, we've put our instruments aside and embraced the spirit of the amateur musician, learning how to sing while rediscovering the joy of making music for fun." Mitchell Pady leads the group in its first performance, including works by Brahms, Fauré, Healey Willan, Palestrina, Thomas Tallis, and more. St. Martin-in-the-Fields Anglican Church, Toronto.
July 25 – Further north than Elora, you can catch the Trinity College Choir at the Festival of the Sound. Charles W. Stockey Centre for the Performing Arts, Parry Sound.
July 26 – Countertenor and early music specialist Daniel Taylor returns to the Stratford Summer Music Festival with the Theatre of Early Music. This incredibly refined, art-focused ensemble continues to be a pleasure whenever they perform. A choreographed presentation of the Allegri's Miserere is on the program. The Avondale, Stratford.
August 11 – The Elmer Iseler Singers stop by the Festival of the Sound. Charles W. Stockey Centre for the Performing Arts, Parry Sound.
Follow Brian on Twitter @bfchang Send info/media/tips to choralscene@thewholenote.com.