Peace, my heart, let the time for
the parting be sweet.
Canadian composer Matthew Emery's musical setting "Peace, my heart" uses a poem by legendary Bengali poet and musician, Rabindranath Tagore. Emery's composition is spartan and focused, somehow enabling deep mourning and peaceful contemplation to coexist within a single shape. Reflecting on the tumultuous state of current affairs, it's going to be good to be able to get back to making collective music. The summer of presidential-inflamed white supremacy, the threat of nuclear war, the homophobic hatred in Chechnya, the loss of democracy in Venezuela, the imprisonment of elected officials in Hong Kong – there is a great heaviness throughout the world. The weight of recent events sits deeply in the minds, hearts, and souls of many people. As artists and enjoyers of music, our personal and communal healing often takes place in the context of music and to that we can turn our minds, hearts, and souls for healing. There is much good music ahead.
That Choir
At the beginning of August I lost an old friend who was only 31. Many of my memories with him were music related; we went through the same music program in high school. I can picture him vividly with flute in hand; I can picture him attempting clarinet; I can remember our conversations about Polish music. Music is all around us, and indeed, healing, if we allow it. At the back of the commemoration card, his family chose the poem "Do not stand at my grave and weep" by Mary Elizabeth Frye.
That Choir will feature Eleanor Daley's iconic setting of Frye's poem, In Remembrance, part of her Requiem in their first concert of the season, "That Choir Remembers." That Choir has been busy, making itself one of Toronto's busiest and most dynamic. Recently featured in Ramin Djawadi's "Game of Thrones Live!" concert and "Hans Zimmer Live," both at the Air Canada Centre, the choir is proving itself able to rise to a wide range of big occasions. These two events have been among the most amazing performances of live music I have ever, and will probably ever, witness.
This year, That Choir enters its tenth season under the direction of Craig Pike. Stay tuned for guest appearances as new concerts are announced.
Sistine Chapel Choir comes to St. Michael's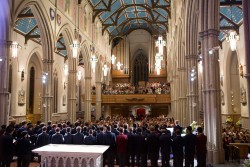 The oldest operating choir in the world, the Sistine Chapel Choir, is coming to Toronto. Its official name, Cappella Musicale Pontificia Sistina, describes its purpose – created for the Pope to serve in the Sistine Chapel. For centuries, the music and the ensemble were fiercely guarded and protected by the Church. The choir visits North America with several stops in the United States and Canada; on September 26, St. Michael's Cathedral Basilica will host them, a fitting celebration to launch and ambitious series of concerts in the recently renovated Cathedral.
This choir is very rarely heard except by those who are lucky enough to visit Vatican City during liturgy. It is for this choir that great Renaissance composers like Gregorio Allegri and Giovanni Pierluigi da Palestrina wrote music intended to be sung in the Sistine Chapel itself. In the context of a growing fascination with Renaissance and early music, the Sistine Chapel Choir offers something unique. A direct descendant of the tradition, the choir also boasts access to the historical archives of music at the Vatican. In 2015, the choir released its first-ever recording, Cantate Domino, with performances directly from source materials and recorded in situ. The source in question, a 1661 version of the Allegri Misere, is especially haunting in its simplicity and the absence of the storied high C. Their second recording featured Palestrina and was reviewed by The WholeNote's own Michael Schwartz.
St. Michael's Choir School has quite a season of its own ahead, ambitious even by the standards of this storied choir program. Of note is the splitting of Handel's Messiah into two performances, one for the Christmas season and another for the Easter season. The Choir School does not often perform Handel and Jennens' masterpiece, and Peter Mahon, senior choir director, looks forward to teaching this music to another generation. Part 1 will be featured in Massey Hall in a contemporary interpretation featuring the 160 voices of the senior choir. In April, Parts 2 and 3 will be presented in a much smaller performance, with Mahon leading an early music interpretation with Baroque instruments and pitch. Alumni and early music specialists Simon Honeyman and Richard Whittall will be featured alto soloists for the performances along with Joel Allison, bass.
St. Michael's Cathedral music programming is also turning to a new ticketing model, one with no ticket sales. Suggested donations are now the norm for this season. "Anyone can come and may pay only as they are able", says William O'Meara, St. Michael's Cathedral organist. "We all hope it welcomes those who may not be able to afford to go to regular concert series in the city." This admirable choice will bring peace and music to many people who would otherwise not be able to afford the experience.
(And as an aside, St. Michael's Choir School's junior choir director, Maria Conkey, also takes on a new role this year, as artistic director of Young Voices Toronto, heading into its 31st season. Stay tuned for more news as Conkey takes the reins.)
Canadian Children's Opera Company
Speaking of storied children's and youth choirs, the Canadian Children's Opera Company (CCOC) heads into its 50th anniversary season under music director Teri Dunn, also a choral instructor at St. Michael's Choir School! The renowned Ben Heppner will host the CCOC's October 26 gala concert at the Four Seasons Centre for the Performing Arts, which will feature performances by Richard Margison, Krisztina Szabó, Simone Osborne and Andrew Haji and a chorus made up of company alumni, many of whom have gone on to notable musical careers. Former music and artistic directors John Tuttle and Ann Cooper Gay will also conduct.
Their 50th anniversary season will also include the world premiere of The Monkiest King with music by Alice Ping Yee Ho and libretto by Marjorie Chan. This beloved Chinese folk tale will be brought to life by the CCOC in May 2018 as the CCOC under artistic director Dean Burry continues its pursuit of artistic, educational and cultural excellence.
TSO Doing Its Part
The Toronto Symphony Orchestra has several big choral works planned this season, featuring the Toronto Children's Chorus and the Toronto Mendelssohn Choir. September 27, 28 and 30, Brahms' A German Requiem will be performed, including soprano Erin Wall and baritone Russell Braun. Just over a month later, the Toronto premiere of Afghanistan: Requiem for a Generation will be performed by the massed power of the Toronto Children's Chorus, the Toronto Mendelssohn Choir and Measha Bruggergosman. Victoria Symphony Orchestra music director Tania Miller takes the podium, guiding the words of Suzanne Steele, Canada's war poet, and set to music by Canadian composer Jeffrey Ryan.
I bow to you and hold up my lamp
to light you on your way.
As musicians around the region return home to start the new season, I will be there, diligently sitting in rehearsal, seeking that elusive balance of emotion and contemplation through music, and hopefully bringing peace to a few others along the way. Make sure to come out to as many performances as you can – audiences are an essential part of the musical process. See you out there and don't forget to say hi!
Follow Brian on Twitter @bfchang. Send info/media/tips to choralscene@thewholenote.com