Jim Galloway was The WholeNote's longest standing columnist, tenacious to the last. We greet the news of his passing, yesterday, December 30 2014, with sadness. We have lost a blithe spirit, a true champion of live music. Here are the last words he wrote for us, just four weeks ago.
David Perlman, publisher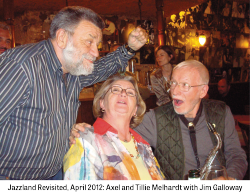 This being the 15th or 16th December/January edition of these Jazz Notes for The WholeNote, I thought that rather than essaying something completely new, I'd dip back through my little stack of back issues for things that, still being appropriate, I might appropriate. Take this, for one example:
This month's column is a departure from the familiar concert listings of previous issues, reason being that the above mentioned departure was mine - for a month-long trip to Europe! As a result this article is coming to you from the waltz capital of the world, Vienna.
First of all, for the record, the Danube is not blue, but an industrial brown which would not inspire Johann were he to see it today. Also the Viennese waltz does not make up 3/4 of the music heard in Vienna, even though it is in 3/4, and since being here I have not heard a single zither play the theme from The Third Man.
Is there jazz in this stronghold of Strauss? – this fatherland of Freud? – this Mecca of Mozart? – this city where you can have your Vienna Phil? Yes there is and quite a lot of it at that, although, as anywhere else it is music for a small minority – and a minority that is broken into at least two camps. There are the obvious ones traditional and modern, and it would seem that never – or very seldom – the twain shall meet. (No, not you, Mark!)