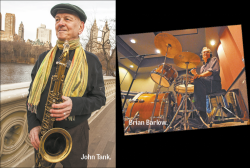 I'm writing this in November and already I'm getting tired of Christmas songs being pumped out at me in shops and restaurants.
It can be said however that despite all the blatant commercialism the season does promote a spirit of goodwill, at least for a day or two. And that's more than can be said for the origins of the celebration which are to be found in Roman bacchanalia steeped in drunken revelry and, unfortunately, racism, the dates of which were borrowed by the Roman Catholic Church and sanitized more than just a little. If you want clarification on this subject I invite you to check out the origins of Christmas.
In the spirit of the season I offer this abridged version of a parody on "The Night Before Christmas":
'Twas the month before Christmas, and all through the store,
Each department was dripping with Yuletide decor.
The Muzak was blaring an out-of-tune carol,
And the fake snow was falling on "Ladies' Apparel."
It was all too much for my soul to condone,
And I let out a most unprofessional moan.
The crowd turned around, and I'll say for their sake,
That they knew in an instant I wasn't a fake.
"I've had it," I told them, "with fast-buck promoting,
With gimmicks and come-ons and businessmen gloating.
This garish display of commercialized greed,
Is so very UN-Christmas, it makes my heart bleed!
And that's my rant for today.
Elementary – what's on: Starting with the concert halls there is in fact quite a lot of activity over the next couple of months. The listings section of the magazine has a complete rundown but I have singled out a few events giving an overview of the forthcoming events.
Regarded by many as the best big band in the business, Jazz At Lincoln Center Orchestra with Wynton Marsalis, will offer a program called "Big Band Holidays" at Massey Hall on December 9. Formed in 1987 they have since taken their music around the world garnering enthusiastic devotees wherever they play. I'm pretty certain that one of the numbers they will play will be their version of "Oh Tannenbaum" and if you go on their website you'll find the entire version, not just a clip. Worth checking out.
If you're looking for something a little more contemporary and vigorous, December 14 at the Winter Garden Theatre will find The Bad Plus belting out their very personal brand of music. Drummer in the group, Dave King, has this to say, "This band contains some of the most punk energy I've ever seen or felt as a musician ..."
On the other hand If you're looking for some nostalgia you'll find it on December 19 at Roy Thomson Hall when the Preservation Hall Jazz Band presents "Creole Christmas." The group was formed in 1961 — before some of the current members were born and while the band is no longer the original genuine article the evening will bring back memories of days and music gone by.
Not quite downtown but it's worth the drive on December 5 to the Flato Markham Theatre where The Manhattan Transfer "Swings Christmas." The group has been performing since 1974 although it hardly seems that long since I first became aware of them. They went from strength to strength and in 1981 won their first Grammy for their recording of "Until I Met You," also known as the jazz standard "Corner Pocket," composed by Freddie Green, longtime guitarist with Count Basie. Their Markham appearance comes hot on the heels of an extensive European tour and if you like vocal jazz, and in particular four-part harmony, Markham Theatre will be your destination.
Two nights later on December 7 John Pizzarelli and Daniela Nardi, vocals, will be "Celebrating Frank Sinatra and Paolo Conte"at Koerner Hall; and at the same venue on December 14, Regina Carter and Nnenna Freelon will present an evening of Jazz, funk, Motown, African and soul music.
So you can see that if you choose to, the festive concert season could put quite a strain on your wallet, but heh, better for your soul than a new smartphone.
At your service: I have commented on the number of jazz vespers which have become part of the fabric that makes up the musical coat of many colours to be found in our city. They first saw the light of day, or rather evening, 14 years ago at Christ Church Deer Park. At that time the minister was Tim Elliott and the musician who convinced him that jazz vespers was a fitting addition to the musical life of a church was Toronto musician Brian Barlow. Over the years there have been five ministers at Christ Church Deer Park, but Brian is still in charge of the jazz policy. Other churches have followed suit and something that 20 years ago would have been unheard of, literally, and still considered by a narrow-minded few to be the devil's music, is now an accepted way of expressing joy and communicating with people through group improvisation.
Brian's programming over the next couple of months includes Christmas Vespers with "Barlow Brass and Drums" on December 15 and on January 12, Jazz Vespers "Tribute to Louis Armstrong" with Chase Sanborn, trumpet, and a tribute talk by Barlow. Then on January 26, Jazz Vespers will feature the Russ Little Quintet with Russ Little, trombone, Michael Stuart, saxophone, Brian Barlow, drums, Tom Szczesniak, piano, and Scott Alexander, bass. 4:30pm is the start time and attendance is free, donations welcome.
Time for a little religious humour? Try this one. A rabbi, a priest and a minister walk into a bar. The bartender looks up and says, "What is this, a joke?"
Clubbing around: In addition to the concert schedule there is the usual club scene which is well documented in the listings section, but I would like to make mention of some of the bookings at the Jazz Bistro on Victoria Street which is going some way to picking up the slack which has existed since we lost the Montreal Bistro and Top o' The Senator. The Jazz Bistro is in fact at the same address as the Top o' The Senator but there the resemblance ends. It is an elegant room with decent sight lines, reasonably priced food and a really fine piano. There is also an interesting booking policy thanks to the creative efforts of Sybil Walker who brings years of experience coupled with a keen knowledge of the music. Some of the artists who will be appearing over the next few weeks include a quintet on December 6 and 7 led by drummer Mark McLean featuring Kelly Jefferson, saxophone, Robi Botos, piano, Ted Quinlan, guitar, and Marc Rogers, bass. On December 19 to 21 Duncan Hopkins will share the bandstand with Mike Murley and Rob Piltch while the New Year gets off to a swinging start with Bernie Senensky on January 2 to 4, Neil Swainson and Don Thompson, January 9 to 11 and Dave Young, who will be there with his Tribute to Horace Silver Band for three nights, January 16 to 18. With Dave will be Kevin Turcotte, Perry WhIte, Gary Williamson and Terry Clarke. A week later, January 23 to 25, Bernie Senensky will take the bandstand with sax player Grant Stewart, his brother Phil Stewart on drums and Neil Swainson, bass. A strong line-up of home grown talent and if you haven't yet visited this relatively new space then I would strongly recommend that you put it on your things-to-do, places-to-see list.
Meanwhile over at the Rex, one of the highlights has to be the appearance of John Tank on December 3. With him will be Bernie Senensky on B3 Hammond organ and Ted Warren, drums. Kitchener-born, John Tank moved to Toronto in 1970 but has made New York his home base since 1974, He has built a strong presence both there and internationally and this is a rare Toronto appearance.
All in all if you are a jazz fan "Yule" be able to have a good time.
Just a closing reference to the Christmas commercial madness —I leave you with this thought:
As Chico Marx said in A Night At The Opera, "There ain't no Sanity Clause!"
I wish you merry listening and a jazzy new year. 
Jim Galloway is a saxophonist, band leader and former artistic director of Toronto Downtown Jazz. He can be contacted at jazznotes@thewholenote.com.