In October of 2011 I wrote a piece about the debut performance on February 12, 1924 at Aeolian Hall in New York of George Gershwin's Rhapsody in Blue with the composer playing the piano solo. The audience included Jascha Heifetz, Fritz Kreisler, Leopold Stokowski, Serge Rachmaninov and Igor Stravinsky. The evening, led by conductor Paul Whiteman, was billed as "An Experiment in Modern Music" and the focal point, Gershwin's Rhapsody, was a huge success.
Well, on February 12 of this year, Maurice Peress, a conductor who has made a specialty of leading works in which the influences of jazz and classical music intermingle, plans to re-create Gershwin's Rhapsody in Blue on its 90th anniversary. Peress will conduct Vince Giordano, an authority on recreating the sounds of 1920s and 30s jazz and popular music, and the Nighthawks with pianist Ted Rosenthal; the concert will be at Town Hall, only a block away from Aeolian Hall which is now part of the State University of New York.

The Toronto Scene: On Thursday February 27, 2014 at Massey Hall at 8pm The Spring Quartet, four jazz stars covering a wide range of age – three generations – and experience come together under the leadership of veteran drummer, Jack DeJohnette, with tenor sax virtuoso Joe Lovano, bass player, vocalist and Grammy winner Esperanza Spalding and pianist Leonardo Genovese. All are familiar faces to Toronto audiences with the possible exception of pianist Genovese.
Pianist Leo Genovese was born in Venado Tuerto, Argentina in 1979 and moved to Boston in 2001 where he studied at Berklee with, among others, Danilo Perez and Joanne Brackeen.
I am so accustomed to seeing Jack DeJohnette with Keith Jarrett – he has been with him for some 30 years – that it will be interesting, not to mention refreshing, to hear him in such a totally different musical space. Will we perhaps see more of that in the future?
Some other highlights of jazz in Toronto:
JPEC Series at the Paintbox Bistro continues with BrubeckBraid – David Braid (piano), Matt Brubeck (cello) Saturday February 8 and Luis Mario Ochoa Quintet – Hilario Durán (piano), Roberto Riveron (bass), Amhed Mitchel (drums), Luis Orbegoso (percussion), Saturday February 15.
If you head out to Old Mill and piano players are your thing, the Home Smith Bar is a happy hunting ground. Mark Eisenman has a couple of dates on February 1 and 28, as do John Sherwood (February 7 and 22) and Mark Kieswetter (February 8 and 21). Richard Whiteman, February 14, and Adrean Farrugia, February 15, round out the month making it a veritable feast of fingers on the keyboard.
I've written previously about the amount of jazz in churches without tooting my own horn, so this time I wish to report that I'll be at Deer Park United Church on February 9 at 4:30 as part of their jazz vespers series with Mark Eisenman on piano and Rosemary Galloway, bass.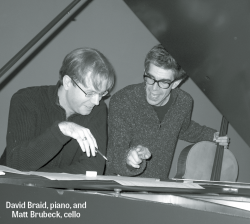 Primers: I've also written in the past about the large number of students taking jazz courses in colleges and universities. I sometimes feel, when a little cynicism rises to the surface, that their numbers have increased in direct proportion to the diminishing number of gigs. Students are taught by some of the most talented jazz musicians in the country who teach to supplement their incomes as the number of gigs declines; their students then compete for the declining number of gigs.
One result of these changes in the business is that there are fewer opportunities to work one's way up through the ranks and get the invaluable experience of rubbing shoulders with a variety of experienced players, since the newcomers are more likely to form a group of their own and play original music. So with my tongue firmly pressed into my cheek, and culled from various disreputable sources, I offer to those of you who previously would have learned these lessons along the way, the following two primers:
Hints on playing for jazz musicians:
Everyone should play the same tune.
If you play a wrong note, give a nasty look to one of the other musicians.
Carefully tune your instrument before playing. That way you can play out of tune all night with a clear conscience.
A wrong note played timidly is a wrong note.
A wrong note played with authority is an interpretation.
Markings for slurs, dynamics and ornaments need not be observed. They are only there to embellish the printed score.
When everyone else has finished playing, you should not play any notes you have left.
Happy are those who have not perfect pitch, for the kingdom of music is theirs.
How to Sing the Blues: A Primer for Beginners:
Most blues begin with "Woke up this mornin'." It is usually bad to start the blues with "I got a good woman" unless you stick something mean in the next line.
Example: "I got a good woman with the meanest dog in town."
Blues cars are Chevys, Cadillacs, and broken-down trucks circa 1957. Other acceptable blues transportations are a Greyhound bus or a "southbound train." Note: A BMW, Lexus, Mercedes, mini-van, or sport utility vehicle is NOT a blues car.
Do you have the right to sing the blues? Yes, if your first name is a southern state (e.g. Georgia), you're blind or you shot a man in Memphis.
No, if you're deaf, anyone in your family drives a Lotus or you have a trust fund.
Julio Iglesias, Kiri Te Kanawa and Barbra Streisand may not sing the blues. Ever.
Blues beverages are: malt liquor; Irish whisky; muddy water; white lightning; one bourbon; one scotch; and one beer. At the same time.
Blues beverages are NOT a mai-tai, a glass of Chardonnay, a Pink Lady.
Need a Blues Name? Try this mix and match starter kit:
Name of physical infirmity (Blind, Asthmatic, etc.) or character flaw (Dishonest, Low Down, etc.) or substitute the name of a fruit – Lemon – or use first and fruit names. Finish with the last name of an American President (Jefferson, Johnson, Fillmore, etc.)
Examples: Low Down Lemon Johnson; One-Legged Fig Lincoln, Lame Apple Jackson.
Need a Blues instrument? Play one or more of the following and sing with husky gravelly voice:
Harmonica, gih-tar, fiddle, sax, pie-anner (in need of tuning).
Now, you're ready to sing the blues ... unless you own a computer.
Just kidding, folks!
Not kidding department: From the New York Times of January 14, 2014: "Springsteen and Clapton to Headline New Orleans Jazz Festival." Need I say more!
Jim Galloway is a saxophonist, band leader and former artistic director of Toronto Downtown Jazz. He can be contacted at jazznotes@thewholenote.com.