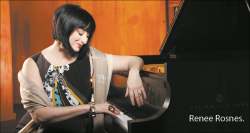 November may bring the colder weather but things are heating up in the clubs and concert halls this month and there are a couple of appearances I'd like to single out.
The Jazz Bistro will feature pianist Renee Rosnes for three nights, November 14 to 16; with her will be Peter Washington bass, Lewis Nash drums and Jimmy Greene saxophone.
Renee is Canadian-born but moved to New York in 1986 where she quickly established herself as a force to be reckoned with and at various times was the pianist of choice for such as Joe Henderson, Wayne Shorter, J.J. Johnson and James Moody.
She has four JUNOs to her name and her compositions have been recorded by Phil Woods, J.J. Johnson, the Danish Radio Big Band and the Carnegie Hall Jazz Orchestra. She is a very welcome addition to the Jazz Bistro's line-up and the band, I'm sure, will be a tight unit given that their appearance here follows on a tour of India, the only change being the substitution of Jimmy Greene for Steve Wilson. If you enjoy contemporary jazz you should definitely mark your calendar.
Massey: On November 22 at Massey Hall it's a pretty special evening with the Wayne Shorter 80th Birthday Celebration, (he turned 80 on August 25), with Wayne accompanied by pianist Danilo Perez, bassist John Patitucci and Brian Blade on drums. Ben Ratliff of the New York Times has described Shorter as "probably jazz's greatest living small-group composer and a contender for greatest living improviser." And if that isn't enough there is also the trio of pianist Geri Allen, drummer Terri Lyne Carrington and bassist Esperanza Spalding playing music from Shorter's days with Weather Report.
In addition there is the usual vigorous local club and concert activity which is splendidly covered in the club listings section of this magazine. (See page 53).
Shaw wordfest: Last month I wrote a piece about an address given by Artie Shaw at the 1998 IAJRC Convention. This month I would like to follow it up with his answers to some of the questions put to him by members of the audience.
In one of responses he riffed on the theme that you can't train human beings to listen to music intelligently. Any publisher of books will tell you the same thing Shaw said: most people would rather read Danielle Steel than Thomas Mann. Even although there is no comparison they would rather have Liberace than Beethoven. What sells is what's dominating the marketplace — we're in a greed-driven world. If we want something good to go on we have to support it. If we were at a concert by Kenny G there would be a very large audience. That doesn't mean he's better, it's simply that more people like what he does and that's the way it works.
By the way, do you know that Artie Shaw recorded with Jelly Roll Morton? He was asked how that came about and explained that he was on a record date with Wingy Manone, so named because he lost his right arm in a streetcar accident when he was ten years old. Jelly Roll happened to be the piano player on the date and that's how he came to play with him. Shaw found him to be "a nice guy" but a real hustler and always talking about how he invented jazz!
Asked if there were any big bands that he listened to — bear in mind that this is 1998 — he said that he liked Bill Holman and Bob Florence although he felt that Bob sometimes took too many liberties with songs and that there is a limit to how much you should distort the music without losing your audience. The more liberty you take the less audience you're going to have and the less money you'll make. He wasn't suggesting that money is the main goal, but you do have to face the reality of making enough of it to pay the bills.
He also had some interesting observations about Buddy Rich whom he described as an athletic phenomenon; when he played he did incredible things with his feet and hands and had exuberance and tremendous energy. When Shaw hired him in 1938 he could not read music so he set him in front of the band for three or four nights to listen, after which he said he could do it — and did!
And speaking of drummers ... Over the years in jazz there have been as many musicians' jokes about drummers as there are in classical music about viola players; such as "We have a quintet — four musicians and a drummer"; or "A guitar player and a drummer were walking through a park one day. The guitar player said, 'Hey look at that dog with one eye!' The drummer covers one eye and says, 'Where?'"; "Why are drummers always losing their watches? Everyone knows they have trouble keeping time"; "Why put drumsticks on the dash of your car? So you can park in the handicapped spot" ... and so on.
Well, according to Artie Shaw Buddy Rich was not a musician, he was a drummer — a different thing — the difference being that musicians play in terms of what the band is doing. So he and Buddy came to a parting of the ways. Shaw took him aside and asked him who he was playing for, the band or himself and Rich answered that he played for himself upon which Artie said, "I think you'll be happier somewhere else, you're not going to be happy here and I'm going to lean on you pretty hard. So Buddy Rich left and joined Tommy Dorsey, although from what I've heard about Dorsey I'm surprised it didn't turn out to be going from the frying pan into the fire.
I've just realized that as I write this there might be a number of younger readers who may be familiar with the name Artie Shaw but don't really know much about him. He was a clarinetist, composer, bandleader and author. Acknowledged as one of the finest clarinetists in jazz, he had one of the most successful big bands of the late 30s into the early 40s. He also was the first white band leader to hire a full-time black female singer to tour the segregated Southern U.S. but after recording "Any Old Time" she left the band due to hostility from audiences in the South, as well as from music company executives. He was also actively involved in third stream music blending jazz and classical music.
In 1954 he walked away from a successful career and spent the rest of the 50s living in Europe.
His personal life was, to say the least, stormy; he was married eight times and his wives included Lana Turner, Betty Kern, the daughter of songwriter Jerome Kern, and Ava Gardner.
He died on December 30, 2004 at age 94. I leave you with two of his quotes:
"You have no idea of the people I didn't marry."
"Shoot for the moon — if you miss you'll end up in the stars."
Artie Shaw, a very different and talented human being.
Happy listening and please make some of it live jazz. 
Jim Galloway is a saxophonist, band leader and former artistic director of Toronto Downtown Jazz. He can be contacted at jazznotes@thewholenote.com.