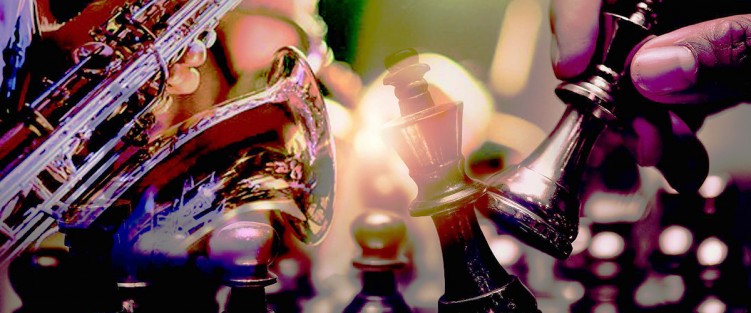 There is an indescribable beauty that comes from a quintet working as one on stage to dazzle an audience. The most amazing, calming physical sensation accompanies those moments where your preparation and instinct have successfully married one another. At the chessboard, it is also this beautiful. The drums, bass and piano are like your rook, bishop and queen. The jazz happens from move one to checkmate. The applause from the audience is the hand reached out to you from across the board. — Michael Shand
I was recently digitally flipping through an old DownBeat magazine from 1937, and came across an article on musicians who played chess by mail, by forwarding moves on penny postal cards. It made me think of our current state in the global pandemic, and how people are finding creative ways to connect without the ability to be in the same room.
As a pastime, chess has enjoyed a resurgence during COVID-19, in part due to the acclaimed Netflix show The Queen's Gambit. I have not been immune to this trend; learning the intricacies of bishops, rooks and knights has helped to fill the long hours at home. But as a musician, my interest also stems from stories about our jazz heroes playing chess.
From Anthony Braxton playing in Chicago's Washington Square Park for money, to Charlie Parker setting out the board during breaks at the Rainbow Ballroom in Denver, Colorado, to Dizzy Gillespie playing on a plane against Chief Justice of the United States Earl Warren, there is a rich history of jazz musicians dedicated to the game. Several even incorporated it into their musical work – trumpeter Jonathan Finlayson's group Sicilian Defense, organist Freddie Roach's album Good Move! and Charles Mingus' album Chazz!. Art Blakey was also a chess player – the first track on The Big Beat (1960) is The Chess Players by Wayne Shorter. (I'm tempted to add that America's greatest blues record label is named Chess Records, but it was named after Phil and Leonard Chess, the brothers who owned and operated it. So let's just leave it there.)
Is this devotion still around? In fact, fans may be surprised to learn chess is as popular as ever in the jazz community in Toronto and environs, in part fuelled by a recent swell of interest among young musicians who, like me, have started to play online on sites like chess.com. Here are short interviews with four musicians (from earlier this spring) explaining their love of the game!