Last month I gave a talk to the Toronto Chapter of the Duke Ellington Society, a group of enthusiasts that gets together on the second Tuesday of every month, except for July and August.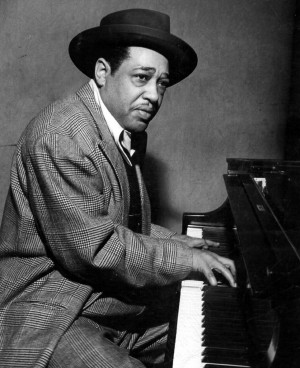 The Society was founded in 1959 as the Duke Ellington Jazz Society through the efforts of one Bill Ross, a Canadian working in Hollywood who placed an ad in Downbeat magazine in late 1958, announcing that a Duke Ellington Jazz Society had been formed in Hollywood. Simply put, it consists of people who are interested in Duke Ellington: fans, musicians, researchers, scholars and writers, the common bond being a love of the music of Ellington – and, of course, his alter ego Billy Strayhorn. (It's interesting to note that in 1968, at the Duke's request, the word jazz was dropped from the name and all the Chapters became known as the Duke Ellington Society.)
The Toronto chapter's origins make an interesting story, thanks to the Anger family. Rhea Anger, a champion of the music of Ellington, in response to a letter of January 29 from Ross, organized the first meeting of the Toronto Chapter, which was held on May 4, 1959. Anger was elected as the first president, and the Toronto Chapter has been meeting regularly ever since. There's no doubt that she was a suitable choice. She was the widow of Justice Harry Anger of the Ontario Supreme Court, who had established a warm friendship with the Duke many years before. After his death, Rhea and her son, Ron, also a lawyer, maintained the relationship. Over a period of time, whenever the Ellington band came to Toronto they would be invited to the Anger home after the engagement to enjoy some home comfort. And Duke Ellington played this town many times from 1931 on. I came up with a list of 16 different venues where they performed.
Robert Fulford, in the Toronto Star, January of 1987, wrote the following: "In the early 1970s, when the Duke Ellington band was playing the O'Keefe Centre, tenor saxophone soloist Paul Gonsalves came down from the stage and stood before a middle-aged woman in the audience, affectionately serenading her as the band accompanied him. While Gonsalves played and the woman shyly smiled, Ellington dedicated the number 'for Mrs. Anger, our dear friend.'" For years Rhea and her son Ron were familiar faces at jazz events in Toronto and their love and enthusiasm for the music never diminished.
In his book, Music Is My Mistress, Ellington wrote: "Mrs. Anger and her son, Ron, are also among our most loyal friends and supporters. They never miss our appearances in Toronto, and the city's chapter of the Duke Ellington Society has always owed a great deal of its health to them. Canada has a character and a spirit of its own, which we should recognize and never take for granted."
In 1987 Toronto hosted the fifth annual Ellington conference at The Inn on the Park. It was a three day event, and the musicians included two Ellington alumni: trombonist Booty Wood and bassist Aaron Bell, along with Doc Cheatham, George Kelly, Ray Bryant, Gus Johnson and from Canada, Oliver Jones, Neil Swainson, Fraser MacPherson and myself. In addition, there was a rare performance of Ellington's extended work, The Tatooed Bride by my big band. Alice Babs, who had a long collaboration with the Duke, was present. She's perhaps best remembered for her singing in the second and third Sacred Concerts, which Ellington wrote for her voice. It had a range of more than three octaves and was so remarkable that Ellington said that when she did not sing the parts that he wrote for her, he had to use three different singers!
In the early days of the society, meetings were held in members' homes – but nowadays Montgomery's Inn, at the junction of Dundas Street West and Islington, is the home of the Society. And each year the Toronto Chapter presents a fundraising concert at a date close to Ellington's birthday, April 29. In 2011, on Saturday April 30, a group led by Dave Young and Terry Promane will be the featured ensemble. More about that closer to the date.
As a result of their fundraising activities, seven $1,000 scholarships are awarded to emerging Toronto musicians, a remarkable achievement for what is a relatively small group of enthusiasts. Speaking of which, they would welcome additional members – especially some younger blood – so if you're interested please call Chris McEvilly at 416-234-0653 and help the spirit of Duke Ellington to live on in one of his favourite cities.
What's in a Name?
When I spoke to the Toronto Duke Ellington Society the topic was nicknames given to some of the musicians who worked with him. Here are a few of them.
Trombonist Joe Nanton was one of the great pioneers of the plunger mute. He joined Ellington in 1926 and his growl and plunger sounds were a major ingredient in the band's jungle sound that evolved in the 20s. He earned his nickname "Tricky Sam" during his first years with Ellington. There are a couple of conflicting stories about the origin of his nickname, neither having to do with his trombone technique – a common misconception.
One story is that he consistently won when he played poker with bandmates, so much so that he became known as tricky with a deck of cards. But saxophonist Toby Hardwick claimed that he was capable of "doing with one hand what someone else would do with two – he was tricky that way." Nanton had perfected a technique of drinking on-stage without anyone noticing!
Another trombonist, Lawrence Brown, joined the band in 1932. Somewhat straight-laced, he kept away from the drinking and high-life enjoyed by the rest of the band, a rather puritan behavior that earned him the nickname "The Deacon."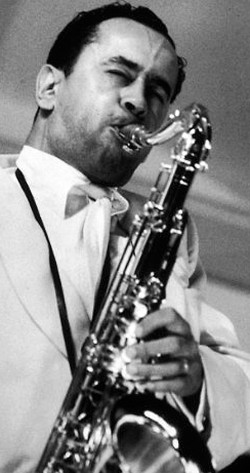 Tenor sax player Paul Gonsalves joined the band in 1950 and stayed for the rest of his life. His nickname was "Mex," because people thought he was Hispanic, when in fact he was from the Cape Verde Islands. But Ellington bestowed on him another sobriquet. Because he sometimes walked around in the audience while soloing, the Duke dubbed him "Strolling Violins."
Here's one for punsters. In the 1950s Britt Woodman was in the trombone section. So was Quentin Jackson, whose nickname was "Butter," thus giving rise to "Britt and Butter." So you see, some of us don't only play on instruments – and words seldom fail us.
Happy listening.
Jim Galloway is a saxophonist, band leader and the former artistic director of Toronto Downtown Jazz. He can be contacted at: jazz@thewholenote.com.