The human voice is the oldest form of musical expression, and in its earliest use was untexted: think of throat-singing and Celtic mouth music, for example.When one considers some of the current pop-music trends, thinking of the voice as a musical instrument might be a challenge, but even the spoken word can be like music to one's ears. Actor James Earl Jones, for example, has a beautiful voice, although he had to overcome a severe stuttering problem and into his teens he had to communicate with teachers and classmates by handwritten notes! From an earlier generation Ronald Colman had a wonderful, resonant voice that made music just by speaking.
This being the choral issue of The WholeNote, I thought I would give voice to my thoughts on vocal jazz groups. The beginnings of the music go back to ceremonial chants, work songs, field hollers and chain gangs, giving us the origins of the blues, which, in turn became an integral part of jazz. In other words, the roots of jazz were very much vocal, although early jazz bands used singers only intermittently.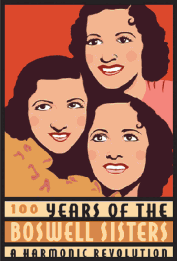 Of the early vocal groups two that stand out for me were the Boswell Sisters and the Mills Brothers. Connie, Martha, and Helvetia Boswell were from New Orleans. As teenagers they made their first recording in 1925, but their careers really took off after they moved to New York. They really were superior singers and their harmonies were very advanced for the time. Groups such as the Andrew Sisters and the Clark Sisters were certainly influenced by them, and readers who aren't familiar with the Boswell Sisters should definitely check them out.
The other vocal group that emerged in the 30s was the Mills Brothers, out of Ohio. John, Herbert, Harry and Donald also began their career in the 20s singing in Vaudeville shows using only rhythm guitar. But they had an uncanny ability to imitate bass, trumpet and trombone. After the inevitable move to New York they hit the big time. John's sudden death in 1936 was a huge blow to the group, but father, John Sr., took over as bass singer, and Bernard Addison became the group's guitarist. After their hit in 1942 with "Paper Doll" they became much more mainstream at the expense of their jazz, but, great as they were, their earlier work is, for me, much more interesting.
If we jump ahead to the 50s the Four Freshmen immediately come to mind and an album they made in 1952 called "The Four Freshmen And Five Trombones" epitomizes the rich harmonic quality of their singing. One of the greatest vocal jazz groups of all time emerged in the late 50s: Lambert, Hendricks and Ross. Their first album in 1957, "Sing A Song Of Basie" has incredible vocal re-creations of solos from classic Basie recordings with lyrics by Jon Hendricks. Since the ground-breaking work of L H & R there has been a succession of notable vocal groups: Manhattan Transfer, Singers Unlimited, Swingle Singers, Take 6, the Real Group (from Sweden) and New York Voices, to name some of the better known.
As a result, vocal jazz groups are very much an integral part of today's scene and have drawn a great number of listeners to the music. Of course, there are also stories of musicians being prejudiced against singers, and some jokes that have given rise to this perception, such as:
Singer: So, what do you think of my singing?
Band leader: It could be worse.
Singer: That's not a very nice thing to say.
Band leader: Okay, it couldn't be worse.
Or: How many singers does it take to sing "My Funny Valentine"? Probably all of them.
Or, Orson Welles' critique of Donny Osmond: "He has Van Gogh's ear for music." And finally, English poet, critic and philosopher Samuel Taylor Coleridge regarding a volunteer singer:
Swans sing before they die - 'twere no bad thing
Did certain persons die before they sing."
Anyway, it's not true, it's not true. Musicians do like singers, but only the good ones!
Happy listening!