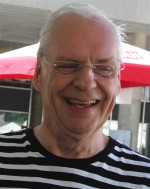 Another death in the family. Less than two weeks after the passing of Gene Lees, the ranks were thinned even more by the passing of Rob McConnell. But the legacy left by him leaves no doubt that his music will live on. Like Duke Ellington, the orchestra was his instrument and his arrangements will be a living memorial to his great talent as an arranger.

A native of London, Ontario, he took up the valve trombone in high school and began his performing career in the early 1950s. In 1954 he played in Edmonton with the band of saxophonist Don (DT) Thompson. Back in Toronto he played piano in drummer Alex Lazaroff's Rhythm Rockets and trombone with Bobby Gimby before moving to New York for several months in 1964 to play, mainly with Maynard Ferguson's big band.

On his return to Toronto he became one of the busiest studio musicians and arrangers in town. At one point he was doing the Bob Maclean Show five days a week, playing the Juliette Show, both on CBC plus any number of jingles. Whichever way you slice it, McConnell was a very successful studio musician, but the real satisfaction came from playing jazz, mostly in small group settings until he formed the Boss Brass in 1968. The band's first engagement was at the Savarin, an attractive watering hole on Bay Street in Toronto. As the band's name suggests, it originally had no reeds. The instrumentation was 16 pieces consisting of trumpets, trombones, french horns, and a rhythm section – but no saxophones, much to the chagrin of the local reed movers and shakers. Eventually McConnell repented and introduced a saxophone section in 1970. He also added a fifth trumpet in 1976, bringing the total to 22 members.

Inevitably it took some time for the band to be recognized in the United States, but Times jazz critic Leonard Feather, in 1986, proclaimed it the jazz band of the year. Now this was long after the heyday of big bands and for such a group to win critical and a degree of financial success was quite remarkable - an achievement all the more extraordinary when you consider the fact that five Juno and three Grammy awards were accumulated by the Boss Brass over the years.

I think it's fair to say that it was because of the Boss Brass that McConnell was regarded as one of the major Canadian jazz musicians on the world stage. In 1997 he gave up the unenviable tasks of running a big band and formed a 10-piece group which still had the unique McConnell sound and with which he continued to work until bad health forced him to slow down.

As a person, McConnell had his light and dark sides – we all have different facets to our personality and he was certainly no exception – and was not always the easiest of people. He could be grumpy and difficult to work with, but those of us who knew him offstage also saw a much more gentle, good natured man in contrast to the crusty persona he could present.

He had a biting sense of humour, and pity on anyone on the receiving end of it. I like to think of him as the Don Rickles of jazz.! There was also a wry side to his humour. His close friend, Ted O'Reilly recalled the following little episode.

"The Boss Brass did a CJRT concert at the Ontario Science Centre for me one time, and it was intense. Setting up a 22-piece orchestra, complete with microphone setups and sound checks was hard work. To add to that, we got word that Dizzy Gillespie was going to come to the concert. It went well, of course, but at the end of the hour, with an empty hall, there was Rob collecting all the music, packing his horn; and me, wrapping up mic cables and putting equipment away. Rob stopped, shook his head and laughed, saying 'Here's the reward of the jazz world: you the producer, me the leader – where's the broom to sweep the floor?"

Like many great artists McConnell coped with feelings of insecurity throughout his career, using that bluff exterior he presented to the world as a cover. Not that he was modest or insecure in his belief in the greatness of the Boss Brass – and rightly so.

On a personal note, I'm proud of the fact that in my last year as artistic director of the Toronto Jazz Festival I was able to present McConnell and the Boss Brass in what was to be their final performance. When I called him he really didn't want to go to the trouble of getting the Brass together, and suggested that I hire the tentet instead. For my part, I knew exactly what I wanted, and fortunately I was able to convince him that a July 1 noon-hour concert in the marquee at City Hall and free to the public would be a perfect way to celebrate Canada Day, and that the Boss Brass had to be the band.

Just before the start of the performance on that day we had a few private minutes together, and it was quite clear that Rob was less than well. We walked to the tent and I know it was an effort for him to even get onstage, but there he was, cracking a joke, making the audience and his musicians feel good and launching into what was to be the last hurrah.

Drummer Dennis Mackrel summed it up nicely: "Rob McConnell was a giant among musicians and one of the finest arrangers of his day or anyone else's. To listen to his writing was a lesson in excellence, and remains one of the best examples of just how high the bar can be!"

Thank you, Rob, for the musical pleasure you gave to fans around the world and the music that will continue to inspire young players for years to come. The boss is dead – long live the Boss Brass.

Hank Jones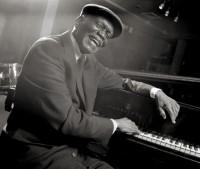 As I was writing about Rob McConnell, word came in that we had lost yet another jazz master with the passing of pianist Hank Jones. Born in 1918 in Vicksburg, Mississippi, he outlived two younger brothers, trumpeter, composer Thad and drummer Elvin, surely one of the most musical families in jazz.

Jones was a prodigious talent and revered by every other piano player. Case in point: seven years ago The WholeNote printed a piece I wrote after spending an afternoon with Oscar Peterson. I talked about his huge talent as an accompanist, knowing when to use his great technique and when to leave spaces, and O.P. said, "Do you know who my teacher was? It was Hank Jones." He then spoke about the Jazz At The Phil concerts when the closing of the show would feature Ella Fitzgerald, accompanied by Jones. "Hank would be right there, playing for Fitz and I'd soak up whatever I could, 'cause he taught me everything I know about it. I learned from Hank Jones. I'm not ashamed to say that – I'm proud to say it."

Jones leaves a wonderful legacy, and although we feel sorrow we should also celebrate his remarkably rich gifts.

Happy listening and make some of it live jazz.

Jim Galloway is a saxophonist, band leader and the former artistic director of Toronto Downtown Jazz. He can be contacted at: jazz@thewholenote.com.