"Spring is God's way of saying, 'One more time!'" wrote Robert Orben, American magician and comedy writer. Maybe so, but not for the National Jazz Awards, which have been cancelled for this year.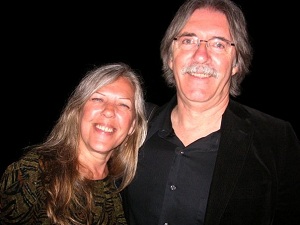 The announcement was not entirely unexpected. Attendance last year was very disappointing, giving Bill and Kris King good reason to ask themselves if it was worth going on with the event. What had begun 15 years ago as the Jazz Report Awards, an intimate evening in a club setting, over the years had evolved into a large and costly production.
Raising support money for the arts in Canada is an uphill struggle, and another nail was firmly hammered into the coffin when the financial support of FACTOR (the Foundation to Assist Canadian Talent on Recordings), was cut in half. Spare a thought for the huge amount of time and energy that goes into producing an event. Whether it is a ten-day festival or a one-off evening, the amount of work is immense and the returns, not only the financial ones, can be disheartening.
That said, those of you who know me are probably aware of my mixed feelings regarding "best of" awards in the arts. I have no problem with awards recognizing an artist's contribution to his or her chosen discipline; I do question polls which decide that Joe Blow is the best. It's too subjective, and a bit like saying that Picasso is better than that Cezanne.
I feel the same way about some of the Olympic events. There was a time when the Games was made up of contests in which there were clear cut and measurable winners. In a race, the first one past the finishing line was the winner – but in today's Olymics, striving to capture a wider audience, there are events such as formation swimming, which may be visually entertaining, but how does one judge it objectively and decide a winner?
With jazz, I guess I just don't see it as a contest. Certainly in days gone by there were some famous "cutting contests," mostly in late night after-hours sessions when players duelled with each other, but that's a far cry from winning a poll which may, or may not be a true measure. In addition the voting system is open to the possibility of "vote loading." (More about that later.) This is not intended to take away from past "winners" at the National Jazz Awards. They have all been great players and important contributors to the music and worthy of recognition. The bottom line is that it is regrettable to see the cancellation of a jazz event for lack of support – but sometimes a thankless task becomes too hard to take.
Some years back I wrote about jazz polls and I thought it might be interesting to include some excerpts from that article. "Jazz polls are almost as old as Downbeat magazine, which was first published in 1934. Gone but not quite forgotten is Metronome magazine, which used to vie with Downbeat for the cachet of being the most popular jazz mag. But jazz polls were not confined to music publications in the 1940s. Esquire magazine added an annual jazz poll to its (for the day) spicy pages. Playboy magazine got into the act as well, but on a few occasions came up with some "interesting" winners – this was a jazz poll, remember – such as Henry Mancini for bandleader (1964-66), Barbra Streisand for female vocalist (1965-66), and Peter, Paul and Mary in the vocal group category (1964-66)!"
I rest my case.
Spring into Festival Mode
We tend to think of jazz festivals and the summer season going hand in hand, but on the international front April brings a shower of events for those of you with itchy feet, money and an urge to travel.
The biggest and best known is, of course, the New Orleans Jazz and Heritage Festival, which takes place from April 23-25 and April 29 - May 2. Confirmed artists include Dr. John, Jon Cleary, Joe Lovano, Leroy Jones, Dee Dee Bridgewater, Average White Band, Aretha Franklin, Marcus Miller, The Dirty Dozen Brass Band, The Neville Brothers, Van Morrison, B.B. King – and that's only a few!
Further afield, there's the National Jazz Festival – April 1 to 5 in Tauranga, New Zealand – while in South Africa on the 3rd and 4th there's the Cape Town International Jazz Festival. In addition, there is the Cully Jazz Festival in Switzerland, the Tallinn International Festial in Estonia, Jazzfest Gronau in Germany, the Cheltenham Jazz Festival in England, the City of Derry Jazz and Big Band Festival in Northern Ireland, April Jazz Espoo in Finland, and Bray Jazz Festival in North Wicklow, Ireland. Still in the U.K., the Norwich Jazz Party – certainly one of the best jazz parties on the planet – takes place on the first weekend in May. (You can find out more at info@norwichjazzparty.com.) You could make quite the grand tour out of that lot!
By the way, also this month in Portland, Oregon, there is the first year of an event which wins a gold star in my pun-laden life. It's called The Soul'd Out Music Festival. Just don't take the way it sounds literally! And with the month of April comes the 9th annual Jazz Appreciation Month (JAM) festivities courtesy of the Smithsonian Institution, and you can find out more about it by visiting smithsonianjazz.org/jam.
Good listening – and please support your local musicians.
Jim Galloway is a saxophonist, band leader and the former artistic director of Toronto Downtown Jazz. He can be contacted at:
jazz@thewholenote.com.