I'll start off this month with mention of a few upcoming events which caught my eye and should catch your ears.
Mavis Staples with special guest James Hunter will be onstage at Massey Hall on March 21. Both artists have appeared here in recent years at the TD Canada Trust Jazz Festival and both were knock-out successes. From her early days with the family group, The Staples Singers, to her present day solo performances, Mavis Staples has been steeped in her gospel traditions. She has a great voice and she's also a pretty neat lady. By contrast, English born James Hunter's background is classic R & B. In the 80s he borrowed the name of classic blues performer, Howlin' Wolf and in the 90s sang back-up for Van Morrison, who later described him as one of the best voices in British Soul music. Massey Hall will rock.
Beatus Rex
The name "Rex Hotel Orchestra" conjures up in my mind an earlier age when elegant hotels had their own resident orchestras - the Royal York Hotel and King Edward Hotel in Toronto, the Windsor Hotel and Ritz-Carlton Orchestra in Montreal, the Chateau Laurier in Ottawa, Château Frontenac in Quebec City and the Empress Hotel in Victoria, to name a few. Well, The Rex in Toronto hardly qualifies as a five star hotel, but it does have its own resident orchestra - at least on the last Monday of every month. The Rex Hotel Orchestra is the musical brainchild of leader and trumpet/fluegelhorn player, composer, arranger John MacLeod and it's a terrific band, well worth a visit to The Rex. They will be there March 30 at 9:30pm.
The Stardust Trail
Also on March 30 from 8-11pm , JAZZ.FM91's Sound Of Jazz Series at The Old Mill Inn will present Joe Sealy in a tribute to one of the most prolific and uniquely American songwriters, Hoagy Carmichael. Carmichael's is a truly wide ranging body of work from the early "Riverboat Shuffle," his first recorded song, written for Bix Beiderbecke, to the dark melancholy of "Ballad In Blue" and enough in between to paper a wall. The young Carmichael received musical instruction from his mother, Lida Robison Carmichael, a movie theatre pianist in their home town of Bloomington, Indiana. When he was 16 the family moved to Indianapolis where he further studied with black ragtime pianist, Reggie Duval.
Several of his songs have become standards, perhaps the most famous being "Stardust." The first recording of it was on October 31, 1927, by Hoagy Carmichael and His Pals on Gennett at what then would have been called a foxtrot tempo - in other words, much faster than the ballad we all know. When he wrote the song, Hoagy showed it to fellow musician Don Redman and it was Redman who suggested changing the working title of the future hit from the less than inspired "Then Will I Be Satisfied" to "Stardust"! Good move, Don. (And let us not forget, by the way, that the lyric to this masterpiece was by Mitchell Parish.)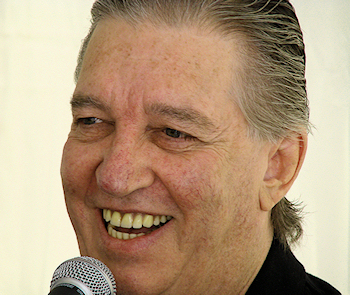 Mr. T and Joe Showler
Another of Hoagy Carmichael's great songs was "Rockin' Chair," and I can never think of that song without thinking of the wonderful vocal by Jack Teagarden, one of the great trombone players in jazz, born Weldon Leo Teagarden, in Vernon, Texas, on August 20, 1905. He was a wonderful musician with a warm, unique tone and a sound which, as with all jazz greats, was instantly recognizable, partly because he was largely self-taught and in his playing used some unorthodox slide positions. Not only was Teagarden a ground-breaking trombone player, he was one of the most distinctive jazz singers of all time. He pretty well took ownership of Hoagy Carmichael's "Rockin' Chair," sung in his languid, smoky voice which, like his friend and longtime musical partner, Louis Armstrong's, seemed to be an extension of the way he played his horn.
Almost anything I ever wanted to know about Mr. T as he was known, I could have found out by asking Joe Showler, that is until recently. Joe died of cancer of the liver on February 10, and with him went his encyclopaedic knowledge of his musical idol, Jack Teagarden, but leaving behind probably the world's most complete collection of Teagarden memorabilia and an unpublished biography of the trombone great, minute in its detail. His life's work was the study and enjoyment of the extraordinary talents of Jack Teagarden. Like his hero, Joe was a one-off and we'll miss him.
***
Apropos of nothing, but for any fishing enthusiasts who might read this, Hoagy Carmichael's son, also called Hoagy, was the author of the most authoritative book on building bamboo fly rods! I, for my part, was hooked by the music. No jokes about reel to reel, please!
Happy listening - and please make some of it live. Click here for Club listings.
Brother, Can You Spare a Dime
by Jim Galloway


Greed and corruption have triumphed yet again. The financial world is in meltdown – and we are all worse off than we used to be, with every indication that, to borrow a line from President Ronald Reagan (who in turn paraphrased a line spoken by Eddie Cantor in the 1927 "The Jazz Singer") "you ain't seen nothin' yet!"

The temptation is to compare today's crises to the crash of 1929. We haven't had reports of businessmen throwing themselves from skyscraper windows—but then maybe that's because the windows in today's high rise buildings can't open.

It is, however, impossible to compare the social circumstances of then and now. We live in a different world and seventy years have seen it transformed at an unprecedented rate. The winds of change became a hurricane with television, LPs, Cassettes, iPods, MP3s, DVDs, downloads - as well as music trends such as hip-hop, rap, heavy metal, disco funk and whatever comes next. The innocence is gone.

Nonetheless, it did seem like an interesting idea to look at some of the aftereffects of 1929 and their impact on jazz musicians. Who knows, maybe there are some lessons (which we won't learn, of course) to be had.

The easy street of the 20s became the dead end of the 30s. Musicians found themselves out of work. Bear in mind that there were two main forms of mass communication in these years: radio and the phonograph record. After the crash, record sales dropped from 104 million in the late 20s to 6 million by 1932. Warehouses were full of unsold product and with people spending less, musicians were not making much money from the recording industry. Many of the record companies went out of business . Columbia Records declared bankruptcy early in the depression and the Victor Company even stopped producing record players. Meanwhile, radio allowed people to hear music free (after you bought the radio), but whatever work there was in radio for musicians declined and fees fell.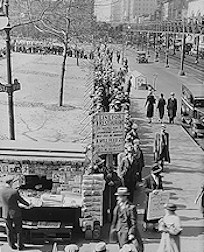 Thirties soupline, Chicago.

Radio was the first mass medium and played a hugely important role. It ended rural isolation, provided entertainment and connected people with the outside world. I have spoken with musicians who lived through those times and they all remember nightly broadcasts by name bands from hotels and ballrooms. Radio spread music and in particular jazz across the country. "Name" big bands (Chick Webb, Fletcher Henderson, Duke Ellington) did enjoy something of a boom and by the late thirties, a number of band leaders were enjoying commercial success, among them Benny Goodman, Glenn Miller, and Tommy Dorsey. Jazz in the form of danceable swing music had become popular among millions, and radio played a huge role in this.

But the downside is that in 1928 the American Federation of Musicians had 146,236 members and by 1934 the numbers were down to 101,111. The Chicago local for example, held weekly dances, hiring local members so that they could earn a few dollars and membership fees were reduced from $50.00 to $25.00.

By 1932, Cook County, Chicago, was firing firemen, police and teachers and soup kitchens were showing up all over the U.S.A.

We didn't recover from the great depression until the end of the 30s, even although it hit rock bottom in 1933, by which time stocks had declined by 80% and wages by an average of 60%.

We can only hope that it doesn't get as bad this time around. Otherwise not only will they be passing the jar at The Rex in Toronto, they might be passing collection plates at T.S.O. concerts!

The repeal of prohibition in 1933 was another blow to musicians. Speakeasies and bootleg nightclubs used music to attract customers and it is well documented that jazz musicians earned good money in those gangster-run establishments. I recall "Wild Bill" Davison, the veteran cornet player who lived and played throughout this era, telling me about working mafia-run clubs. One of the ways a gangster could show off to his girl friend was by tipping the band, making a big deal of it as they danced past the bandstand, which of course meant that other gang members would do the same thing in order not to lose face with their ladies. Bill said it wasn't uncommon to be on the receiving end of a fifty dollar tip. To put that in perspective, you could buy a new car for $600.00!

You might say it was the best of times, it was the worst of times - it certainly was a Dickens of a time!

It is not all gloom and doom when one looks back at the depression years. The rise in popularity of jazz in the 30s and its ability to raise spirits in a troubled age inspired Gerald Early, the noted essayist and American culture critic, to say the following - "America will be remembered for three things: the Constitution, baseball, and jazz. A certain kind of paradox is built into jazz music. You had people who created a music that's really celebrating democratic possibilities: liberation, freedom of the spirit, a soaring above adversities… Jazz is a kind of lyricism about the great American promise and our inability to live up to it... Jazz is probably the most distinctive, the most complex musical art that America produced. It's also the most inclusive."

Most of the references in this article have been to the United States, but jazz was also making its mark in Canada, flourishing in Montreal, for example where there was a booming night life in jazz clubs such as the Hollywood Club and the Terminal Club - for those with money to spend. Not fancy, these were what would be described as "joints" - bare floors and a minimum of trimmings – but they were certainly popular. More upscale was Connie's Inn on St. Catherine Street. One of the bands to play there was the first organized Black jazz band in Canada, The Canadian Ambassadors, led by an alto player called Myron Sutton. Indeed, Montreal attracted some of the jazz greats because at a time when most North American clubs were segregated, Montreal offered a much more integrated and tolerant environment.

Oh, and by the way, one of the local musicians who was playing in churches and community halls with the family band during the thirties was a young piano player called Oscar Peterson.

A sense of humour was an essential part of survival. It still is and being able to laugh at ourselves is part and parcel of the game.

So I leave
you with this one:-

Q: What kind of calendar does a jazz musician use for his gigs?
A: Year-at-a-Glance.

And just remember, what goes down might come back up.
Good news and bad, I suppose.