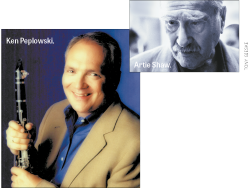 In concert halls this month therctoe doesn't seem to be much jazz, but one stand-out is October 19. Joe Sealy will be in concert with Jackie Richardson, Arlene Duncan and Ranee Lee at Koerner Hall, with Joe leading an all-star band including Don Thompson (vibes), Reg Schwager (guitar), Kelly Jefferson (sax), Paul Novotny (bass) and Mark McLean (drums), in an evening featuring songs associated with Dinah Washington and Sarah Vaughan.
Richardson, as noted by fellow columnist Ori Dagan, will just have received the Ken Page Memorial Trust lifetime achievement award two evenings earlier, on October 17, at the annual KPMT fundraising gala at the Old Mill. As a long-time organizer of and participant in the event, modesty and journalistic protocol prevent me from describing it as your best opportunity of the year to enjoy a star-studded evening of jazz that swings. (So the heck with modesty.) There's an ad somewhere in the issue if you want to see the line-up. Included is clarinetist Ken Peplowski, perhaps the best you'll hear anywhere these days.
This got me to thinking about the rise and decline of that instrument in jazz. After all, Benny Goodman, Artie Shaw and Woody Herman were household names from the 30s into the 40s. There were other great players too, who, although lesser known, made significant contributions to the music — individualists such as Jimmie Noone, Ed Hall (the hottest clarinet player I ever heard) and Pee Wee Russell (the most eccentric clarinet player I ever knew), just a few of the great players who didn't get the same accolades as the big three. With the passing of the big band era, the clarinet faded into relative obscurity; the arrival of bebop established the saxophone as the predominant reed instrument. There were a few exceptions, notably Buddy DeFranco, and in more recent years there has been something of a small revival of interest in the clarinet, thanks to players like Kenny Davern, Bob Wilber and of course Ken Peplowski. Come and hear why.
Shaw – Man and Superman: But back to Artie Shaw, without doubt one of the greatest clarinet players ever. In August of 1998 he gave an address to the International Association of Jazz Record Collectors. Here are some of his comments (edited down or this piece would be several thousand words long) still relevant today:
"Some of the stuff that goes on under the word 'jazz' has become too broad. It's very much like what's happened to modern painting. Once you open up the medium to a totally disorganized kind of work that you see in paintings, a lot of modern paintings, you're opening the door for all kinds of charlatans; the same thing has happened to the music business ..."
"Usually it would be a very good idea with a complicated piece to play it more than once. Let the audience get used to it ... We don't give enough time to it. When we listen to a piece of music it can be pretty bewildering the first time, especially if it's complicated and written by someone who knows what they're doing ... You hear it for the first time and it goes by in a total flash and you don't know what it's about ... The same thing applies to modern jazz. The best players are doing things that require an enormous amount of attention. Somebody asked me, 'What would you tell an audience ... if you had the right to influence this business, what would you say?' I would say two words: 'Pay attention.' We don't pay attention, we just let things go by."
Shaw also spoke about the difference between the performance and the perception and the vast difference between them: "The performer is trying to do something out of the depths of his own awareness, his own experience and his own ability. And if he happens to be very gifted, very able, he's going to do things that you can't possibly forget. He's going to come up with things that might surprise the hell out of him! So you can imagine what that does to you. You're not him. You don't know where he wants to go. He doesn't sometimes. If he's a fine jazz player, he jumps off a cliff and looks for a handhold and getting that handhold can change the entire course of what he's doing and sometimes he comes up with stuff that he himself would never have thought of. Basically, it's taking chances. You take risks."
And a favourite of mine — he told about an occasion when somebody asked him to listen to a band, possibly either Glenn Miller or Jimmy Dorsey. He didn't seem to be enthusiastic and was asked if he didn't like it, to which he replied, "Yeah, they're okay, but they never make a mistake!" going on to explain that if you never make mistakes you are playing it safe and that's not what jazz is about — jazz is about being on thin ice and sometimes you break through — and what you do as a result becomes the essence of your performance. He then went on to say it was his strong belief that as far as a performance of jazz is concerned it's not how many notes one can play in a bar, that sometimes more is worse, more is less. Less sometimes is more.
This in turn reminds me of a Benny Goodman story: when in the middle of a performance he turned to the piano player and said, "Play less, play less." So the pianist did as he was told and Goodman turned to him and complained, "Play more." Whereupon the pianist said, "But you just told me to play less!" "Yes," said Benny, "Play less, but play more!"
There's a mountain of music in the magazine's club listings starting on page 51. So make some of your listening live! It's where the music truly lives. 
Jim Galloway is a saxophonist, band leader and former artistic director of Toronto Downtown Jazz. He can be contacted at jazznotes@thewholenote.com.