Long-time readers of The WholeNote might have noticed that I am usually in Vienna at least once every year. Well this year is no exception — here I am, but seeing this lovely city from a quite different perspective — from that of a hospital bed! To make a long story short, if this were the précis for a horror movie a working title might be "The Return Of The Dreaded Cellulitis," or "Lost Limbo." It's the return of a condition for which I was first treated over three years ago and if not cured can result in the loss of a limb or even limbs, which would leave me legless and I don't mean drunk!
The loss of limb thought opens up possibilities for dark humour. Please don't be offended by my making jokes about something which is really no laughing matter, but keeping a sense of humour goes a long way in helping to cope with problems.
I decided to follow the advice of an Eric Idle song title and "look on the bright side of life," so that if worst came to worst and I was minus a lower extremity, I could, for example, learn to play bass drum, cymbals, harmonica attached to some sort of neck-piece and become a one-man group called "Stump The Band" and go out not on one-night stands but one-leg stands performing such songs as "Knee Up Mother Brown," "Peg Of My Heart," "I Only Have Thighs For You."
A suitable condition, too, if you want to be a "legend" in your own time.
I played a number of times with Benny Waters who, in his later years, lost the sight of one eye. He then included in his standard repertoire "Please Don't Talk About Me One Eye's Gone."
Pianists Eddie Thompson, George Shearing and Joel Shulman all coped successfully with blindness and were known for their highly developed senses be considered blind.
I used to have musical competitions with Eddie to see who could play the most quotes during a song. I remember that on a few occasions there was actually a scorekeeper in the audience! But some of them were much too subtle for the average listener. If one of us played a really obscure quote the other would call out "Yellow Card!"
Shearing had a really funny version of The Lord's Prayer. I can't remember it word for word but it went something like this:
Our Farnham, who art in Hendon
Harrow be Thy name
Thy Kingston come; thy Wimbledon,
In Erith as it is in Hendon,
Give us this day our daily Brent
And forgive us our Westminster
As we forgive those who Westminster against us.
And lead us not into Thames Ditton
But deliver us from Ewell
For Thine is the Kingston, the Purley and the Crawley,
For Esher and Esher.
Crouch End.
Trumpeter "Wingy" Manone, so called because he lost an arm in an accident, played using one hand. Joe Venuti, the legendary violinist and prankster used to send Manone one cuff link every Christmas!
Red Norvo the renowned vibes player went almost totally deaf but was able to continue playing not hearing the notes but picking up the vibes — no pun intended.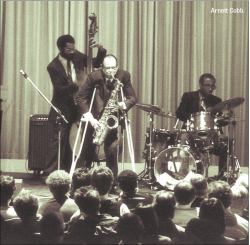 Then there was Arnett Cobb. The big-toned tenor player from Texas was 30 years old when he had to have an operation on his spine. He recovered and resumed touring but eight years later in 1956 his legs were crushed in a car accident and for the rest of his life he had to use crutches when playing.
One of the world's greatest violinists, Itzhak Perlman, contracted polio at the age of four but learned to walk using crutches and he plays violin while seated.
Django Reinhardt was one of the greatest guitar players of all time and after surviving an accident in a fire could only use the index and middle fingers of his left hand on solos. Ludwig van Beethoven remains one of the best-known and greatest composers of all time even though in his mid-20s he lost his hearing, while Evelyn Glennie, an amazing Scottish percussionist despite the fact that she is deaf, performs barefoot, which enables her to "hear" her music by feeling the vibrations.
Completing the circle back to Austria, the No Problem Orchestra, an Austrian band comprised of musicians with physical and mental disabilities (mostly Down syndrome) was formed in 1985. It has since given more than 5,000 concerts around the world.
Anyway, what I'm getting at in this article is that one can overcome all kinds of adversities with the power of music — and it helps to maintain a sense of humour.
So here I am in station 3A of the Dermatological Unit, Rudolfstiftung Hospital, Vienna, and the staff have been quite wonderful in the way they have looked after me, but also telling me in no uncertain terms that they won't discharge me until they are good and ready.
Happy listening and stay out of hospital beds. 
Jim Galloway is a saxophonist, band leader and former artistic director of Toronto Downtown Jazz. He can be contacted at jazznotes@thewholenote.com.