"Come, fill the Cup, and in the Fire of Spring
The Winter Garment of Repentance fling:
The Bird of Time has but a little way
To fly—and Lo! the Bird is on the Wing."
—Omar Khayyám
Omar didn't know it, but the last line of the above probably influenced the following flight of fancy:
Spring is sprung
The grass is ris'
I wonder where the boidies is
The boid is on the wing
But thats absoid
I always thought the wing was on the boid!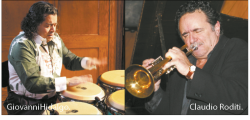 And speaking of "boid," or more correctly bird, makes me think of the jazz bird, Charlie Parker, and from there it's an easy step to "Bird and Diz."
Which leads me to a concert worth checking out this month — the Dave Young-Terry Promane Octet and the Heavyweights Brass Band, with special guests percussionist Giovanni Hidalgo and trumpeter Claudio Roditi, will celebrate the music of Dizzy Gillespie on April 13 at Koerner Hall.
I hardly need to say anything about Dave Young and Terry Promane, both stalwarts of the Canadian scene, but maybe a line or two about the visiting firemen is in order.
Master percussionist Hidalgo was born in San Juan, Puerto Rico, into a musical family and came to the United States via Cuba. While performing with Eddie Palmieri at the Village Gate in New York City, the legendary jazz musician Dizzy Gillespie walked in and was so impressed with Hidalgo that he later invited him to join Gillespie's United Nations Orchestra.
Roditi, born in Rio de Janeiro, Brazil, cites Clifford Brown and Lee Morgan as important influences and was also a member of Gillespie's United Nations Orchestra.
It should be one of the highlights of this month.
Early this month I'll be winging my way over to Europe, not for April in Paris, but springtime in Vienna and London. Sad to say, the jazz scene in London has diminished over the years. Ronnie Scott's still soldiers on, but be prepared to pay New York prices; the Pizza Express is still active, but that seems to be it for full-time jazz clubs in the heart of London. Likewise in Vienna you have two major clubs, Porgy and Bess and Jazzland, where I have played at least once a year for well over 30 years and that's where I'll be for part of this month.
"Tain't no sin to take off your skin and dance around in your bones."—1929 song by Walter Donaldson; lyrics by Edgar Leslie
As I looked over the listings for this month I was struck by the number of jazz performances there are in churches. I counted at least five — an interesting transition when you consider that it was once regarded by many as the Devil's music and Toronto was a bastion of 19th-century Victorian morality known as "Toronto the good."
But narrow-minded prejudice wasn't confined to Victorian times. In the early years of the 20th century jazz music was one of the main targets. For example, in 1921 the Women's Home Journal printed an article entitled, "Does Jazz Put The Sin In Syncopation?" To say that the writer disapproved of the music is an understatement. I quote:
"We have all been taught to believe that 'music soothes the savage breast,' ... Therefore, it is somewhat of a rude awakening for many of these parents to find that America is facing a most serious situation regarding its popular music. Welfare workers tell us that never in the history of our land have there been such immoral conditions among our young people, and in the surveys made by many organisations regarding these conditions, the blame is laid on jazz music and its evil influence on the young people of today ... That jazz is an influence for evil is also felt by a number of the biggest country clubs, which have forbidden the corset check room, the leaving of the hall between dances and the jazz orchestras — three evils which have also been eliminated from many municipal dance halls, particularly when these have been taken under the chaperonage of the Women's Clubs."
Sounds incredible doesn't it? But back in 1921 there was an outcry from many segments of society, coming from both religious leaders and music educators, that jazz music had an evil influence on its listeners! Some felt that it led to immoral dancing and promiscuity while others went so far to say that jazz could cause permanent damage to the brain cells of those who played or listened to it!
But it doesn't end there. If we fast forward in time to 2007, an extreme religious fundamentalist website contained the following words: "Like the blues, boogie-woogie, and ragtime, jazz was born in the unwholesome and sensual environment of sleazy bars, honkytonks, juke joints, and whorehouses. The very name "jazz" refers to immorality."
What a collection of sinners we are!
Contrast the above with these words by Dizzy Gillespie: "The church had a deep significance for me musically ... I first learned there how music could transport people spiritually."
And there is this from Dave Brubeck: "To me, if you get into that creative part of your mind when you're playing jazz, it's just as religious as when you're writing a sacred service."
When it comes to questions of morality I rather like the words of Ernest Hemingway: "I know only that what is moral is what you feel good after and what is immoral is what you feel bad after."
Before leaving the topic it is interesting to note that from medieval times improvisation was a highly valued skill and improvised counterpoint was a fundamental part of every musician's education. Many famous composers and musicians were known especially for their improvisational skills.
I would hazard a guess that if Bach, Handel, Mozart, Chopin and Liszt were around today they might well have been jazzers.
By the way there are at least two significant birthdays on April 1: that wonderful singer Alberta Hunter and Harry Carney, long-time baritone sax player with Duke Ellington.
No April fools, they!
Happy listening and make sure you get out and hear some of that sinful music! 
Jim Galloway is a saxophonist, band leader and former artistic director of Toronto Downtown Jazz. He can be contacted at jazznotes@thewholenote.com.