I know i've written on a number of occasions about the falling off of the jazz scene in Toronto and I still feel that the glory days have come and gone — but not all is lost.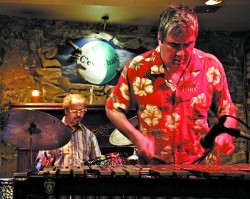 Jazz has, of course, died several times over the course of its history, but one way or another seems to survive. Writing this brought to mind an occasion when I was in high school: we were in the change room of the gymnasium and the teacher came to the door and announced "The King is dead. Long live the King." In this case the new "king" was Queen Elizabeth, but the phrase means that the heir immediately succeeds to the throne upon the death of the preceding monarch.
Similarly one might have pronounced on sundry occasions "Jazz is dead, long live jazz."
Since, with the exception of The Rex, jazz clubs operating six nights per week are, it would seem, a thing of the past, the focus has moved to concert halls and clubs presenting jazz one to three nights a week, and to special "one-off" or annual events.
JPEC: One such event is coming up this month. Jazz Performance and Education Centre (JPEC) will have their fourth annual Jazz Gala on Saturday February 23 at the Toronto Centre for the Arts, 5040 Yonge St. Joe Sealy will present "Africville Stories" — from his JUNO award-winning Africville Suite which was composed in memory of his father and is a homage to the history, people and activities of Africville in Nova Scotia. Canadian treasure Jackie Richardson will be featured along with bassist Paul Novotny, Mark Kelso, drums, and Nova Scotian born Mike Murley on saxophone. The second part of the concert will be "A Salute to Motown" with Roberto Occhipinti as musical director.
Ellington Society:It may seem a little early to mention an event which doesn't take place until late April, but this is an annual concert presented by the Toronto Duke Ellington Society and it consistently sells out, so I figured it wasn't too soon to bring it to your attention. The date is April 27 at Walter Hall in the Edward Johnson Building at U of T and this year the music will be performed by JUNO winner John MacLeod and The Rex Hotel Orchestra.
These concerts began on October 24, 1991, at Holy Trinity Church and audiences have been entertained over the years by a cross-section of Toronto's leading jazz talents including Mark Eisenman, Barry Elmes, Al Henderson, Mike Murley, Kevin Turcotte, Ron Collier, Don Thompson, Jeff Healey's Jazz Wizards, Brian Barlow's Orchestra, Martin Loomer's Orange Devils and my own Wee Big Band.
Proceeds will go to the Society's Scholarship Fund and ticket prices are $35 if you purchase before March 1 after which they are $40.
Paintbox: One of the successes of downtown development, and Lord knows, there aren't many of them in condominium-dominated Toronto, is the Regent Park Arts & Cultural Centre, a multi-tenant arts hub located on Dundas St. E. between Sumach and Sackville streets. Situated in this complex, but a separate entity, is the Paintbox Bistro, the brain child of owner Chris Klugman. Trained as a chef, he has recruited his kitchen staff from George Brown College where he teaches. A regular at the restaurant is Mitchell Cohen, president of the Daniels Corporation, builders of this Regent Park complex. He and bassist Henry Heillig are old friends and out of that friendship came the idea of a jazz series at the Paintbox. Result? A series of six concerts in a people-friendly space which can comfortably accommodate an audience of 150 and deliver good food, good wine and good jazz.
The series begins on February 1 with the Heillig Manoeuvre CD launch followed at intervals by the Elizabeth Shepherd Trio, Phil Dwyer with Don Thompson, Thompson Egbo-Egbo Trio, Jane Bunnett with Hilario Duran and the Joe Sealy Trio with Paul Novotny and Daniel Barnes. Tickets are $15. For more detailed information please call 647-748-0555 or go to paintboxbistro.ca.
Phoenix rising: The legendary phoenix bird obtains new life by rising from the ashes of its predecessor. Seven years ago the Toronto jazz venue Top o' The Senator closed its doors but this year in phoenix-like fashion it will reopen with a new owner — and a new name.
The new owner is Colin Hunter, founder and chairman of Sunwing Airlines. Passionately fond of music and in the business himself as a crooner, his efforts and a considerable input of financial support mean that 251 Victoria St. will once more be home to live music with the opening of the Jazz Bistro.
The general manager is Sybil Walker, carrying on the role she had at Top o' The Senator, booking artists and managing the operation.
The club will feature live performances Tuesday through Sunday with Thursday through Saturday being jazz, Wednesday for Latin, and "Take the Stage Tuesday" which will be a community outreach program with members of the jazz community, touring artists and students programming their own evenings in conjunction with Sybil's input.
The jazz programming will be a mix of top local musicians and visiting stars. In the works are an Oscar Peterson tribute and welcome return bookings of Kenny Barron and Lew Tabackin.
I can't resist saying it — "The Senator is dead. Long live the Jazz Bistro."
Final note: With deep regret I have to make mention of the untimely death of Del Dako. He had impressive playing credentials as a jazz saxophonist, accomplished on both baritone and alto saxes, before a serious accident while riding his mountain bike in the autumn of 2001 rendered him unable to play the saxophone. Undaunted, he set about learning to play vibraphone on which instrument he was able to continue expressing himself through music. As a saxophone player he played with several name players including Eddie "Cleanhead" Vinson, Big Nick Nicholas, Nick Brignola and Slim Gaillard, and held the baritone sax chair in my Wee Big Band for the years preceding his accident. He was dogged by ill health after the biking accident and more recently he was diagnosed with cancer. He was with fellow musicians on Friday January 18 and found at his home by a friend the next day, having taken his own life. But for those of us who knew him, he too will live on in our memories.
As usual I ask you to keep listening to jazz and do your best to make some of your listening live. 
Jim Galloway is a saxophonist, band leader and former artistic director of Toronto Downtown Jazz. He can be contacted at jazznotes@thewholenote.com.