Last month i wrote about three cities, New Orleans, Vienna and London. This month I'll add two more, Norwich in England and Odessa, Texas, as different as chalk and cheese except for one thing they have in common: a Jazz Party.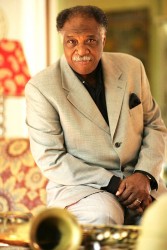 Around the 5th century, Anglo Saxons had a settlement on the site of present-day Norwich. By the 11th century, Norwich was the largest city in England after London. This year it was announced that Norwich would become England's first UNESCO City of Literature. It is also home to the Norwich Jazz Party which was held on the first weekend of May and featured a line-up of prominent mainstream jazz musicians, including Harry Allen, Houston Person, Bucky Pizzarelli, Rossano Sportiello and Warren Vaché.
One of the welcome aspects of the jazz party is that musicians can make suggestions about what they would like to do. For example, Alan Barnes, a wonderful British reed player, presented a set of Ellington compositions arranged for 14 musicians; Ken Peplowski gave us a program of Benny Carter's music, arranged for four reeds and rhythm; trumpeter Enrico Tomasso organised a tribute to Billy Butterfield; and I acknowledged the music of a lesser-known trumpeter, Al Fairweather, with a set of his original compositions. All of that plus the usual casual jam sessions made for a very special three days of jazz.
By contrast, Odessa, Texas was founded in 1881 as a water stop and cattle shipping point. Right beside it is Midland — with an airport separating the two towns — originally founded as the midway point between Fort Worth and El Paso on the Texas and Pacific Railroad in 1881. The discovery of oil in the early 1920s transformed the area and Odessa was a boom town. Things turned sour when the price of oil didn't justify keeping the rigs going and the area fell on hard times.
But that has all changed with the price of oil now around $100 a barrel, bringing with it wealth and a major influx of workers. It has also brought with it a huge shortage of accommodation, so serious that there are even some workers making very good money but sleeping in their cars or trucks! No amount of money can pay for housing that doesn't exist.
However, for some jazz musicians the raison d'etre for Odessa/Midland is a Jazz Party. The First Annual Odessa Jazz Party was held in 1967. Then in 1977 a group of Midland jazz enthusiasts formed the Midland Jazz Association and their Jazz Classic was born. In 1998 the two jazz parties merged under the umbrella of the West Texas Jazz Society and this year marks the 46th Annual Jazz Party. Held in May, it is now the longest-running jazz party in the United States and this year featured among others — yes, Harry Allen, Houston Person, Bucky Pizzarelli, Rossano Sportiello and Warren Vaché, as well as your resident scribe. Over the years they have presented a veritable Who's Who of jazz musicians — Vic Dickenson, Herb Ellis, Milt Hinton, Flip Phillips, Ralph Sutton, Joe Venuti, Teddy Wilson, Kai Winding, and on and on.
Incidentally, film buffs might be interested to know that part of the Coen Brothers' Oscar-winning film No Country For Old Men is set in Odessa. Midland/Odessa is also the home of the Commemorative Air Force, formerly called the Confederate Air Force until it was decided that the word Confederate was politically incorrect. Its home used to be in Harlingen, Texas, and I remember one year when I was playing at the Jazz Party, a couple of friends from Toronto, Joy and Billy Ray Blackwood, talked me into going off to the  annual C.A.F. air show, after the party. So we took off, literally, for Harlingen and the air show. Well, as a certain Scottish poet wrote, "The best laid schemes … gang aft agley," — come unstuck — for when we got there the air show had already started and we couldn't land! So we saw fragments of the air show, but from above! (I did get to see the planes on the ground another time, and it really is an impressive collection of WW2 aircraft, mostly American, but also R.A.F., Japanese and German Luftwaffe craft. And you can find them in Midland/Odessa — as well as a great jazz party.
So there you have it: two somewhat unlikely places 5,000 miles apart in which to find great jazz once a year.
And speaking of planes in general, and WW2 aircraft in particular, I have another story or two from the Norwich weekend.
Train travel to London for my trip home had been arranged giving lots of time to make the 6pm flight, the last Air Canada flight of the day. About a half-hour into the journey we stopped at a little town calles Diss — no jokes please about diss and dere — and that's when the day took a nosedive. A disembodied voice, (no pun intended), on the intercom informed us that the train ahead had mechanical trouble and we all had to get off, taking our luggage with us because they had to move our train out of the way so that a rescue engine could come up from Norwich to move the disabled one.
An hour and a half later we were still standing on the platform and I was beginning to worry about that 6pm flight; we were still a two hour train ride from London, never mind Heathrow.
To cut a long story short, what started out as a comfortable train trip from Norwich ended up as a taxi ride from Diss to Heathrow at a cost of the equivalent of $240!
Here's where the story gets interesting. The driver, whose name is Barry, was very friendly and talkative. He mentioned that he quite often drove a lady who had been Winston Churchill's secretary. I immediately knew who he was talking about and responded by saying, "Her first name is Chips, isn't it?" The driver looked at me in the rear mirror with a look of surprise. "And her last name is Bunch," I continued. "How do you know?" "Because her husband was John Bunch who was a wonderful pianist and he and I were friends." A small world.
There is another twist to the story, though. During the Second World War, John was a bombardier in B17 bombers. On his 17th mission he was shot down and miraculously survived but spent the remainder of the war as a P.O.W. Fast forward many years. John and Chips inherited their house near Norwich and the first time they used Barry's taxi service they drove past Duxford Air Museum. John asked Barry if there was a B17 in the collection. In fact they had two of them and he said he'd really like to see them some day. Well, for the next ten years he said the same thing! Finally Barry said, "All these years you keep saying you want to go to Duxford and it never happens. Let's do it!"
So they got to the base and there sat a B17 in all its glory, with a film crew around it. They were making a documentary about the plane and our faithful taxi driver called one of the crew over and said, "Do you realise that this gentleman with me was a B17 bombardier during the war?" End result? John was interviewed and included in the documentary.
By the way, good old Barry made it to Heathrow by shortly after 4pm, giving ample time to check-in. And that was when I found out that the flight was late and there would be a two hour delay!
Some days it just doesn't pay to get out of bed.
Don't forget that the TD Toronto Jazz Festival kicks off on June 22 and the celebration goes on until July 1, Canada Day. Lots of programming information can be found in this issue.
Enjoy your jazz and make some of it a live experience.
Jim Galloway is a saxophonist, band leader and former artistic director of Toronto Downtown Jazz. He can be contacted at jazznotes@thewholenote.com.