Since last month I have been in three cities, New Orleans, London and Vienna. Of the three, New Orleans is the least representative of the country where it is located. London is unmistakably British, Vienna with the Danube and echoes of the Hapsburg Empire is as Austrian as Wiener Schnitzel. But N.O. or "The Big Easy" is unique among American cities with its background of European, African and Caribbean influences and is far from one's image of a typical American city.
In case you are not familiar with its history, the territory of Louisiana was claimed for the French in the 1690s. In 1718 the city of New Orleans was founded and in 1803 Napoleon sold Louisiana to the United States, (828,000 square miles for less than three cents per acre!).
The most famous street is Bourbon Street, the focal point of night-life in the French Quarter. Once a hub of New Orleans jazz with bands playing in clubs and bars along the length of the street, the tide of progress has washed that away, with the exception of a few places, making way for souvenir shops, clubs, bars and strip joints. There is still some jazz but you have to seek it out.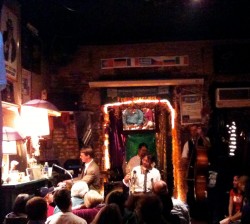 I have to mention Fritzel's which lays claim to being New Orleans' oldest operating jazz club. It is one of the last venues on Bourbon as you head toward the Marigny and features traditional jazz. They welcome sit-ins which can be a mixed blessing — it certainly was the night I was there when a tenor player who couldn't play his way out of a paper bag joined the resident musicians. But a fun place, nevertheless. At one time the wall opposite the bar was adorned with a large portrait of Field Marshal Rommel. The picture is still in the club, but has been moved round a corner away from open view, probably to avoid giving offence, although my understanding is that he was respected both by his troops and the allies.
Preservation Hall at 726 St. Peter St. in New Orleans' French Quarter, is probably the most well known of all the jazz clubs in the city. Here you can hear the traditional acoustic New Orleans jazz.
Some other hot spots include Irvin Mayfield's Jazz Playhouse (in the Royal Sonesta Hotel on Bourbon Street), Snug Harbor and Vaughan's.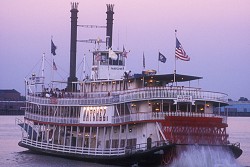 I caught up with a couple of friends during the visit. Jon Cleary first played Toronto when I booked him into Café des Copains and more recently at the jazz festival when John Scofield brought Jon to play organ with his group. I found him at a club called dba on Frenchman St. at the down-river end of the French Quarter. I also enjoyed an evening on the Natchez, the last authentic steamboat on the Mississippi River, where the band, Dukes Of Dixieland, is led by trumpeter Kevin Clark, who spent some years in Canada and will certainly be remembered by Toronto audiences.
But before leaving The Crescent City I have to comment on this year's New Orleans Jazz and Heritage Festival taking place at the end of April. Herbie Hancock, Mavis Staples, Al Green and the Dirty Dozen are among the headliners — but so are Bruce Springsteen, the Beach Boys and Eagles! Oh, well.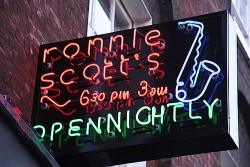 Next port of call was London which seems to be doing relatively well in terms of "name " players. Michel LeGrand, Pat Martino, Scott Hamilton, David Sanchez, Alan Broadbent, Al Di Meola, Howard Alden and Manhattan Transfer were among the musicians coming into town over the following few weeks. Most of them were scheduled to appear at Ronnie Scott's, which means a pretty expensive night out. Nearby is the Pizza Express Jazz Club, plus two or three dozen pubs and clubs scattered throughout the city, some only presenting jazz once a week.
But talking to musicians, the general reaction when asked how the work scene is was pretty negative, with fewer gigs available and poorly paid at that. (It had been very much the same story in New Orleans — fewer gigs and very often paid by passing a jar round the room.)
Next, I waltzed over to Vienna. It is known as the City Of Music because of its strong connections with Wolfgang Amadeus Mozart, Ludwig Van Beethoven, Franz Schubert, Johannes Brahms and Gustav Mahler.
Where does it stand today as a jazz city? There are some names which most of the insiders will mention when asked, "Where is the jazz?" Jazzland and Porgy and Bess are the leading clubs in the city. I have a special place in my heart for Jazzland since I have been going there for 35 years and photos of musicians who have played there line the walls — everyone from John Lee Hooker to Art Farmer. The night I arrived Branford Marsalis was playing at Porgy and Bess and Lew Tabackin had been at Jazzland a couple of weeks before.
There are also a number of smaller venues, Blue Tomato and Miles Smiles Jazz Cafe among them catering to the more avant-garde, Reigen featuring blues and Lustiger Radfahrer with blues to bebop. But again, talking to local players, the common thread in our conversations was lack of work. Like every place else, one of the major problems is with the mass media and their lack of interest — make that almost complete disregard — for jazz. Radio pretty well ignores it and there is not a single newspaper with a weekly jazz column (does that sound familiar?).
Where they do much better than we do in Toronto is in the measure of support from government bodies. The following figures for Porgy and Bess are at least ten years old but make the point. They received almost $90,000 from the culture office and more than $130,000 from the state! That said, Porgy gets a much larger piece of the pie than any other club and that certainly causes some resentment among other club owners who get little or nothing. But at least the music is acknowledged as having cultural significance.
So it would seem that "name" touring acts, which make up a tiny proportion of what is out there trying to make a living, have some sort of a circuit going for them, but the thousands "in the trenches" have a hard go of it. Sound familiar?
Back to New Orleans where we began. While there, I tasted a freshwater fish called drum and very nice it was. But I use this only as an excuse to end with that most familiar topic, a jazz joke about a drummer:
A quartet out on the town in Amsterdam winds up in the heart of the Red Light District, where the working girls sit in windows seductively displaying their wares.The drummer of the band approaches one of the windows and knocks on the glass.
"How much?" he asks.
"Fifty euros," replies the girl.
"Really?" says the drummer looking surprised, "that's pretty cheap for double glazing."
Happy listening right here at home.
Jim Galloway is a saxophonist, band leader and former artistic director of Toronto Downtown Jazz. He can be contacted at jazznotes@thewholenote.com.