I'm not sure why, but when April rolls around I find myself thinking about songs. (Of course, I think of songs every day of every month, but there is something about April that triggers a reaction within me. Maybe it's the promise of spring.
And there is quite a clutch of songs out there to sing about this month — April Showers, April In Paris, I'll Remember April, April Love — an integral part of each being the lyric, which brings us to the topic of singers: Bessie Smith, Alberta Hunter, Billie Holiday, Ella Fitzgerald and Blossom Dearie were all born in April (as were some very significant musicians — Lionel Hampton, Charles Mingus, Joe Henderson, Count Basie and Duke Ellington to name only a few).
By the way, one of my favourite April songs is April In My Heart from 1937, composed by Hoagy Carmichael and with lyrics by Helen Meinardi who was Hoagy's sister-in-law at the time. There is a great recording of it by Billie Holiday. If you don't know the song you should check it out.
I regularly have spoken about the importance of melody. Add to that the significance of a song's lyric. Most of the great standard songs had a verse, chorus and lyric. Great players like Lester Young and Sonny Rollins are on record as stating that it is important to know what the lyric is about. Without that understanding, the interpretation of the song will be less than it might be. Rollins would even sometimes recite the lyrics to a song for his musicians.
If you look at this month's concert listings you will find a strong presence of the vocal art, with jazz and jazz-based music more than pulling its weight.
On April 15, as part of SING! Toronto Vocal Arts Festival, two a cappella groups, the Swingle Singers and Countermeasure, a Toronto group in the same mould, will be at Harbourfront Centre's Enwave Theatre at 8pm. Also on the 15th, at Koerner Hall, Adi Braun and her trio present "Noir," a concert of music from the era of film noir, with Jordan Klapman, piano, George Koller, bass and Daniel Barnes, drums. Then on the 16th, Bobby McFerrin will bring his vocal pyrotechnics to Roy Thomson Hall. Nikki Yanofsky will be at Massey Hall on April 21 and on the 27th Kellylee Evans will be at Glenn Gould Studio.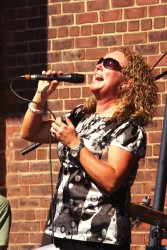 And we are not finished yet. On April 28 at Walter Hall, it is time for the Toronto Duke Ellington Society's 15th Annual Scholarship Concert featuring the Brian Barlow Orchestra with Robi Botos, piano, Heather Bambrick, vocals and tap dancer David Cox.
So, you see, quite the month for pipes — no, Jock, not that kind, I mean vocal pipes!
But let's not forget instrumental jazz. On Apr 14 at 8pm Joshua Redman and Brad Mehldau will be at Koerner Hall; and looking ahead on May 5, also at Koerner Hall, the Hilario Durán Latin Big Band, with guest saxophonist Paquito D'Rivera, will perform.
If I may, while I'm still on my "trumpeters should know the lyrics" soapbox, let me add one more element, and that is tempo. I learned a huge amount from some of the great swing veterans with whom I was lucky enough to work. Choosing the correct tempo for a piece was so important to them and could make all the difference in finding just the right "slot" for a tune. Too slow or too fast and something was lost. For example, in my opinion, All The Things You Are is a beautiful ballad. The words say it all :
"You are the promised kiss of springtime
That makes the lonely winter seem long.
You are the breathless hush of evening
That trembles on the brink of a lovely song."
It begs to be played as a ballad, and yet so many musicians play it at the speed of light. It might be a wonderful exhibition of technique, but it sure as hell loses the meaning of the song. Please don't misunderstand me — technique is important; it's just that it isn't all-important. I am not laying down a hard and fast rule. For example, Indiana is a song that lends itself to a bright tempo, but I also love to play it as a ballad. If you are a player, try it some time.
I'll stick my tongue firmly in my cheek and tell the story about the music teacher who says to a student who has just played a long solo containing many notes but no substance: "I've got some good news and some bad news. The good news is you've got a lot of technique. The bad news is you've got a lot of technique."
To end with, here's a quote from Paul Desmond: "I tried practising for a few weeks and ended up playing too fast."
Happy listening and please try to take in some live jazz. Our club listings starting on page 56 are the best around. So no excuses.
Jim Galloway is a saxophonist, band leader andformer artistic director of Toronto Downtown Jazz. Hecan be contacted at jazznotes@thewholenote.com.