A topic i haven't touched on in this column is the relationship between jazz and ships. As I write this, Guido Basso is about to take a band for an eleven day cruise on the "Seven Seas Navigator." I'll be doing the same later this month with my Echoes Of Swing band on Holland America's "Noordam." And we are certainly not the only ones sailing off into the sunset; there are jazz cruises galore all over the world taking jazz fans and musicians out on the deep blue sea.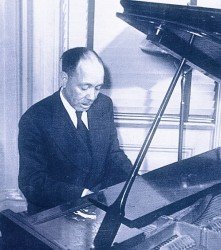 This led me to doing some research into the early days of jazz and the riverboats which cruised the Mississippi. The first steamboat to cruise the entire length of the lower Mississippi was the "New Orleans" in December 1811 and steamboats, as a feasible means of transportation, lasted until the early part of the 20th century.
So where does jazz come into the picture? Enter a pianist named Fate Marable, because the story of jazz on the Mississippi steamboats can't be told without him. Many of the bands had been integrated, but not the passengers, and Marable, hired by the Streckfus Line had led a mixed band in 1916. He subsequently organised a band of black musicians to play on one of the excursion boats–not ragtime players, but jazz musicians. The year was 1919 and the band included drummer Baby Dodds and an 18 years old Louis Armstrong! Other musicians who were, at one time or another, members of Marable's band included Henry "Red" Allen, saxophonist Tab Smith, who subsequently played with Count Basie, Gene Sedric, who later joined "Fats" Waller and bass player Jimmy Blanton who was destined to find fame with Duke Ellington. According to trumpeter Bill Coleman, Jelly Roll Morton was hired for a short time by Marable and it is perhaps worth noting that one of Morton's compositions was called Steamboat Stomp.
Marable was not always easy to get along with and was a stern taskmaster, demanding a high level of professional conduct from his musicians. Woe betide any player who screwed up on the bandstand and if it happened too often he was fired. Sometimes Fate delivered the bad news by placing a fire axe on the offender's bunk!
But there is no doubt that Fate Marable was an important figure in the spread of jazz from New Orleans, and river boats helped to float the careers of many a musician.
On a smaller scale I can remember the "Jazz On The Lake" cruises in the 60s right here in Toronto when hundreds of fans would descend on the waterfront and crowd onto one of the Toronto Island ferries for an evening of jazz when more than the water was flowing.
Many of the cruises in Toronto were presented by a promoter called Ron Arnold and in the course of digging for some information, I came across the following, from Pro Tem, then the student weekly of York University, and dated October l5, 1965:
"JAZZ CANADIANA with the Nimmons 'n' Nine orchestra has begun its 1965-66 season on CBC radio. One of the few jazz programmes broadcast on the AM band, Nimmons 'n' Nine welcomes an audience at the CBC studio, 509 Parliament Street. Doors open at 8:00pm and the performance goes from 8:30 to 9:30pm.
"NO TICKETS ARE REQUIRED — all you do is walk in. As a bonus, the management offers door prizes of Phil Nimmons' latest LP. Concert dates for the next two months are October 15 and 29, November 12 and 26.
"Ron Arnold, Toronto jazz entrepreneur is bringing the second annual Canadian Jazz Festival back to Casa Loma, much to the delight and interest of this writer. Once again seven bands will be playing in the medieval cloisters of the dungeon, library and great hall of the castle, and the concert masters will be Dave Caplan, Toronto Star's Man About Jazz, and CKFH announcer Phil Mackellar.
"The feature attraction is going to be a panel discussion at seven o'clock. This should be of particular significance since it will set traditional against mainstream when Pat Scott of the Globe is met in public by his archrival, Phil Mackellar. Frank Kennedy of the Star and John Norris of CODA magazine round out the panel which will be augmented by guest composer and teacher Gord Delamont."
Note: The featured bands at the 1965 Casa Loma event mentioned here were Moe Koffman, Rob McConnell (big band), Rob McConnell (sextet), Don Thompson, Paul Hoffert, Jim McHarg and Jim Scott. I find it interesting that the writer of the article described a panel discussion as being the feature attraction of a jazz evening that featured so many important musicians!
Back to the present: the November meeting of the Duke Ellington Society will be held on Friday November 18 at the Toronto Reference Library, 789 Yonge St. The evening will be titled "The Duke in Canada" and I'll be there with a quartet playing the music of Ellington and Strayhorn. You don't have to be a member to attend and admission is free.
Earlier the same week on Tuesday, November 15, from 6pm to 9pm, there will be a "Jazz Party" at Quotes Bar & Grill, 220 King St. W., Toronto, with an all-star line-up of musicians and it is sure to be a memorable evening. Regular readers may remember that three months ago I wrote about Kate Weich who passed away June 16 of this year. The event is a celebration of her life and there will be a $20 cover charge at the door, all of which will go towards a bursary to be established in her name at York University
As always, happy listening.
Jim Galloway is a saxophonist, band leader and former artistic director of Toronto Downtown Jazz. He can be contacted at jazznotes@thewholenote.com.