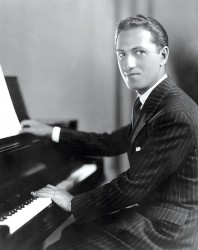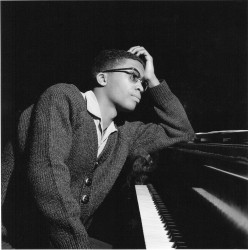 A legend is a person, extremely well known, whose fame and achievements make him a source of sometimes glamourized tales or exploits. Well, this article is about two musical legends, the late George Gershwin and, still with us and going strong, Herbie Hancock.
On October 22, at Massey Hall, Hancock will perform Gershwin's Rhapsody In Blue with the Massey Hall Orchestra, led by Alain Trudel, Canadian musician, composer and conductor who began his career playing the trombone, but has more recently turned to conducting. He is currently artistic director and principal conductor of the National Broadcast Orchestra and Orchestre Symphonique de Laval. He is also conductor of the Toronto Symphony Youth Orchestra.
Rhapsody In Blue has an interesting history. In 1923 Paul Whiteman, leader of the most popular orchestra of the day, approached George Gershwin about composing an orchestral jazz work. Gershwin sketched out some themes but took it no further than that. He was, to say the least, somewhat surprised when the New York Tribune of January 4, 1928, contained an article announcing that a jazz concerto by George Gershwin would be premiered by Paul Whiteman at the Aeolian Hall on February 12.
The evening was billed as "An Experiment in Modern Music." Although at the time he had Broadway commitments, and a jazz concerto was farthest from his thoughts, he rose to the occasion, once more demonstrating that very often the deadline is the ultimate inspiration. And so, on February 12, 1934, towards the end of the programme, George Gershwin's first large-scale work was performed with the composer himself playing the piano solo. The audience included Jascha Heifetz, Fritz Kreisler, Leopold Stokowski, Serge Rachmaninov and Igor Stravinsky.
It was a huge success; over the next ten years it earned Gershwin over $250,000, and this was during the Great Depression! Gershwin later said that the inspiration for Rhapsody's title was James McNeill Whistler's painting Nocturne in Black and Gold.
Fast forward to Massey Hall, Toronto, on January 19, 1934.
It was indeed a gala evening with Gershwin at the piano and Charles Previn, yes, the father of André, conducting the Reisman Symphonic Orchestra. The programme included Catfish Row, Symphonic Suite from Porgy and Bess and, of course, Rhapsody in Blue for piano and orchestra.
Gershwin signed a programme that evening as a memento for a fortunate member of the audience. Through the Independent Online Booksellers Association, I found a programme for that evening boldly signed by the composer over his printed name. You can have it for a mere $2866.18.
Like many musicians, Gershwin was something of a wit, but probably no match for his good friend, fellow composer and pianist Oscar Levant. At a Manhattan party in the 30s Levant said, "George if you had to do it all over, would you fall in love with yourself again?" Gershwin's barbed response was, "Oscar, why don't you play us a medley of your hit?"
After Gershwin's, death an admirer with musical aspirations wrote an elegy for him and took it to Oscar Levant. Levant reluctantly agreed to hear the piece. After the man had finished playing it, he turned to Levant, looking for his approval. "I think," said Levant, "it would have been better if you had died and Gershwin had written the elegy."
Herbie Hancock, the principal performer on October 22, hardly needs any introduction. He started with a classical music education and was regarded as something of a child prodigy. When he was 11 years old, at a young people's concert with the Chicago Symphony, he played the first movement of Mozart's Piano Concerto No. 5.
His early jazz work was with Donald Byrd and Coleman Hawkins and later with Oliver Nelson and Phil Woods.
In 1963 he joined Miles Davis' "second great quintet" with Ron Carter on bass, a 17-year-old drummer named Tony Williams and, eventually, Wayne Shorter on tenor. From this point on his career blossomed and is still flowering five decades later. His Empyrean Isles (1964) and Maiden Voyage (1965) were two of the most influential jazz LPs of the 60s and throughout the intervening years he has remained a creative force, being recognized as one of today's major voices in contemporary jazz. More recently The Imagine Project, released in 2010, was recorded in many locations throughout the world, features collaborations from various artists, was complemented by a documentary and was released in CD, digital download and vinyl.
In a career spanning five decades there are few artists in the music industry who have had more influence on acoustic and electronic jazz than Herbie Hancock. In his autobiography Miles Davis said, "Herbie was the step after Bud Powell and Thelonious Monk, and I haven't heard anybody yet who has come after him."
Given his classical background and his creative genius, he is an ideal choice for this very special evening of the music of George Gershwin.
It is worth remembering another Gershwin quotation: "Life is a lot like jazz … it's best when you improvise."
And the concert will, of course, be acoustic. Happy listening.
Jim Galloway is a saxophonist, band leader and former artistic director of Toronto Downtown Jazz. He can be contacted at jazznotes@thewholenote.com.