More and more I am convinced that, with very few exceptions, the place to enjoy the jazz experience is in a small performance space. There are the few exceptions — Dave Brubeck, Keith Jarrett, Sonny Rollins, to name three — who can fill a large concert hall and play jazz. But when they are gone, what then?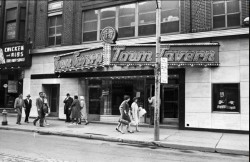 Forget the days of touring bands — the glory days of places like the Colonial Tavern and The Town Tavern. I can remember when I first arrived in Toronto I could shuttle between The Colonial and The Town in the sure knowledge that whoever was appearing, the music would be good — and sometimes unforgettable. In any case, that all but ended years ago, when rising costs made touring bands pretty well a thing of the past and bringing in a guest artist to perform with a local group was the solution. At least for a while. Now we are left with fond memories of clubs like Bourbon Street, The Montreal Bistro and The Top Of The Senator.
Festivals are committed, if they want to survive, to presenting less jazz and more widely based music, much of it by groups often past their "best before" date who have no more than a passing reference to jazz.
So, more and more it seems to me that friendly watering holes and relatively small concert venues will be the future of jazz.
The Not So Merry Month Of June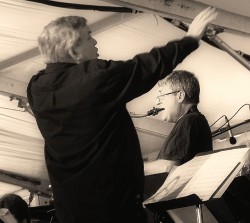 Summer came in with a cold blast of bad news. We lost Dave McMurdo, who had been ill for some time with Hodgkin's lymphoma, but it was a heart attack that eventually felled him at age 67. It is a sad loss to the jazz community. McMurdo, originally from Vancouver, where he studied music at the University of British Columbia, was a dedicated man and took life very seriously as a musician and as a devoted teacher. He moved to Toronto in 1969, was for some years a member of Rob McConnell's Boss Brass, and the lead trombone player in Nimmons 'N' Nine Plus Six. The Dave McMurdo Jazz Orchestra was formed in 1988, giving McMurdo the opportunity of having his own compositions and arrangements performed. He also invited contributions from such other prominent musicians as Mike Malone, Reg Schwager, Don Thompson and Phil Nimmons.
His death leaves a hole in the fabric of the Canadian jazz world. I shall miss his sartorial elegance and dry wit.
We also lost one of my favourite piano players and a friend when Philadelphian Ray Bryant died on June 2, at the age of 79, after a long illness. Bryant was part of a very musical family. His mother played piano in the local church, his brother, Tommy, was an accomplished bass player while his younger brother, Len, is a singer/drummer. Not only that, his sister, Vera Eubanks, is the mother of three sons who have each made their mark in music — trombonist Robin, guitarist Kevin and trumpeter Duane.
After a few years with local bandleader Mickey Collins, Bryant joined Tiny Grimes and His Rocking Highlanders, an African-American rhythm and blues group which sported the full kilt and tam o'shanter!
His break came in the 50s when, as house pianist at Philadelphia's Blue Note club, he had the opportunity to play with artists such as Charlie Parker, Lester Young, Sonny Rollins and Miles Davis. From there on his career was soon established.
Bryant had an extremely personal sound on piano, making him instantly recognisable after only a few bars of music — a rare talent, but then Ray Bryant was just that — a rare talent.
Kate Weich
This next part of my column is about a well-loved member of the jazz community who was not a musician, but for a number of years was behind the bar of the Montreal Bistro. Kathleen Weich was her name, but everybody knew her simply as Kate and I don't know anybody among the regulars at what was for a long time, our favourite watering hole in town, who didn't like Kate.
Kate was born in Victoria, British Columbia. She completed the Visual Arts Program, with Honours, at Grant McEwen College in Edmonton and did her BFA at York University in Toronto where she made her home.
She was efficient, hard working and ran a tight ship, but was a warm and caring person with a dry sense of humour. But at the same time, like so many workers in the restaurant business, Kate's job running the bar at the Bistro was a means to an end. I don't mean that she didn't enjoy her work at the Montreal Bistro, but her real love was painting.
She wanted to be able to support herself from her painting — and that's even tougher than being a jazz musician — but eventually she did, becoming in the process a highly respected member of Canada's art community. I'm happy to have one of Kate's paintings hanging in my house. That painting which I see every day, is even more meaningful now. Kate fell prey to cancer and passed away on June 16. She will be missed.
Speaking of her own work she said, "My aim is not to present a finalized view of a given subject. I hope to offer a place where you can contemplate and bring your own visions."
And that is not so different from the goals which jazz musicians set for themselves.
Jim Galloway is a saxophonist, band leader and former artistic director of Toronto Downtown Jazz. He can be contacted at jazznotes@thewholenote.com.