"Musick has Charms to soothe a savage Breast," was coined by William Congreve, in The Mourning Bride, 1697. Some music, yes. But the other day I was in a large store owned by a grocery chain. And there it was, seeping unbidden and unwanted into my sensitive ears – perhaps too sensitive for this day and age – disagreeable and intrusive "music" flooding the store through tinny, ceiling-mounted speakers, just loud enough to disturb and certainly loud enough to annoy me.
People listen to music for a variety of reasons. It can help you to relax. It can make you happy. It can give solace. It can trigger memories. But nowadays it is everywhere – all the time – and somehow it has lost value and too often is a form of noise pollution.
I will walk out of a restaurant or bar if there is a pounding, repetitive noise coming through the sound system, forcing everybody to raise their voices just to be heard across a small table. And, it seems to me, almost nobody is actually listening to it; the noise seems to act like some sort of security blanket. Heaven forbid that they would have to cope with silence. Familiarity and all that.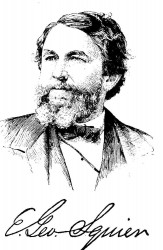 It all began with Muzak which, believe it or not, was created in 1922! It was the brainchild of General George Squier and initially was called Wired Radio. He devised a system to deliver music from phonograph records to subscribers – mainly workplaces – via electrical wires, in the belief that people would be more productive listening to certain types of music. He decided later to change the service's name to "Muzak." Influenced by the system, the BBC began to broadcast music in factories during World War II in order to encourage workers.
So who was this General Squier?
He was an officer in the U.S. Signal Corps and was Chief Signal Officer during World War I. He had a distinguished career, died in 1934 and in 1943 was honoured by having a U.S. troopship named after him.
Don't get me wrong. The concept, and value, of music in the work place goes back a long way. The human voice was an instrument which everybody possessed. People could sing either individually or in groups. When in groups, singing was always a collective act. The rhythm of songs was key to work, coordinating workers' muscles for the repetitive tasks of the day. Songs commented on the work process, everyday life or religious themes, thereby establishing a shared bond between co-workers even in the most difficult of situations. Songs sung together at the workplace, at home, and in worship established solid bonds – work songs and sea shanties come immediately to mind – by providing shared experiences. Music was both a communal activity and, in memorializing events, it was a form of history writing. And it was performed live.
Until recorded music, no two performances were exactly the same, just as today, for example, no two performances of a play are exactly the same.
With the coming of the Industrial Revolution, everything changed and machines became the prevailing producers of sound. General background noises were inescapable. Not only that, singing in the workplace was difficult and sometimes frowned upon by factory management. If you worked for Henry Ford, for example, you were expected to work in silence, although he did organize concerts for his workers several times a year.
Then along came General Squier and music was taken out of the hands, or rather the voices, of the general public. It was replaced by sounds which in too many instances today seem to me to be leading the charge in the dumbing-down process in evidence all around us, in a society which is afraid of having to deal with even a few minutes of silence.
Muzak's claims were questioned in some quarters and among those expressing some doubts was Canadian composer R. Murray Schafer who feared that it would lead to a dulling of aesthetic sensitivity. I wonder what he thinks about today's assaults on our ears.
Perhaps it is time to form the National Organization for the Prevention of Aural Pollution or NOPAP.
Of course, the only antidote to muzak is live music! WholeNote colleague Ori Dagan lists the jazz happening in the clubs; here is some other live jazz taken from our concert listings:
• May 5 at 7:30: Jazz.FM91. Jazz Lives 2011. Local and international artists including Al Jarreau, vocals; Karrin Allyson, vocals and piano; Randy Brecker, trumpet and flugelhorn; Joey DeFrancesco,  jazz organ, and others. Convocation Hall.
• May 14 at 8:00: Emilie-Claire Barlow. In Concert. Jazz vocalist covers songs from the 1960s. Queen Elizabeth Theatre.
• May 14 at 8:00: MCC Toronto. Leading Ladies: Jackie Richardson. Jazz, blues and R&B vocalist performs with David Warrack, piano.       Metropolitan Community Church.
• May 31 at 8:00: Gallery 345. Mark Kieswetter & Ross MacIntyre CD Release. Piano-bass duo release jazz recording "Green Edge Sky, Green Edge Sun."
• June 5 at 8:00: Jazz Performance Education Centre. Seamus Blake Quartet. Featuring New York-based tenor saxophonist and                                composer Seamus Blake, joined by trio of Toronto-based musicians. Glenn Gould Studio.
Giving Me the Air
I hope you will forgive me for taking this opportunity for a little self-promotion, but starting June 5, for 13 Sundays, I will be on Jazz.FM at 91.1 from 4pm to 5pm with a programme called "Journeys In Jazz with Jim Galloway," playing music from my own collection. Much of the music will be played by musicians I know or knew personally on and off the bandstand and I'll have some little anecdotes about some of them.
Please give it a listen. It won't be boring and you'll hear some music that you might not have heard before, played by some of the great but sometimes under-appreciated talents who helped to shape jazz. Oh, and yes, it will be melodic and it will swing.
Happy listening to music that you choose to hear.
Jim Galloway is a saxophonist, band leader and former artistic director of Toronto Downtown Jazz. He can be contacted at jazznotes@thewholenote.com.