How many of you are aware that in August 2003 the U.S. Congress passed Public Law 108-72 declaring April "Jazz Appreciation Month" – a time when musicians, schools, colleges, libraries, concert halls, museums, radio and television stations, and other organizations should develop programs to explore, perpetuate and honour jazz as a national and world treasure? I can understand that the initiative for such a celebration would have originated in the States, but I can find no acknowledgement of it in Toronto jazz circles, or, for that matter, anywhere else in Canada. A pity, because it would seem to be an opportunity to get some media recognition for the music, and Lord knows, it could use it.
Perhaps we have an opportunity for Stephen Harper to do something which would cement even more strongly his ties with our neighbours to the South! He surely was exposed to jazz when he was growing up. After all, his father, Joe Harper, was a keen collector of jazz records and was a member of the Duke Ellington Society right here in Toronto.
To mark the occasion this year, on March 26, 2011, in New Orleans, Louisiana, the Postal Service issued a Jazz commemorative stamp. In addition, The Smithsonian's National Museum of American History will mark the tenth annual Jazz Appreciation Month in April with a month-long celebration of jazz. The main focus this year will be on the legacies of women in jazz and there will be a special ceremony related to the nation's first integrated, female big band, the International Sweethearts of Rhythm, founded in 1937 at the Piney Woods School, in Mississippi. Another group which originated at the Piney Woods School in the same year was the Cotton Blossom Singers which later changed its name to the Five Blind Boys of Mississippi.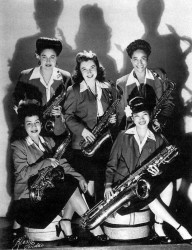 The Piney Woods School was born in 1909, in a desperately poor section of Mississippi. The first school building was an abandoned sheep shed that had been cleaned up, repaired and whitewashed. The original International Sweethearts of Rhythm band members were students, 14 years and older, who paid for their education by performing as a jazz band to help promote and sustain the financially struggling school. The Sweethearts eventually travelled nationwide in a customized tour bus built by the school, named Big Bertha, performing at churches, state fairs, dance and civic halls and later at name entertainment venues such as the Apollo Theatre.
Some of their work was in the Deep South and they could never be sure of finding lodgings. Also, being a multi-racial group they did not want to run afoul of the "Jim Crow" laws, so the Sweethearts had their bus equipped with eating and sleeping facilities. One can only imagine the difficulties they must have had to overcome at that period in American history as a group of women of mixed race. And integrated they were – over the years the band members included a Chinese saxophonist, a Mexican clarinet player, an Indian saxophonist and a Hawaiian trumpet player. The first white musicians joined in 1943 and when they were in Jim Crow territory they had to paint their faces dark so the police wouldn't come and take them off the bandstand or arrest them.
They were probably the best female aggregation of the Big Band era but personnel changes eventually led to the breakup of the band in 1949. Without doubt their dedication and the pluckiness of its members earned the International Sweethearts of Rhythm a very special place in the story of jazz. On a personal note, I can recall a Saturday afternoon in the 80s when I had my weekly live jazz radio show "Toronto Alive!" on CKFM (now better known as MixFM) and two attractive elderly ladies introduced themselves. They had actually been members of the International Sweethearts of Rhythm, an achievement of which they were justly proud.
But back to JAM (Jazz Appreciation Month). In my research I discovered that in the month of April there are 20 jazz festivals in the United States and seven more in Estonia, England, Ireland, Finland, Germany, Northern Ireland and Saint Lucia. Too late for this year, but I hope that in 2012, Canada, and specifically Toronto, can do something in April to celebrate and increase awareness of jazz.
I mean, we celebrate National Donut Month – so why not jazz?
In the meantime here are a few suggestions that you, as an individual, might consider for the month:
• Read a good book on jazz.
• Listen to a jazz CD that is new to you.
• Explore the music of a musician who is new to you.
• Go out and hear some live jazz.
• And, most important of all, when JAM is over keep doing all of the above!
On The Menu In Toronto
HERE ARE A FEW of the events in Toronto that are worth a mention: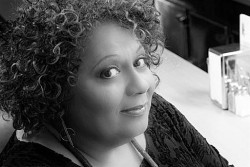 On Apr 14 at 7:30: Canadian vocal treasure, Jackie Richardson, will be at Trinity-St. Paul's Centre, 427 Bloor St. W. along with Trinity-St.Paul's United Church Choir presenting "Homecookin' with Jackie Richardson." Proceeds will go to the Canadian Association for Spiritual Care. For ticket information call 416-340-4055.
For those of you who like your music contemporary and original, Galaxy Rising Star award-winner, Darren Sigesmund and the Strands II Septet will be at the Al Green Theatre in the Miles Nadal JCC, 750 Spadina Ave. on April 27 at 8:00pm. The band will feature a couple of interesting out-of-towners: one is violinist Mark Feldman who has played with such jazz notables as John Zorn, Dave Douglas, Lee Konitz and Chris Potter, and the other is Gary Versace, piano and accordion, who has been featured in the bands of Maria Schneider, John Scofield and Ingrid Jensen. For tickets phone: 416-924-6211 ext 0.
"Tommy Ambrose & Friends" will be at Lula Lounge on May 1. Tommy's friends include pianist Norman Amadio, bassist Rosemary Galloway, saxophonist Pat LaBarbera, drummer Don Vickery and John MacLeod on flugelhorn. The evening is the brainchild of Ron Manfield who runs MPC Music, a small indie label. As Ron says, an evening like this is "nourishment for the soul." The music kicks off at 7pm and for tickets you should call MPC Music at 416-788-2699.
In closing, April provided the names of some pretty good songs. Here are some of them: April In Paris, April In Portugal, April Showers, I'll Remember April and April In My Heart.
Happy listening and don't forget that list of things to do.
Jim Galloway is a saxophonist, band leader and former artistic director of Toronto Downtown Jazz. He can be contacted at jazznotes@thewholenote.com.
For more on the month in Jazz, see In the Clubs.