My calendar says that fall has begun, but the weatherman tells me that he has declared a "weather alert." Whichever it is doesn't make much difference for the community band scene. The summer events have passed and the events scheduled for this time of year will go ahead as planned unless our weather deteriorates to the kind we have seen in the Caribbean recently.
The Summer Scene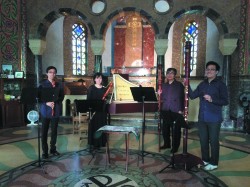 In some ways, from my perspective, the local community music scene has been a bit benign, with most groups emphasizing Canada 150 and the works of Canadian composers. Over the official summer period I heard many of the same works many times over with only minor variations. The one musical event which stood out for me was not by a community band, but by an excellent Baroque recorder consort. In the June issue I mentioned that I was looking forward to hearing the Shimoda Family Consort at the Foster Memorial. Well, on August 25 I was not disappointed. This is truly a family ensemble. Mother, father and two sons all move around playing an amazing array of recorders, from one somewhat smaller than a piccolo to the largest, which is taller than a contrabassoon. In this concert, in addition to playing a couple of different recorders, the mother also accompanied the others on harpsichord and played one harpsichord solo.
While I used the term "Baroque" to describe this group, most of their repertoire was from a period earlier than that usually referred to as Baroque. From such well-known names as Bach, Vivaldi and Telemann backward in time to such unknowns as Ludwig Senfl (1486-1543) and Gregorio Allegri (1582-1652), the music was all very enjoyable. Newest works on the program were two pieces from Mozart's The Magic Flute. Such music on a beautiful summer evening in this architecturally stunning venue has left its mark in my memory.
Coming soon
The most notable event on the community band horizon this fall – that we are aware of – is a "50th Anniversary Concert" and banquet for the Northdale Concert Band. Having played in this band for some years in the late 1970s and early 1980s, under the direction of conductors Carl Hammond and James McKay, this event is of particular personal interest.
The Northdale Concert Band had its beginnings in 1967, with a group of students who had originally met and first played instrumental music together at Willowdale Junior High School and later played together at Northview Heights Secondary School in Toronto. There, along with other interested music students, they formed the band. The name Northdale came from the names of these two schools. Music teachers Ted Graham and Wayne Moss took on the band, held rehearsals once a week, and gave concerts open to the public. As time passed, the band became an adult group. None of its original members remain in the band today. However, the band has its roots in the community, and has developed into a skilled group of dedicated amateurs and many music professionals, with a number of the members having been with the group for several decades. Many members play and teach music professionally; others teach music in the elementary and secondary schools; and others are students in the music faculties of York University or the University of Toronto. Other members are in varied careers, but all turn out reliably to rehearse and perform in various community venues.
Through the years, there have been many fine Northdale conductors, too numerous to mention here. Stephen Chenette, professor emeritus, Faculty of Music, University of Toronto, was the conductor from 1996 until 2010 when the present conductor, Joseph Resendes, took over the baton. Born in Toronto, Resendes has extensive professional credits as an active conductor, composer, performer and educator, and is currently in the process of completing his PhD in the field of musicology, ethnomusicology focusing on wind studies, conducting and the development of community music in Canada. As well as being the musical director and conductor of the Northdale Concert Band, he also currently holds positions as the music director of East York Concert Band, St. Mary's Church Choir, VL Sax Quartet and as assistant music director of Ecos of Portugal.
A feature of this anniversary concert will be the world premiere of a newly commissioned piece, Dance Suite, by renowned Canadian composer Gary Kulesha, composer advisor to the Toronto Symphony Orchestra since 1995. Although principally a composer, Kulesha is active as both a pianist and conductor, and as a teacher. In 1986, he represented Canada at the International Rostrum of Composers in Paris, and has twice been nominated for JUNO awards, for his Third Chamber Concerto (in 1990) and again in 2000 for The Book of Mirrors.
Another feature of this Northdale anniversary program will be guest soloist Vanessa Fralick, associate principal trombone of the Toronto Symphony Orchestra. Prior to joining the TSO, she played three seasons as acting associate principal trombone of the St. Louis Symphony, after winning her first orchestral position with the San Antonio Symphony in 2009 while pursuing her master's degree at The Juilliard School with Joseph Alessi of the New York Philharmonic. She completed her undergraduate degree at the University of Toronto, and is an alumna of the Toronto Symphony Youth Orchestra, National Youth Orchestra and the National Academy Orchestra of Canada. She occasionally plays alongside her brass-playing parents in the Niagara Symphony Orchestra in her hometown of St. Catharines, Ontario.
The concert and banquet take place on Saturday, November 4 at 3pm, at the Salvation Army Citadel, Lawrence and Warden Ave. (2021 Lawrence Ave. E.) in Toronto.
A unique aspect of Northdale Concert Band is their music publishing venture known as Northdale Music Press Limited. The project of issuing new works by Canadian composers for concert band began with Ontario Arts Council funding in 1985, when six new works were commissioned by Northdale Concert Band. The band travelled to Expo 86 in Vancouver and performed the world premiere of these compositions at the Canada and Ontario Pavilions. The scope of publication has increased, and today, Northdale Music Press publishes compositions for other ensembles, including brass band, stage band, and wind octet.
CBA Community Band Weekend
As if they didn't have enough to plan for with their anniversary concert and banquet, the Northdale Concert Band is hosting the Canadian Band Association's Fall Community Band Weekend, Friday October 13 to Sunday October 15 at the Church of St. Jude's Wexford, 10 Howarth Avenue in Toronto. Visit either Northdale or CBA websites for details.
New Horizons Bands
As in past years the news from New Horizons Bands is great. The Toronto group's annual "Instrument Exploration Night" was a huge success, with 22 participants and six instrument coaches honking, tooting and banging on all the instruments. Many signed up for beginner classes. With 45 new members this year, total membership now stands at well over 260, spread out over eight bands and two jazz groups. And it's still not too late to join for this year.
Their annual Remembrance Day concert, "A Night to Remember," is scheduled for November 10 at 7:30pm at Church of the Holy Trinity, 85 Livingston Rd., Scarborough; their annual band festival is set for January 27, 2018.
With this kind of growth it was decided that the organizational structure should be updated. So, New Horizons Toronto incorporated last year to facilitate adding stability to the group should Dan Kapp and his wife Lisa decide to move on to new challenges. The board is working to figure out how to cover all of the activities that need to be done to run such a large group.
Meanwhile, the York Region New Horizons group, which just started last year, held an event which they called "Test Drive a Band Instrument," and will have started classes by now at Cosmo Music in Richmond Hill. Their classes are all on Mondays with morning, afternoon and evening sessions. For information contact Doug Robertson at 416-457-6316 or nhbyrdirector@gmail.com.
Hannaford Street Silver Band
As they enter their 34th season, the Hannaford Street Silver Band is adding even more colour and variety to their annual concert programming. Over the years they have gradually added other musical artists to broaden the taste and colour from the traditional all brass band repertoire. This year it is even broader. Every concert will have a unique flavour. Their opening concert "Tango!" will feature, as guests, the Payadora Tango Ensemble. This quartet of violin, accordion, piano and double bass with their traditional Argentine Tango music will certainly be a departure from what we have come to expect at an all brass band concert. That's Sunday, October 22 at 3pm in the Jane Mallett Theatre.