With Canada's sesquicentennial year only one month away, municipalities and organizations all over the country are searching their archives for records of significant events over the past 150 years which could stimulate community interest in this year of reflection and celebration. Unfortunately, in the band world, there are few bands whose history goes back even half that 150-year time span. One band which does have some good material in their archives is the Newmarket Citizens' Band. In a recent exploration of the band's archives, they found a photograph of the band taken in the year 1883. With the sesquicentennial year approaching, what better time to show off this picture, to show the citizens of the community that their band has been there to provide music for town events for all but five years of Confederation.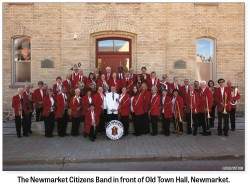 At an evening meeting of council, several members of the band, wearing their red blazers, arrived for the presentation. In the announcement of their deputation to council, the band pointed out that "Since 1872, the Newmarket Citizens' Band has been an integral part of the cultural and social landscape of the town of Newmarket." To commemorate the opening of the newly restored Old Town Hall they presented a large framed photograph of the town band taken in August 1883 just a few weeks after the original opening of the Old Town Hall on July 1, 1883.
The photo of the band was taken during the Firemen's Excursion to Niagara Falls on the Civic Holiday, August 8, 1883. An article about the event, including this photo, was published in the Newmarket Era of the day. Approximately 250 residents travelled by train and then steamship to Niagara Falls and the band went along to provide entertainment. It is a prime example of the band's long involvement in the social and cultural life of the town. The write-up of the trip mentioned that the band, reinforced by two gentlemen from Sharon and Bolton, "enlivened the trip by music on the fore deck; good music is never so pleasing as on the water."
A formal public unveiling of the photo was scheduled to take place at the band's "Simple Gifts" Concert at the Old Town Hall on Botsford Street, Friday, December 2, 2016. (On a personal note, some 35 years ago, I played there for a few years in monthly concerts of The Newmarket Jazz Appreciation Society, and our small Dixieland group was known as "The Botsford Street Ramblers.")
Since it is rare to find this much information about a band's activities almost 150 years ago, it is worth including here some of the historical information about the band recently presented to the Newmarket mayor and council. "The band formed in 1872 with roots going back to as early as 1843. Walter W. Roe, son of the town's postmaster and fur trader, William Roe, circulated a petition among the local business community to raise funds. The 12 band members contributed $5 each and along with 69 other contributors raised the sum $319 to purchase instruments."
To quote the petition: "Whereas we, the undersigned, think it a disgrace to the inhabitants of Newmarket that they should have, on all festive occasions, to send to the small villages of Aurora and Sharon for a band, we have determined, with the consent and assistance of our fellow-townsmen, to form one of our own."
The timing of the recent presentation could not have been better from a number of perspectives. For one, the band delegation met with the mayor and council within a few days of the reopening of the beautifully restored Old Town Hall, which is now destined to be a prime performance venue. For another, it has only been a few weeks since the band was informed that they would now have an excellent permanent rehearsal home complete with storage in a large town recreation centre. Wandering from place to place for rehearsals has been the norm since their former rehearsal space was destroyed by arsonists many years ago. Last but not least, it just also happened a few days after the band paraded, as it has for years, in the town's annual Santa Claus parade.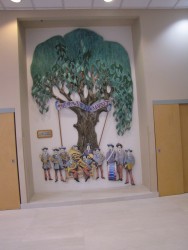 Just outside of the council chambers, in the lobby of the town hall, there is a large imposing mural depicting "The Newmarket Citizens' Band gathered under the big elm in 1883."
New Horizons. By now it should not be a surprise, but I just received a note about yet another New Horizons group that we had not previously heard from. Lynda Shewchuk, music director of Lakeshore New Horizons Bands in Bowmanville, tells us that the band is now in its sixth year. She says that the thriving group is "not very large" with only 60 members! They have a senior band, intermediate band and a beginners class. They also have a small jazz band. She states that "our members are very active and enthusiastic, with many playing in two or even three bands. Quite a few of our members play two different instruments, one in each concert band."
Recent Events: In early November the Milton Concert Band lost one of its long time members, Rev. Christopher Snow. On November 6 "A Memorial Concert for Chris Snow" was presented to proclaim "A life celebrated through music."
On November 20 the Wychwood Clarinet Choir concert continued to amaze with their unique arrangements of works for orchestra and concert band. This time it was the Holst Second Suite in F for concert band. In the early 1920s the leaders of Britain's Royal Military School of Music at Kneller Hall lamented the lack of larger serious works for concert band. Until then, if bands wanted to play longer multi-movement works they had to rely on transcriptions of orchestral works. They commissioned Gustav Holst to write two suites for concert band. Since then these suites have been part of the concert band repertoire. This transcription maintained all of the highlights and nuances contained in the original. Local composer Fen Watkin also contributed a fine version of Villanesca, Spanish Dance No.4 by Granados. In a conversation after the concert, Watkin mentioned that, for sesquicentennial year 2017, he might like to write some arrangements of Canadian works. I did not mention it then, but I would like to suggest Calixa Lavallée's La rose nuptiale.
Initiatives. Every once in a while, we hear of initiatives taken by bands to either help with their finances or otherwise enhance their relationship with their communities. In November, the Aurora Band held its annual holiday market where shoppers could find one-of-a-kind gifts from 38 unique local vendors. For their Canada 150 festivities, the band has commissioned a composition from professor Bill Thomas of York University. The band will give the premiere performance of this number at its concert on Canada Day, 2017.
On the fundraising front, the Strings Attached Orchestra has become a registered charity to provide some financial incentive for donors so that they may continue to bring music into the community.
Coming Events
Dec 5: Resa's Pieces will present "A Tribute to the Beatles and Beach Boys," 7:30pm at York Mills Collegiate.
Dec 6: Silverthorn Symphonic Winds present the next concert in their series, 59 Minute Soiree. These mini-concerts feature a variety of lighter music, perfect for unwinding after a day at work. At 7:30, Wilmar Heights Event Centre – Concert Hall.
Dec 9: The Aurora Community Band will present holiday entertainment like no other – its "Heroes and Monsters: A Holiday Concert" – at 7:30, Trinity Anglican Church, 79 Victoria St., Aurora.
Dec 10: For their annual holiday concert, "The Bells of Christmas," the Milton Concert Band will not only include the traditional musical favourites but will feature, as guests, Eden Bells A-Peel, a long-established handbell choir from Eden United Church in Mississauga. In Victorian times, it was very fashionable to go carol singing with small handbells to play the tune of the carol. Sometimes there would be no singing, just the music of the handbells. Handbell ringing is still popular today and if you have never heard a handbell choir, then this is a concert well worth a visit: 8pm Milton Centre for the Arts, 1010 Main St. East, Milton.
Dec 11: The Clarington Concert Band presents their "Most Wonderful Time Of The Year" featuring singers Father Paul, Kelly Robertson and Lisa Heitzner, 2pm at St. Joseph's Catholic Church, 127 Liberty St. South, Bowmanville.
Dec 11: The Strings Attached Orchestra presents their third annual "Friends and Family Holiday Concert," 2pm at Congregation Ban's Torah, 465 Patrician Ave., Toronto.
Jack MacQuarrie plays several brass instruments and has performed in many community ensembles. He can be contacted at bandstand@thewholenote.com.