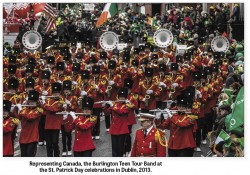 This month's story all started with a classified advertisement which I had placed in The WholeNote. I received a telephone call from a young man who expressed interest in an instrument which I had advertised for sale. Obviously he would want to try it out before deciding on whether it might be suitable for his needs or not. Where would be the best place for that? Either of our houses might have been possible, but they are a two-hour drive apart. Anyway, wouldn't it be a better test if he could try it out while playing in his band? So off I went to my first ever rehearsal of the Burlington Teen Tour Band.
Dinner-hour traffic being what it is, I arrived late. The band's rehearsal had started, but not indoors in their rehearsal hall. It was dark, but there was the band parading and playing on the roads adjacent to the Burlington Music Centre – well over 100 young musicians playing, without music, as they practised their marching drills. I have often said that I couldn't play Twinkle, Twinkle, Little Star without the music in front of me, but there they were displaying a skill which I never learned.
While the band was practising their parade skills, I went into the music centre of the Burlington Department of Parks and Recreation. Yes, there was a fine rehearsal hall, but I was stunned by how many other rooms were dedicated to the band. There were offices for the music director and the music programs coordinator; there was a room where two volunteers were repairing uniforms; and another room with two others repairing band hats.
Rather than go on here, I would prefer to leave the topic of the Teen Tour Band for now, and return in another issue to talk at length about their many special events over the past ten decades and coming up in the near future. (As for the young man interested in my instrument, yes he liked it and is now the proud owner.)
Ensembles with a difference: Coming up on this month's performance calendar are three ensembles noted for their excellent arrangements of music originally written for very different instrumentation. Unfortunately two of these concerts are on the same afternoon: November 20, we have performances by both the Wychwood Clarinet Choir and by Flute Street; then, on November 30, we have the Plumbing Factory Brass Band.
As their names imply they each have instrumentation restricted to a specific family of instruments. All are noted for innovative arrangements which interpret the music in ways that shed new light on the melodies.
The Wychwood Clarinet Choir will perform their fall concert, "Harvest Song," at the Church of St. Michael and All Angels. For me there are two numbers in particular on this program which I hope to hear. The first is the Overture to Hansel and Gretel by Engelbert Humperdinck arranged by Matt Johnston. The second is Gustav Holst's great Second Suite for Military Band in F. This latter number, one of my favourites, is one of the standard works for concert band. If arrangers Richard Moore and Roy Greaves are up to their usual standard, this will be a memorable performance. The group's artistic director and clarinet soloist is Michele Jacot.
Flute Street's November 20 program at Christ Church Deer Park is suggestively named "An American on Flute Street" with works by Kelly Via, Russell Nadel, Melvin Lauf Jr., I. Page and Gershwin.
Whenever we receive news from the Plumbing Factory Brass Band we expect a broad mixture of clever programming, humour and, above all, first rate music. The first concert of their 22nd season, set for November 30, is no exception. The title, "He Said – She Said," will, in musical terms, depict the wars of words and other battles between the sexes from time immemorial. Needless to say, it will purposely avoid any reference to the current events of our neighbours to the south.
In other words the band is setting the stage for differences of opinion. The opening fanfare will be Gounod's Grand March from The Queen of Sheba. The Queen gets the first word, with her dazzling procession into the court of King Solomon, as portrayed by Handel's non-stop music to depict the Arrival of the Queen of Sheba. Later, Leo Delibes also takes the feminine side with the lovely Flower Duet from his opera Lakmé, featuring in this case a soprano cornet and a flugelhorn, followed by the same composer's more boisterous description of the Maids of Cadiz, narrated by a soprano cornet and a tuba!
The evening unfolds with too many great conflicts to mention here. Let's just say that the women have the last word in a stirring finale provided by Wagner's famous Ride of the Valkyries. But if you would like to listen to some rarely heard music for brass band, contrasting the tuneful and lyrical with the bombastic and exciting, then drive to London to hear these great musical dialogues.
It's the Plumbing Factory Brass Band directed by Henry Meredith, Conductor on Wednesday evening, November 30, at 7:30 in Byron United Church, London.
My periodic rant! The phones might be smart; wish I could say the same for their owners! The prevalence of smart phones at concerts has become a serious annoyance for me. Most users don't take voice calls, but their taking pictures can be very distracting. I like to watch as well as listen at a performance. I don't want to see several bright screens obstructing my view. In a recent interview on radio, Renée Fleming and TSO conductor Peter Oundjian discussed this problem. She mentioned looking out at a sea of white objects aimed at her while she was singing.
While visiting a local band at a recent rehearsal, I noticed approximately 25 percent of band members were using them during rehearsal. The worst case which I ever witnessed was a few years ago during a concert. A French horn player in front of me during a few bars' rest reached down and picked up her phone to check and/or send messages. My preferred rule would be simple. If any cell phone were to be visible in the audience during a performance, the user would be ejected immediately. No questions and no excuses.
New Horizons. The New Horizons movement is certainly thriving. When I tried to contact Dan Kapp, who is now devoting his full time to New Horizons, I couldn't reach him for a week. He had been away in Grand Rapids, Michigan, at an NHB Camp. As for NHB Toronto, there are now eight groups with two beginner bands, two intermediate bands, two advanced bands, a jazz orchestra and a jazz woodwind choir. All groups are at maximum capacity – unless someone wants to join as a tuba player. Rehearsals are ongoing with classes on Monday, Tuesday and Wednesday evenings and Monday, Thursday and Saturday daytimes. As for concerts, the more advanced of these groups are now performing quite regularly.
The most notable that we have learned of so far will be on November 5 at Cambridge Street United Church in Lindsay: "A Time to Remember," a reflective concert on the war as seen through the experience one Canadian soldier during WWII. This concert has been performed twice in previous years in Toronto. Look for the NHB December performances in next month's issue.
The New Horizons movement has expanded geographically again. For the past seven years the only New Horizons Bands in the GTA have been operating in downtown Toronto out of the Long and McQuade main location. It was time for expansion into the suburbs. Under the direction of Doug Robertson, who has been conducting some of the Toronto bands for the past four years, there are now York Region New Horizons groups. After their first "Petting Zoo" in early October two new bands began the following week in afternoon and evening rehearsals on Thursdays. They are rehearsing in the excellent facilities of Cosmo Music in Richmond Hill. If you have wanted to join a New Horizons Band but were deterred by the prospect of driving weekly into downtown Toronto, here's another opportunity. Check out the New Horizons Band of York Region.
New Contacts. The Rouge River Winds is a new community concert band based in the east end of Scarborough. After having spent five years rehearsing at the University of Toronto Scarborough campus under the name "University of Toronto Scarborough Alumni and Community Concert Band," the band decided that it was time for a bit of rebranding. They are now calling themselves the Rouge River Winds, and have settled into a new home at Woburn Collegiate Institute. With this new beginning comes a number of new goals. A primary aim is to become known for a high standard of musicianship and a significant connection with the community.
The Rouge River Winds is an auditioned ensemble, and their repertoire is carefully selected to engage their members. They rehearse Thursday evenings 7:30 to 9:30 at Woburn Collegiate Institute, 2222 Ellesmere Road, Scarborough. They are currently accepting new members on all instruments, but are in particular need of: oboe, bassoon, baritone sax, tuba and percussion. For details on membership and their audition process visit their website:
rougeriverwinds.com. Their next concert, "New Beginnings" will be Friday November 18, 7:30 at 2222 Ellesmere Road, Scarborough, featuring works by Canadian composers including Suite on Canadian Folk Songs by Morley Calvert and Lyric Essay by Don Coakley. We have far more information about the band than we can include in this issue. Wait for more details in future issues.
The Stratford Concert Band is another band that we have not heard from before. On November 6 at 3pm they will present "In Remembrance: Canadians in Conflict." They will be joined by the Stratford Police Pipes and Drums Band at Avondale United Church, Stratford.
Another group new to us is the Toronto Winds. On November 17 they will present their first concert: "Inspire," a program including Mozart's Marriage of Figaro Overture; Dove's Figures in the Garden; Beethoven's Symphony No.1 in C (mvt.1); Gorb's Symphony No.1 in C for 12 winds and double bass. Dylan Rook Maddix, a trumpet player, conducts at Array Space.
Other Band Happenings. Unfortunately, space limitations won't permit providing full details here, but please check out the following concerts in the Listings section:
Nov 3: Encore Symphonic Concert Band;
Nov 6: Weston Silver Band;
Nov 19 and Dec 4: Barrie Concert Band;
Nov 26: Silverthorn Symphonic Winds;
Dec 2: Newmarket Citizens Band;
Dec 4: Caledon Concert Band.
Jack MacQuarrie plays several brass instruments and has performed in many community ensembles. He can be contacted at bandstand@thewholenote.com.