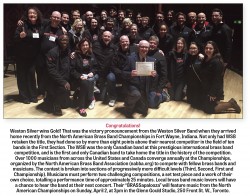 It all began in the spring of 1948 when a small research group at the Bell Telephone Laboratories in Murray Hill, New Jersey, announced the development of a new electronic device which they named the "transistor," initially more of a laboratory curiosity than a practical component of any electronic device. I recall a telephone call five years later in 1953 from a friend. He was an engineer in a research organization in Toronto and had just obtained "management approval" to purchase two transistors to try them out. Over the next few years the transistor became the successor, in most applications, to its much larger power hungry predecessor, the vacuum tube, invented in 1906. It only took till 1956 for the three researchers at Bell Labs to be awarded the Nobel Prize in Physics for their pioneering work.
Now, 69 years after that 1948 announcement, smart phones, home computers, flat-screen TVs, GPS units and other compact electronic systems are homes to countless millions of much smaller transistors. Cable and satellite TV as well as Internet are the norm in most homes in this country. We listen to music on all kinds of devices from large home audio systems to hand-held smart phones. But how has this impacted on the activities that go into making music, especially as a collective social endeavour?
Obviously we are able to research titles and composers to assist in programming, but we may also go to YouTube sites to hear and watch performances of music to determine their suitability for possible performance. It is now common practice with many bands to send email messages to band members with a list of works scheduled for a rehearsal and YouTube sites to visit to get familiar with the music prior to a rehearsal. Some groups also send out recordings of rehearsals for members to review and determine ways to improve.
In fact, I know of one music director (who shall remain nameless) who became sufficiently technically savvy and innovative to electronically monitor the playing accuracy of individual band members and record each individual's errors. Each member was then presented a personal report with a rating of their errors per minute. I don't know whether or not that is still happening, but I certainly would have no interest in joining such an ensemble.
The most interesting example of constructive use of this rapidly evolving technology that I have heard of includes long-distance instruction and practice over the Internet. It all began when a woman in Whitehorse in the Yukon decided that she would like to learn to play clarinet. Wynne Krangle was in Toronto visiting her mother and decided to drop in to the Long & McQuade store. After she purchased her clarinet, she asked if they could suggest a clarinet teacher to visit for introductory lessons before returning to Whitehorse.
They gave her the name and number of Michele Jacot, conductor of the Wychwood Clarinet Choir. The rest is history. Krangle emailed Jacot. They met by email, arranged to meet in person and managed to squeeze in two lessons before Krangle had to return to Whitehorse. As Jacot says "Wynne was quite the beginner."
After she returned home they arranged to continue regular lessons using Skype and FaceTime as the primary means of communication until Krangle was able to visit Toronto again. As Jacot put it, "She certainly must have been highly motivated to faithfully practise regularly in her relative isolation." There just aren't that many playing opportunities for beginning amateur musicians in Whitehorse. On one of her visits to Toronto Krangle attended one of Jacot's Wychwood Clarinet Choir concerts. It was then that Jacot suggested that she play every rehearsal. Yes, the idea was for Krangle to "virtually attend" Clarinet Choir rehearsals. She could sit at home in Whitehorse and observe the rehearsals in Toronto over the Internet. Progressing from that, the next step was to schedule a lesson every two weeks using FaceTime.
Last summer, Jacot suggested a challenge for Krangle. It was for her to learn all 11 pieces of music for the choir's "Harvest Song" concert in Toronto in November. The idea was to use the scores and tapes from the weekly rehearsals and then come to Toronto to be part of at least two rehearsals and the performance. Krangle arranged to be in Toronto. She played in the final rehearsal before the concert and in the dress rehearsal. In her words, "I did just that and had an amazingly successful time integrating into the choir." As for the future, she plans to be in Toronto and perform in the "Sounds of Spring" concert scheduled for May 28 at the Church of St. Michael and All Angels.
(While on the subject of the Wychwood Clarinet, like many other groups this sesquicentennial year, the choir is planning for a definite Canadian component for the spring concert. Composer-arranger Fen Watkin has written an arrangement for clarinet choir of selections from the musical Anne of Green Gables. The choir folks intend to add a visual component to their concert as well. They will be showing historical photographs of the Wychwood neighbourhood in Toronto where they perform. Hopefully, there will be pleasant surprises for the audience, not only regarding local history, but also of the history of the choir.)
A very different and very heartening example of the creative use of our rapidly evolving technology has just come to our attention. Many years ago, Jack Savage, a trombone player from Newmarket formed a swing band. Ever since he started the group his wife Joyce was their biggest fan. She never missed a rehearsal or performance. Even after her husband's death in May 2016 she was still a devoted fan. However, her stars were not in alignment when she learned of a memorial concert for him scheduled for December 7 last year. She had broken her hip and was bedridden at Orchard Villa Long Term Care residence in Pickering. Her son Ken couldn't see how he might get her to that concert, but was determined to find some solution for her to attend virtually. Then he learned of the Pickering library's PPL Connect program. This is a part of their digital education program where free Wi-Fi hotspots are available for loan. Ken contacted Saul Perdomo of the library about the possibility of getting the concert to his mother's bedside.
On the night of the concert at the Alexander Muir Senior's Residence in Newmarket, Perdomo took an iPad tablet to the concert. At Joyce's bedside he had located suitable computer equipment. During the concert there was Joyce, in her bed almost part of the action, and even able to interact with band members. This was the first request of its kind to the library. It not only let Joyce attend Jack's memorial concert, but it also brought two retirement communities together. Sadly Joyce passed away a couple of months later on February 17 at age 89.
Coming Events
Not only is 2017 Canada's sesquicentennial year, but it is also the 100th anniversary of the Battle of Vimy Ridge. While this was certainly not the only large-scale battle of World War I where Canadian troops fought, it is accorded a special recognition in Canada's history because this was the first major battle where the entire Canadian force was under Canadian command. Several bands have already presented, or soon will present, some form of special Vimy concert. One of the most imaginative is that of the "100th Anniversary Vimy Trench Dinner and Band Concert" on the evening of April 4 at the Flato Markham Theatre. Organized by the 4th Canadian Mounted Rifles Association, the concert is being advertised as "The Mayor's Vimy Concert."
The evening will begin at 5:30 with a sit-down dinner of typical foods of that era that would have been served to the men behind the lines. At 7:00 the audience will move into the theatre for the concert by two bands. The first band will be a composite group made up of members from the various regimental reserve bands of the Toronto Garrison. This band will be conducted by Lt. Nick Arrigo, director of music of the 7th Toronto Regiment Royal Canadian Artillery Band. This band will be joined by the Pipes and Drums of York Regional Police.
Periodically, throughout the concert, a narrator will read letters home from men at the front. The concept is very similar to that performed a few times in recent years by the Toronto New Horizons Band under Dan Kapp. In the New Horizons performances letters from Europe were actual letters home from a man who was later killed in action during WWII. Since this concert is about a battle 100 years ago, there would be little chance of finding suitable letters. For this Vimy concert, the letters will be historically accurate simulated accounts, carefully crafted by a history professor, from a soldier, here called George, his fiancée Sally and his grandson living in the present day. The letters will be read by actors as the band plays appropriate music softly in the background. Information and reservations are available at the Flato Markham Theatre box office: 905-305-7469.
Allan Calvert
It is with a heavy heart that I report the passing of Allan Calvert. One of four children born in Ottawa from Irish immigrants who came from Belfast in the 1920s, he moved to Toronto with his mother and three siblings after his father died. At an early age he learned to play various brass instruments and in Salvation Army Bands. Later he became music director and conductor of the Evangel Temple Brass Band in Toronto. I first met Al when we were both on the executive of CBA, Ontario. Al was the very diligent treasurer of that organization for over 25 years.
Odds and Ends
Every once and a while someone will come up with a clever title for a piece of music which strikes a chord. The opening number in the latest concert of the Wychwood Clarinet Choir was H2Overture by Jerry Williams. Yes, it was a medley of over 30 themes with reference to water in their titles.
In the past, in this column, I have occasionally ranted about people with smart phones held up so that their bright images are in full view of the audience members behind them. So, it was time to take action. At the last two concerts attended, I took the risk of asking a few users to put their distracting devices away. Rather than any adverse reactions, I received apologies in all cases.
There's nothing like authenticity when researching costumes for period productions. Being a longtime Gilbert and Sullivan aficionado, I was a bit perplexed to see an advertisement for this year's Stratford Festival's production of HMS Pinafore. There we see a man dressed as a sailor in the Royal Navy, but wearing the "Dixie cup" hat of the US Navy. Such integration!
Jack MacQuarrie plays several brass instruments and has performed in many community ensembles. He can be contacted at bandstand@thewholenote.com.