The year 2017 is upon us, and with it comes all of the hype that reminds us that this is Canada's Sesquicentennial Year. Many say that it is Canada's 150th birthday, while others remind us that there were only four provinces as signatories to the Constitution Act which announced Canadian Confederation in Charlottetown in 1867. The other six provinces plus the territories joined over the ensuing years. In any case, whether you are a supporter of the idea or not, most communities are planning on ceremonies. Many of these are to include parades with bands, not as easy as for the Centennial, fifty years ago. While there are many community bands across the country, few of them are marching bands. Similarly, most of the town bandstands or "kiosques de musique," which were popular in the 19th century, have disappeared.
Speaking of the Centennial, while contemplating what I might usefully say here for community bands planning their works for this year, I thought of my own experiences 50 years ago during 1967, Canada's Centennial Year. Truth be told, I was too busy that summer to learn or think much of what other musical groups might be doing. I just happened to be the officer in charge of a naval entertainment troupe consisting of a full band, a choir, a group of sailors in traditional garb dancing The Sailor's Hornpipe and sundry other displays. During the months of July and August our troupe performed on 31 different occasions in Ontario, Quebec and upstate New York. I don't anticipate anything on that scale for this year, but it seems that many groups are planning on some form of special recognition in their musical offerings.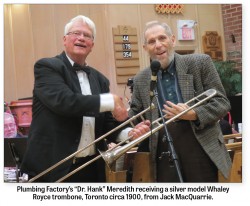 Making My List: What form might that recognition take? I have heard of a few very tentative community plans for parades for July 1. As for concert programs, there seem to be at least four main themes emerging so far. One is to focus on works by contemporary Canadian composers, while another is to program works of any era by Canadian composers. A third concept is for works by any composers which, in some way or other, relate to Canada. The fourth idea is to feature the kind of music which might have been played by Canadian town bands of the 19th century, irrespective of the origins of the music. Personally, I don't have a strong preference, but when thinking of what I might program, I came up with a few ideas.
Topping my list would be at least three works, by Canadians, written as part of the Centennial Project 50 years ago. These would be:
Newfoundland Rhapsody by Howard Cable. This is one composer who certainly needs no introduction here. It would be foolish to list all of Cable's compositions which might qualify.
Suite on Canadian Folksongs by Morley Calvert, which includes She's Like the Swallow. Among other musical accomplishments, Calvert founded McGill University's Concert Band which he conducted for ten years. Calvert's Thameside March could also be a candidate if one were able locate the music.
Century of Progress by Ron McAnespie. This latter work won the prize as the best march in the Centennial Project. After six years as a musician in the Canadian Navy, McAnespie obtained a Bachelor of Music degree from the Berklee College of Music. Although lesser known than the others, he was very active in the Toronto musical scene for many years.
Other "musts" on my list of Canadian composers would be Calixa Lavallée, Charles O'Neill and André Jutras. Lavallée, composer of O Canada, is an obvious choice. There is a fine concert-band arrangement of his La rose nuptial (Bridal Rose) which is readily available. Jutras' They Came Sailing is one which frequently appears in concerts by bands in this part of the world. O'Neill was the first director of Quebec's Band of the Royal 22nd Regiment and held many other significant musical positions over the years. His Tout à Vous is a fine concert number, but he also wrote some worthy marches.
Other marches worth considering would be Vimy Ridge by Thomas Bidgood and Men of Dieppe by Stephen Michell. While Bidgood, the composer, was not a Canadian, this number celebrates a most notable Canadian victory 100 years ago. Michell, a former trombone player with the Royal Regiment of Canada, was taken prisoner at Puys during the Dieppe Raid. To add a bit of lighter air to a program, one might include Scott Joplin's Maple Leaf Rag. There is no evidence of the origins of the title, but since the maple leaf is a significant Canadian symbol, this precursor of ragtime music could be used to light up any program.
Kudos to the Scarborough Phil: While one would not normally think of the Scarborough Philharmonic Orchestra as being part of the Bandstand community, their latest venture certainly merits accolades. On February 4, in celebration of Canada's 150th birthday the SPO will launch A Canadian Panorama, its first commercial CD. The launch concert will feature music from the CD, a group of Canadian compositions that the SPO commissioned two years ago for a wind ensemble of 13 players. This group features two flutes (including a piccolo), two oboes (including an English horn), two clarinets (including a bass clarinet), two bassoons, two horns, one trumpet, one percussion player and a string bass. All told, seven of the pieces in this concert come from Canadian composers. While there will be some Mozart and Beethoven on the program, the emphasis will be on the Canadian works. These will include: Howard Cable's McIntyre Ranch Country, based on Canadian cowboy folk songs from central Canada; Alex Eddington's Saturday Night at Fort Chambly, based on French Canadian folksongs; Chris Meyer's Fundy, a tone poem, inspired by the Bay of Fundy; and East Coast Celtic music and Jim McGrath's Serenade for Solo Clarinet and Wind Ensemble. This CD launch concert will be at the Salvation Army Scarborough Citadel, 2021 Lawrence Ave. E.
Plumbing Factory: While their next concert isn't until April 19, Henry Meredith's Plumbing Factory Brass Band, (PFBB), as usual, has a fascinating program in the works. In honour of Canada's Sesquicentennial the program will consist entirely of 19th-century brass band music. While the program will include some traditional works such as Rossini's Overture to La gazza ladra and Franz von Suppé's Overture to the Beautiful Galatea, there will be a lot of light-hearted numbers rarely heard nowadays. These will include such gems as The Burlington Polka, The Helicon Schottische, the Stolen Kisses Galop and the Ontario Quick March. The program will also include Calixa Lavallée's Tempo di Marcia from his comic opera The Indian Question.
In past columns I have mentioned Henry Meredith's vast collection of brass instruments and his hope of establishing a museum where this collection could be properly displayed. Some months ago I decided to make a contribution to this collection. As a start, during the last concert of the PFBB, I donated two trombones and a French horn. Of the two trombones, one was the very first instrument which I owned. This Selmer Manhattan was a model that Henry had never heard of before. The other trombone was a silver model Whaley Royce, Toronto circa 1900. See photo.
Community Band Festival: Once again, it's time for the York University Community Band Festival, but there will be significant changes from the format of previous years. There will be no workshops or keynote speaker as in the past. The conductors of each of the participating bands will rehearse one piece of music with the Massed Band. The concert will include performances by each band and then the Massed Band pieces will conclude the festival. It should be a challenging but enjoyable day of performing for all participants. That's on Sunday, February 26, with the Massed Band rehearsal from 10am to 12pm and the concert from 1:30pm to 3:30pm.
New Horizons: As sure as spring will follow winter, with the new year come more members to the New Horizons bands. As a precursor to the new season, the Toronto NH bands held their first Holiday Potluck Dinner Party on Friday, January 13. As guests, we enjoyed a great evening of food, music and lots of humour. Membership in the Toronto New Horizons bands is now up to 260, with eight bands rehearsing over the course of a week. There isn't space here to go into detail of their activities, but a visit to their website will provide lots of information. Go to newhorizonsbandtoronto.ca. They do have a band festival coming up on Saturday, January 28 at St. Simon-The-Apostle Anglican Church, Sherbourne and Bloor. The festival starts at about 1:30pm, with the Guelph new horizons band attending as a guest performance group.
In the Toronto area there is a new NH band forming in Richmond Hill at Cosmo Music. For information contact Doug Robertson, Director, New Horizons Band of York Region at
nhbyrdicrector@gmail.com. We have just learned that the North York New Horizons Band is being re-established at Long & McQuade on Steeles Ave. just east of Keele St. Classes will begin on Monday, February 5, starting at 6:30 For more information, people can call Dan Kapp at 647–201–8780, or they can contact the Long & McQuade North York store and ask for someone in the band department.
Other band activities: News from the York Brass Band is encouraging. They are now sufficiently well established that they have a new logo and are planning on producing banners for their music stands. Anyone interested in playing in an all-brass band should drop in at a rehearsal. They rehearse on Wednesdays at 7:30pm at Chartwell Park Place Retirement Residence, 15055 Yonge St., Aurora.
QUICK PICKS
Feb 2: On the first Thursday of each month the Encore Symphonic Concert Band presents their monthly concert at Wilmar Heights Centre, 963 Pharmacy Ave., Scarborough.
Feb 2: At 7:30pm, to celebrate ten years of making music, the Milton Concert Band are inviting people to "Sit In & Play or Sit Down & Listen." Woodwind, brass and percussion players are invited to sit in with the band and play along. Spectators are also welcome. That's at Milton Baptist Church, 900 Nipissing Rd., Milton.
Feb 14: At 7:30pm, Silverthorn Symphonic Winds will present one of their 59-Minute Soirees. "A Valentines Soiree" will be at Wilmar Heights Centre, 963 Pharmacy Ave., Scarborough.
Feb18: At 8pm, the Milton Concert Band presents "Music Through the Decades" in MinMaxx Hall at at the Milton Centre for the Arts located at 1010 Main Street E., Milton.
Feb 25: At 7:30pm, Silverthorn Symphonic Winds will present "Musician's Choice" with selections from Dukas' The Sorcerer's Apprentice, Belgian composer Bert Appermont's Saga Candida: 7 Impressions of a Witch Hunt; Wagner's Overture to Rienzi, selections from Holst's The Planets and other works. At Wilmar Heights Centre, 963 Pharmacy Ave., Scarborough.
Feb 26: At 3pm, the Stratford Concert Band will present "Remembering a Friend" with Edward Payne as guest commentator. Avondale United Church, 194 Avondale Ave., Stratford.
Mar 1: at 7pm, the Stratford Concert Band will present Bandarama 2017. Bands from area high schools will perform as guests. Northwestern Secondary School, 428 Forman Ave., Stratford.
Mar 5: At 3pm, Wellington Winds will present "In the European Tradition." Works include Guilmant's Morceau Symphonique for Trombone, First Movement of Mahler's Symphony No. 3 as well as works by Mendelssohn, Tull and Arnold. Rachel Thomas, trombone; Daniel Warren, conductor. Knox Presbyterian Church 50 Erb St. W., Waterloo.
Mar 5: At 7:30pm, the Wychwood Clarinet Choir; Michele Jacot, director will present their Spring Concert at a new location for this event, Knox United Church, Agincourt 2569 Midland Ave., Scarborough.
Jack MacQuarrie plays several brass instruments and has performed in many community ensembles. He can be contacted at bandstand@thewholenote.com.