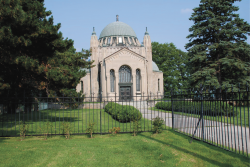 In last month's column, while talking about the characteristics of various performance venues, I mentioned the Foster Memorial. You might ask: where and what is the Foster Memorial, and why should it be of interest to music lovers?
This architectural gem, little known to most people in the GTA, is less than an hour's drive from Toronto and if you are not familiar with "The Foster," this summer could be the ideal time. In their Ontario's Choice Awards in November 2016, Attractions Ontario named the Thomas Foster Memorial as the Top Small Performing Arts Attraction in Ontario. In the words of Troy Young, CEO of Attractions Ontario, "These awards are unique because they were chosen exclusively by the consumers that visit these sites."
So what exactly is the Foster Memorial? Located four kilometres north of the town of Uxbridge, it is actually a mausoleum built by Thomas Foster as a memorial to his wife. Thomas Foster was born and raised in Scott Township just north of Uxbridge where his father ran the Leaskdale Hotel. He became a butcher in Cabbagetown in Toronto, was elected as an MP, and served as mayor of Toronto from 1925 to 1927. He also made a large fortune from real estate.
In his late seventies, while on a visit to India, Foster was inspired by the Taj Mahal. On his return, he built this family memorial in the rolling countryside of Uxbridge Township. While the architecture was originally inspired by Foster's trip, its design is greatly influenced by the architecture of the early Byzantine churches. Entering through the heavy bronze doors, one is struck by the beauty of the marble and terrazzo interior, flooded by the soft light coming through the stained glass windows. The Foster Memorial is truly a unique structure. Completed in 1936, it contains three crypts: for Mr. Foster, his wife and his daughter.
In recent years this "Diamond of the Durham Region" has been the venue for a wide spectrum of events, from weddings to concerts. As for musical performances, it's "Fridays at The Foster" at 7:30pm all summer from the beginning of May until the end of September. For soloists and small groups, the acoustics are excellent, but the layout and acoustics do not work for large groups. As for repertoire, it ranges from Irish music, traditional folk ballads, bluegrass and Broadway hits to Diana Davis performing using quartz crystal singing bowls and flute. One group which really impressed me when they performed at The Foster a few years ago was the Shimoda Family recorder ensemble. I certainly intend to be in the audience when they return on August 25 with their rarely heard authentic Baroque music.
Another Uxbridge gem: While on the subject of lesser-known performance venues, the town of Uxbridge has another gem. Since its grand opening in December 1901, the Uxbridge Music Hall, with its excellent acoustics, has been blessed with a wide range of concerts and stage productions. In 2011, for its 110th anniversary, there was a reenactment of the hall's very first concert. On that occasion I had the privilege of performing in the recreated "Town Orchestra" for that reenactment. I even had the honour of supplying the anvil and hammer for our rendition of the Anvil Chorus from Verdi's opera Il Trovatore. (As for coming events, the only one that I am aware of at the moment in this significantly under-utilized venue is that of the small ensemble Quartetto Gelato, who will be performing there on September 30.)
Recent Events
Wellington Winds: When one looks at the scores of most works for concert bands, one finds that they frequently call for instruments that rarely get any consideration for even minuscule solos. One such instrument is the E-flat alto clarinet. If the band has an alto clarinet, it is rarely heard on its own. More often, it spends its time hidden and doubling the parts of other instruments. More often than not this instrument is the butt of uncomplimentary jokes. Rarely, if ever, is it the first choice for young players or their teachers. Now, enter Stephen Fox. A distinguished Canadian clarinetist and instrument historian, as well as a world-class clarinet builder, Fox has recently attracted attention for his new model of alto clarinet which has been receiving accolades for its warm compelling tone. Apparently, up till now, there was no known work for solo alto clarinet and wind ensemble. Enter Michael Purves-Smith: "Such a wonderful instrument deserves a significant solo voice," he says and rose to the challenge. His concerto for alto clarinet and wind ensemble needed a name. When he asked his wife, Shannon, for a suggestion, possibly influenced by the common prejudices against the instrument she immediately responded, "Why not call it the Seven Deadly Sins"? The Seven Deadly Sins received its first performance by Stephen Fox, as soloist, and the Wellington Wind Symphony under the direction of Daniel Warren, April 30 in Kitchener and the following week in Waterloo.
New Horizons: The last time we heard from the New Horizons Band of York Region was some months ago. On a visit to one of their rehearsals in Richmond Hill there were fewer than 15 members. As with all New Horizons bands, this group is for active adults who want to learn music in a friendly, supportive atmosphere with other active adults. Now, with almost 30 members near the end of their first year of learning together, they had their first concert ever on May 25. If you have considered taking up a musical instrument, director Doug Robertson would love to hear from you. He can be reached at nhbyrdirector@gmail.com.
Silverthorn Symphonic Winds concluded their 2016/17 season on May 27 at the Wilmar Heights Event Centre with "Spring Celebration," honouring Canada's 150th. The repertoire featured works by Canadian composers and arrangers, including Morley Calvert, John Herberman and Howard Cable.
Wychwood: Finally, as I write this, I am looking forward to attending the final concert of the season of the Wychwood Clarinet Choir on May 28, so by the time this issue is on the streets the concert will be past history. At time of writing, I am looking forward to two matters. I hope to meet Wynne, the clarinet player from Whitehorse who rehearses with the choir over the Internet. I am also looking forward to hearing The Bridal Rose Overture by Calixa Lavallée, as arranged by Richard Moore and Roy Greaves.
Coming Events
Luminato: Fresh from their recent stunning victory at the Brass Band competition in the US, the Weston Silver Band is now taking on a very different role. This time they are onstage as part of a major musical event in this year's Luminato Festival in Toronto. A hit of the 2015 Edinburgh International Festival, En avant, marche! is a genre-defying tragicomedy from acclaimed Belgium choreographer Alain Platel. It's the story of a trombone player, no longer able to play his instrument due to illness, who is demoted to playing the cymbals. Throughout band practice, the larger-than-life protagonist terrorizes fellow band members, confides in the audience, sings arias and dances an unlikely ballet duet, all with exuberance and a riotous slapstick edge. Four actors and seven musicians are joined onstage by Toronto's Weston Silver Band, playing marching band classics along with 19th- and 20th-century pieces ranging from Verdi to Beethoven and Schubert to Mahler. If there ever was a true, and truly unforgettable, celebration of the power of making music together, this sounds like it. Performances are from June 21 to 24 at the Bluma Appel Theatre.
Looking Ahead
One band which has been on the local concert scene for years will not be there this coming year. After 25 years, the Uxbridge Community Concert Band (UCCB) will be absent. Music director Steffan Brunette is taking a year off from the band and from his school, teaching and studying composition. In September he will take on new duties as Head of Music at a new high school in Markham. Hopefully, the UCCB will be back next year.
Saturday, June 3, at 2pm, the Festival Wind Orchestra will present their 2017 summer concert at North Toronto Collegiate (17 Broadway Ave., Toronto). Founded in 1996, the Festival Wind Orchestra is an adult community wind orchestra, which rehearses weekly under the direction of Keith Reid at Riverdale Collegiate in Toronto. Their concert will feature music by Canadian composers, including: Overture: St. John's, 1828 by Ben Bolden; Sodbuster by Elizabeth Raum; Genesi by Vince Gassi; and Canadian Folk Song Fantasy by William McCauley. Also featured will be Jason Dallas performing Joseph Horovitz's Euphonium Concerto. Since I am a dedicated euphonium aficionado, and having never heard of this composer, I decided to check for information on him. As professor of composition at the Royal College of Music since 1961, he is someone that we should have heard of before.
Sunday, June 4, at 7pm, Strings Attached Orchestra, under the direction of Ricardo Giorgi, will present their final concert of the season at the Isabel Bader Theatre. In the words of director Ric, "We have new, old and middle-aged music for you," from Ravel's Bolero and the last movement of the Brandenburg Concerto No. 4, to the rarely performed Concerto for 2 Recorders in B-flat by Telemann and a musical hoax by Samuel Dushkin. They will also give the first ever performance of the winning composition of Ric's second annual Young Composers Initiative, called Viaggio delle Farfalle by Damiano Perrella.
Tuesday, June 6, at 8pm, Resa's Pieces Concert Band will present their 18th annual gala at the Toronto Centre for the Arts.
Tuesday, June 13, at 7:30pm, Silverthorn Symphonic Winds will present their final concert in their series of 59 Minute Soirees. These informal musical entertainments feature a variety of lighter music. Guests are invited to enjoy refreshments and conversation with the musicians after the concert. Wilmar Heights Event Centre – Concert Hall, 963 Pharmacy Ave., Toronto (just north of Eglinton).
Saturday, November 4, the Northdale Concert Band will present their 50th anniversary concert with the title "The Big 5-0h!" The program will include a newly commissioned work by Gary Kulesha. The concert will feature as trombone soloist Vanessa Fralick, associate principal trombone of the TSO.
Finally, in last month's column I mentioned my belated introduction to the longtime Hart House Symphonic Band. The concert dates for their next academic year are: December 3, 2017 and April 8, 2018.
Jack MacQuarrie plays several brass instruments and has performed in many community ensembles. He can be contacted at bandstand@thewholenote.com.