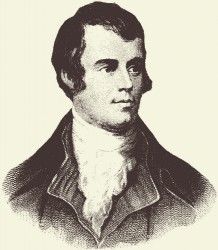 Robert Burns was not a musician but he liked music; he was especially fond of traditional Scottish airs. He wrote several times that his main goal in writing texts for them was to preserve the music. After Burns' death, that process was reversed by composers like Schumann and Loewe, who wrote new settings for Burns' texts. More recently, Benjamin Britten did so in A Birthday Hansel, a song cycle beautifully performed at the Royal Conservatory on April 14 by soprano Lucy Fitz Gibbon and harpist Ingrid Bauer.
The relation between text and music in Burns is actually more complicated than his own statements would suggest. O My Love is Like a Red Red Rose was first published by Pietro Urbani, an Italian musician active in Scotland. Burns gave him the words of the song and essentially told him to use them as he saw fit. Urbani then came up with his own composition, an elaborate setting featuring two violins, viola and harpsichord, with an instrumental introduction and with the notation "Largo con Molta Espressione." James Johnson republished the song in 1797 and used the tune that Burns had himself suggested, Major Graham. Then in 1821, long after Burns' death, Robert Archibald Smith proposed an alternative tune, Low Down in the Broom. It is that tune that is now generally used. The case of Auld Lang Syne is different but also complicated. Burns wrote, in a letter, that he "took it down," that is to say he took the words down, from an old man's performance. Johnson published it in 1796 to an old tune, but two years earlier Burns had already written to another publisher, George Thomson, that he did not like that tune; he added that there was another, which "you may hear as a Scottish country dance." It is that other tune that everyone now knows. It is clear then that in some cases Burns wrote, or wrote down, the texts first and then looked for a traditional melody that he liked and that fit metrically.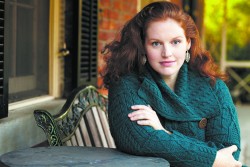 Several Toronto musicians sing Scottish songs. Lorna Macdonald has done so in a number of her recitals, Allyson McHardy included a set in a recent concert and there is a fine performance of a Burns song on an ATMA CD by Meredith Hall with Ensemble La Nef. There will be another chance to hear songs by Burns in a concert entitled "The Star of Robbie Burns," with Virginia Hatfield, soprano, and Benjamin Covey, baritone at the Church of the Redeemer, June 7. R.H. Thomson will narrate Burns's life, while the second half of the concert will feature songs from the musical Brigadoon. The pianist is Melody McShane. And just in case that is not enough, the ticket price includes tea and shortbread. The concert will be repeated at the Festival of the Sound at the Charles W. Stockey Centre for the Performing Arts, Parry Sound, but with a different soprano, Charlotte Corwin. A different Burns/Brigadoon concert will be given at the Westben Festival in Campbellford with Donna Bennett, soprano, Colin Ainsworth, tenor, and Brian Finley, piano, July 13. You will also be able to hear Burns' songs Ae Fond Kiss and Auld Lang Syne in a concert titled "A Celtic High Tea" at St. John's Church, Ancaster, August 11.