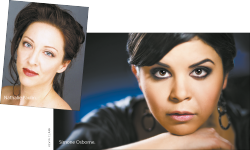 Last summer my daughter Saskia turned 12. Turning 12 is a rite of passage since most primary schools in Toronto do not go beyond grade six. Saskia chose, with encouragement from her parents, to move to the Downtown Vocal Music Academy on Denison Avenue, a stone's throw from Toronto's Kensington Market. The two VMA schools in Toronto (the other is the suburban Heather Heights PS in Scarborough) are the brainchild of Mark Bell, a man known in musical circles for his leadership of Canada Sings, a community singalong that meets every second Tuesday of the month somewhere in East Toronto (the next meeting is on November 12 at Mustard Seed, 791 Queen St. E.).
In February 2007 Bell convened a meeting of directors and managers of children's choirs and officials of the Toronto District School Board to explore the possibility of setting up one or more schools which would specialize in singing. The TDSB came onside and a few years later Bell became vice-principal of the Downtown VMA and started preparing the 2012-13 school year. That year the program began in grade four and went up to grade six. This year grade seven was added and grade eight should follow next year. Bell would like it to continue until grade 12 eventually but there are no immediate plans for that. For now the intention is to steer students to high schools that specialize in the arts, such as Rosedale Heights.
Every day the last period at the Downtown VMA is choir (except for the afternoon, once a week, when the pupils go swimming) but there is also singing at other times during the day. It was felt impractical to offer an extended program in instrumental music, but on Friday there are after-school optional classes in piano and guitar (in cooperation with Soul Music of the University of Toronto) as well as steel pan (in cooperation with the Regent Park School of Music). Violin classes were also offered but there were no takers. At present the children are preparing for their first concert of the season December 3, "The Four Elements: Celebrating the Power of Nature in Song." The total number of students participating is 90, but we shall also be able to hear them in smaller groups. The concert will also include the inauguration of the newly restored Heintzman grand piano.
Suzie LeBlanc is a lyric soprano, especially known for her early music performances. But her concerts are not confined to early music. A glance at her discography shows that she has also recorded classical (Mozart, Gluck), modern (Messiaen), contemporary (Peter-Anthony Togni) and traditional Acadian music. Of particular interest is a new disc with songs set to texts by Elizabeth Bishop (the composers are Emily Doolittle, Christos Hatzis, Alasdair MacLean and John Plant). She will be singing Purcell and Carissimi, with the tenor Charles Daniels and the Tafelmusik Orchestra and Chamber Choir November 6 to 10. There will be another chance to hear her this month with the viol consort Les Voix Humaines for the Women's Music Club on November 21. That concert will be repeated November 23 in Sault Ste. Marie and November 24 in Brantford. LeBlanc will also lead a master class at the Faculty of Music at the University of Toronto November 20.
Simone Osborne is a former member of the Canadian Opera Studio Ensemble and has since performed several major roles for the COC: Pamina in Die Zauberflöte (while a member of the Studio Ensemble), Gilda in Rigoletto, Lauretta in Gianni Schicchi and, most recently Musetta in La Bohème. Next spring she will return to the COC in the role of Oscar in Un ballo in maschera. She is the inaugural winner of Jeunesses Musicales Canada's Maureen Forrester Award Tour. One of the concerts on this tour will be a noontime recital in the Richard Bradshaw Auditorium on November 12. She will sing Schumann's song cycle Frauenliebe und-leben as well as songs by Bellini, Strauss, Hahn and Current. The concert will be repeated at Midland, November 21 and at Prescott, December 6.
Other Events
Voice performance classes in the Faculty of Music, University of Toronto, will be held on November 5, 19, 26 and December 3 at Walter Hall.
Adi Braun is the singer in a concert based on the songs and letters of Kurt Weill and Lotte Lenya at the Richard Bradshaw Amphitheatre, November 6.
Erin Bardua and Maureen Batt, soprano, Stefan Fehr, tenor, and Giovanni Spanu, baritone, will be the soloists in a performance of Haydn's L'isola disabitata at Heliconian Hall, November 8.
Eleanor James, mezzo, will be the soloist in Tanzlied by R. Murray Schafer. The concert will also feature the harpists Judy Loman and Angela Schwarzkopf and will include music by Brophy, Livingston, Buhr and Lau in the Mazzoleni Concert Hall, November 10.
Shannon Mercer, soprano, Krisztina Szabó, mezzo, Christopher Mayell, tenor, and Jesse Clark, bass, will be the soloists in a performance of Mozart's Requiem at the Cathedral Church of St. James, November 13.
Students from the Glenn Gould vocal program will perform The Silent Serenade by Korngold at the Royal Conservatory, November 15 and 16.
Sara Papini, soprano, will sing compositions by Andjelika Javorina at the Glenn Gould Studio, November 15.
Janet Obermeyer, soprano, will sing Der Hirt auf dem Felsen by Schubert at Metropolitan United Church, November 16.
Nathalie Paulin is the soprano soloist in a concert of 20th century music at Walter Hall, November 18.
York University Department of Music presents vocal masterclasses with Che Anne Loewen, November 19 and with Leslie Fagan, November 22 at Tribute Communities Hall, November.
Lesley Bouza, soprano, and Colin Ainsworth, tenor, will be the soloists in a Britten concert by the Toronto Mendelssohn Choir at Yorkminster Baptist Church, November 20.
Darlene Shura, soprano, Jacqueline Gélineau, contralto, and John Holland, baritone, will sing selections from Bach's cantatas at Heliconian Hall, November 30.
At Calvin Presbyterian Church November 30, Allison Cecilia Arends, soprano, and Stanislas Vitort, tenor, will be the soloists in Mendelssohn's Symphony No. 2 (Lobgesang) with the Oakham House Choir. The concert will also include a number of works composed or arranged by John Rutter.
Recitals at Rosedale presents "Opera nella chiesa" with music by Handel, Massenet and Menotti. The singers are Laura Albino, soprano, Laura Tucker, mezzo, Timothy Wong, countertenor, and Anthony Cleverton and Jason Howard, baritone, at Rosedale Presbyterian Church, December 1.
And beyond the GTA:Bethany Hörst, soprano, Bud Roach, tenor, and Alexander Dobson, bass, will perform baroque opera arias, with the Bach Elgar Choir at the Royal Botanical Gardens in Burlington, November 9 and 10.
Nicholas Phan, tenor, and Martin Limoges, horn, will perform Britten's Serenade for Tenor, Horn and Strings with the Kitchener-Waterloo Symphony. The concert will also include Tchaikovsky's Symphony No. 6 at the Centre in the Square, Kitchener, November 29 and 30.
Charlene Pauls, soprano, Erica Iris-Huang, mezzo, Bud Roach, tenor, and James Baldwin, bass, will be the soloists in a performance of the Magnificat by Bach and the Magnificat by Rutter at St. Matthew Catholic Church in Oakville, November 30.
The first of many complete Messiahs will arrive on December 6 and 7 presented by the Bach Elgar Choir. The soloists are Jennifer Taverner, soprano, Michele Bogdanowicz, mezzo, Chris Fischer, tenor, and Andrew Tees, bass at Melrose United Church in Hamilton. 
Hans de Groot is a concert-goer and active listener who also sings and plays the recorder. He can be contacted at artofsong@thewholenote.com.