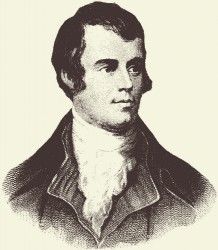 Robert Burns was not a musician but he liked music; he was especially fond of traditional Scottish airs. He wrote several times that his main goal in writing texts for them was to preserve the music. After Burns' death, that process was reversed by composers like Schumann and Loewe, who wrote new settings for Burns' texts. More recently, Benjamin Britten did so in A Birthday Hansel, a song cycle beautifully performed at the Royal Conservatory on April 14 by soprano Lucy Fitz Gibbon and harpist Ingrid Bauer.
The relation between text and music in Burns is actually more complicated than his own statements would suggest. O My Love is Like a Red Red Rose was first published by Pietro Urbani, an Italian musician active in Scotland. Burns gave him the words of the song and essentially told him to use them as he saw fit. Urbani then came up with his own composition, an elaborate setting featuring two violins, viola and harpsichord, with an instrumental introduction and with the notation "Largo con Molta Espressione." James Johnson republished the song in 1797 and used the tune that Burns had himself suggested, Major Graham. Then in 1821, long after Burns' death, Robert Archibald Smith proposed an alternative tune, Low Down in the Broom. It is that tune that is now generally used. The case of Auld Lang Syne is different but also complicated. Burns wrote, in a letter, that he "took it down," that is to say he took the words down, from an old man's performance. Johnson published it in 1796 to an old tune, but two years earlier Burns had already written to another publisher, George Thomson, that he did not like that tune; he added that there was another, which "you may hear as a Scottish country dance." It is that other tune that everyone now knows. It is clear then that in some cases Burns wrote, or wrote down, the texts first and then looked for a traditional melody that he liked and that fit metrically.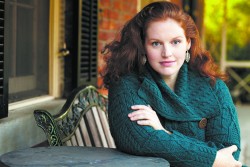 Several Toronto musicians sing Scottish songs. Lorna Macdonald has done so in a number of her recitals, Allyson McHardy included a set in a recent concert and there is a fine performance of a Burns song on an ATMA CD by Meredith Hall with Ensemble La Nef. There will be another chance to hear songs by Burns in a concert entitled "The Star of Robbie Burns," with Virginia Hatfield, soprano, and Benjamin Covey, baritone at the Church of the Redeemer, June 7. R.H. Thomson will narrate Burns's life, while the second half of the concert will feature songs from the musical Brigadoon. The pianist is Melody McShane. And just in case that is not enough, the ticket price includes tea and shortbread. The concert will be repeated at the Festival of the Sound at the Charles W. Stockey Centre for the Performing Arts, Parry Sound, but with a different soprano, Charlotte Corwin. A different Burns/Brigadoon concert will be given at the Westben Festival in Campbellford with Donna Bennett, soprano, Colin Ainsworth, tenor, and Brian Finley, piano, July 13. You will also be able to hear Burns' songs Ae Fond Kiss and Auld Lang Syne in a concert titled "A Celtic High Tea" at St. John's Church, Ancaster, August 11.
Virginia Hatfield comes from Campbellford and began her vocal studies in her early teens with Donna Bennett. Subsequently she studied at the University of Toronto, first as an undergraduate at the Faculty of Music and then as a graduate student at the Opera School. She has been a member of the Ensemble Studio of the Canadian Opera Company and she has sung in a number of recent operas and concerts in Ontario: Sokolović's Svadba-Wedding for Queen of Puddings, Handel's Orlando for Opera in Concert, Bizet's The Pearl Fishers in Hamilton and, most recently, the final concert of the Aldeburgh Connection (in which she also sang a Burns song, Afton Water, in the setting by Britten). This summer she will be part of an Opera Gala at the Festival of the Sound in Parry Sound, July 20, with Gabrielle Prata, mezzo, Mark DuBois and David Pomeroy, tenors, and Peter McGillivray, baritone, and she will be singing Broadway songs at the Westben Festival in Campbellford with Brett Polegato and James Levesque, baritones, July 25 to 28; in the fall she will repeat her role in Svadba in Philadelphia, and next February she will sing the Naiad in Richard Strauss's Ariadne auf Naxos for Pacific Opera Victoria.
I first heard Benjamin Covey in the role of Pluto in Monteverdi's Il ballo delle ingrate (Toronto Masque Theatre). The part goes down to a low E-flat and I was pleased that the company had found such a deep bass. Then later Covey sang a setting of Gather Ye Rosebuds While Ye May in a lyrical baritone voice. He is clearly a singer with an impressive range. As he himself puts it: he is a baritone with a lower extension. Covey studied at Wilfred Laurier and subsequently in the MA program in the Opera Division at the University of Toronto. He was a member of the prestigious Merola program at the San Francisco Opera, where he sang the role of Belcore in L'elisir d'amore. He also became a friend of the soprano Valentina Fleer, who sang Adina. As he says, the Elixir of Love worked and the two will marry this summer. In the opera it is, of course, the tenor who gets the girl (tenors always do), so perhaps we can see Covey's success as the baritone's revenge. The wedding will keep him occupied this summer but in 2014 he will sing for the Scottish Opera, as part of the Commonwealth Games, in The Friendship Oratorio, a work with a libretto by Alexander McCall Smith.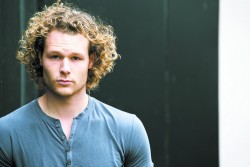 Toronto Summer Music: Summer in Toronto means the Toronto Summer Music Festival, which will begin on July 16 and end on August 3. A major event will be the Toronto recital debut of the bass-baritone Philippe Sly at Walter Hall, July 23. Julius Drake is the collaborative pianist. The program consists of works by Ravel, Duparc, Wolf and Schubert. Sly was a member of the Canadian Opera Company a few years ago and gave distinctive performances in several small roles. He was heard at the Westben Festival at Campbellford last September in Samuel Barber's Dover Beach. A concert on July 19 at Walter Hall will feature the baritone Sanford Sylvan, who will sing Poulenc's Le bal masqué.
An important part of the Festival is the participation of 12 emerging artists. Three of them have performed in Toronto recently: the sopranos Lucy Fitz Gibbon, Meghan Lindsay and Jennifer Taverner. Their mentors are Elly Ameling, Sanford Sylvan and Julius Drake; the young artists will also perform in the Mentors and Fellows concerts on July 27 at Walter Hall and in the free Outreach concerts on July 25 and 26 at Heliconian Hall.
Other events: Two concerts at the Heliconian Hall: Magdalena Risberg, soprano, and David Huang, piano, perform works by Peterson-Berger, Grieg, Sibelius, Schubert, Ravel and others June 10; and Kira Braun, soprano, and Linda Condy, mezzo, present a benefit recital for the Weekend to End Women's Cancer June 16. Peter Barnes, baritone, sings song cycles by Finzi, Fauré and Schubert at Islington United Church also on June 16. Zorana Sadiq, soprano, and Christopher Baga, piano, perform works by Grieg, Wolf and Rachmaninoff at the Church of the Holy Trinity, July 8.Colin Ainsworth is the tenor soloist in a concert by the Tapestry Chamber Choir at St. Andrews Presbyterian Church, Newmarket, June 9.
And at the festivals beyond the GTA: at the Elora Festival Suzie LeBlanc, soprano, and Julius Drake, piano, will give a recital of French art songs and German lieder on July 28. There are further performances of this recital at the Westben Festival in Campbellford July 30 and at the Ottawa Chamberfest August 1.
Donna Bennett will be the soprano soloist in Mozart's Regina Coeli, at the Westben Festival Theatre in Campbellford on June 29. Also at Westben: a program of Shakespeare, Noel Coward, and Flanders and Swann, with David Kemp, actor/singer, and Brian Jackson, piano, July 14.
At the Brott Music Festival there will be a royal baby shower for Kate and William in which Elizabeth Herera and Valerie Tryon will perform music by Debussy and Mozart June 26.
At Festival Alexandria June 30, there will be a Bloomsday Celebration featuring Edwardian and Irish music referred to in Joyce's Ulysses. The singers are Beverly McGuire and Kathleen McAuliffe, sopranos, and Ashley Foot, tenor (3689 County Road 45, Alexandria, June 30 at 3pm).
At Stratford Summer Music, Brooke Dufton, soprano, will sing Music for Wilderness Lake by R. Murray Schafer July 19, 20 and 21.
At the Ottawa Chamberfest, Measha Brueggergosman, soprano, will perform Poulenc and Gershwin July 26; Melanie Conley, soprano, and Bud Roach, tenor, will sing Gershwin later that night. 
Hans de Groot is a concertgoer and active listener. He also sings and plays the recorder. He can be contacted at artofsong@thewholenote.com.